Reading Time:
9
minutes
July 5th marked the 49th anniversary of Tom Mboya's assassination. It is regarded as the most consequential assassination that many believe changed the course of Kenya's history, for worse.
Many believe he would have made an incredible president, given what he had achieved before he met the assassin's bullet at the age of 39. Some say, Kenya today would be competing with the Asian tigers that were at par economically with Kenya at independence.
It's often the pervasive belief within modern democratic societies that exceptional humans should be rewarded with a chance to serve the public from which they can change their societies, in many good ways.
The reality, however, ensures that events, both local and international, ensures patronage trumps talent and nobility.
The presidency therefore often ends up being a rotational office accessible mostly and sometimes solely to a few favorites among the old boys' clubs. Even then, this doesn't erase the reality that within societies, there exist few people who have all the experience, skills, talents, public spiritedness, and strong leadership capacity to lead the nation to prosperity.
Here are ten Kenyans we think would have made Kenya a better country if they ever got a chance to lead the country.
1. Micere Mugo
The grandmother of African literary landscape and the matriarch of Kenyan intellect, she is a pillar of principled intellectual courage who stood for people's rights and never hesitated to question the powers that be, at a time when it meant death or exile. Her literary works and essays bespeak the intellectual loss Kenyan suffered after she went to exile in 1982.
At 76 years, she remains a woman of many firsts within the Kenyan public domain including the first to enroll at the all-white Limuru girls and to be elected as Africa's first female academic dean.
As a vocal academic and human rights defender, Micere would continue to face harassment and state instigated violence, especially after the failed 1982 coup. In a pluralistic society and a friendly constitution, she would have probably tried her hands in politics.
Micere, 76, retired recently from Syracuse University's Department of African American Studies in the College of Arts and Sciences after 22 years of teaching. She currently does speaking tours.
2. Odero Jowi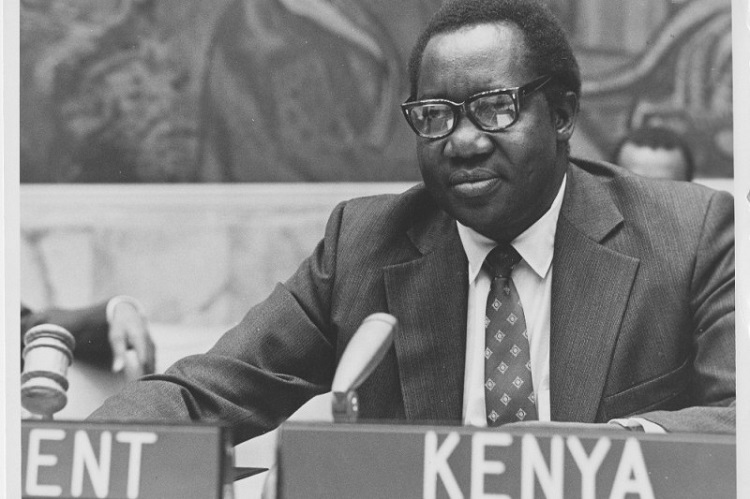 Simply known as the man who brought UNEP to Kenya-effectively making Nairobi the only African city with a major UN office-he would eventually die a forgotten hero, in October 2015. Odero, then serving as Kenya's Ambassador to the United Nations in New York, pulled the stunning diplomatic coup in 1972. In a gathering in the Swedish capital to choose the home for the newly founded United Nations Environment Program (UNEP), Jowi led a spirited campaign for Kenya to host the secretariat outside the traditional homes America and Europe. Dr. Njoroge Mungai, the then Foreign Minister returned home prematurely to avoid the embarrassment that the country may endure.
Despite constant opposition by the men around Mzee, Jowi dispensed his professional roles diligently for decades. His move took a major UN agency outside the United States and Western Europe into the Third World.
Jowi took over the role of Minister for Economic Planning and Development after the death of Tom Mboya in 1969 and as Assistant Minister for Labour to serve under Eliud Ngala Mwendwa right after independence. Despite international recognition and acclaim as a master geostrategist, Odero's fortunes would sink never to recover until his death. He remains the one president we never had who would have greatly built Kenya's international stature.
3.Harris Mule.
Mule's journey to this list started when he rejected an appointment as a D.O preferring to take up the role of a government economist instead. Born 1936 Mule began his public role as a statistician in the Ministry of Agriculture before moving on to become a government planning officer. That route significantly slowed his political rising through government ranks effectively limiting his future political fortunes.
He burst into the limelight when in 1970, Parliament appointed a select committee to look into the issue of unemployment. It's he who provided technical staffers to Parliament, and the Select Committee's final report would greatly influence ILO's decision making two years later.
The final report Sessional Paper No. 10 of 1973 on Unemployment remains one of the most comprehensive documents on unemployment and reflected parallels with lots of ILO's recommendations. Even then the Kiambu Mafia stifled its implementation especially in areas that touched on the industries that they dominated.
Mule would further invest in rural development by coming up with policy recommendations on tea, coffee and rural development a precursor to devolution. Failure to anticipate the political aspect of economic development stalled his professional advance and a possible route to the presidency.
4. Pio Gama Pinto
Malcolm X's personal friend, Pinto would be killed on February 24, 196,5 just 72 hours after his Malcolm X had been assassinated. Bold, courageous, outspoken and earthy, Pinto's socialist-leaning put him at loggerheads from the get-go with the patriarchs of Capital; Mbiyu Koinange, Charles Njonj, and Murungi.
A tactful trade unionist, Pinto, a Goan, had returned to Kenya in 1949 and spent the 1950s defying the colonial rule including entering Whites-only cafes in Nairobi and Mombasa. While not Kenyatta I's favorite person, Mzee still had respect for him given he had been actively involved in securing his freedom from Maralal.
The final straw would come when he would openly argue with Kenyatta in the corridors of Parliament and even called the president a bastard to his face. Pinto, saw the Sessional Paper No as the legalization of capitalism something he was fully opposed to. He combined his masterful journalism skills, with his political clout and capacity to institutionalize ideologies to set our politics on a path to prosperity before 'they' took him out.
5. Wangari Maathai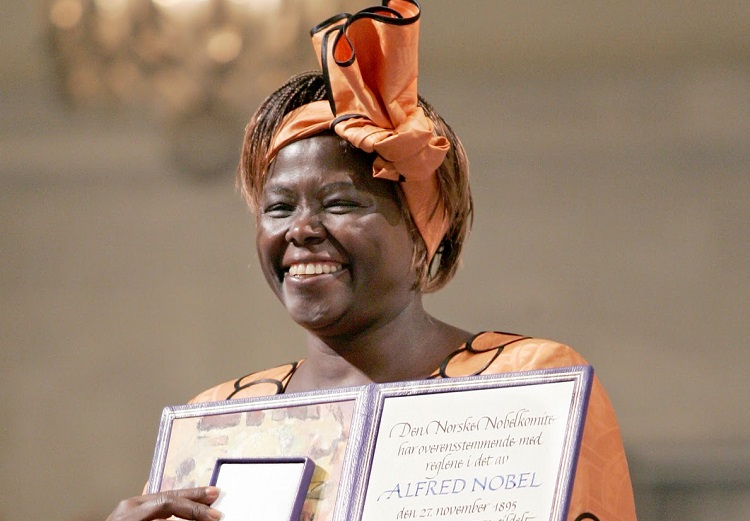 Wangari Maathai, Photo: Courtesy
A household name both at home and abroad Maathai sat in dozens of councils worldwide, was affiliated with tens of professional bodies, could cite innumerable achievement in her long and illustrious career and was the recipient of numerous awards including her 2004 Noble Peace prize.
She remains the mother of the nation, a powerful feminist, environmental warrior and patron of the Green Belt Movement. A Pittsburgh and University of Nairobi alumni Maathai displayed versatility, dignity, strength, and courage for decades as she stood while up to the murderous and repressive Moi regime. She remains the most prominent female public figure in the country and it's harder to tell why she never gunned or made it to the top office.
Even in her death her stature, remains unbowed, reflecting a complex personality whose contribution to our national prosperity will remain incalculable. Maybe were it her and not Kibaki who'd taken over in 2002, we would have had an opportunity to stall the evil neoliberalism unleashed by Kibaki. She became the first African woman, and the first environmentalist, to win the Noble Peace Prize. And we thank her for saving Uhuru Park and Karura Forest from the unquenchable thirst for skyscrapers of tenderpreneurs, to whom conservation is an inconvenience.
6. Calestous Juma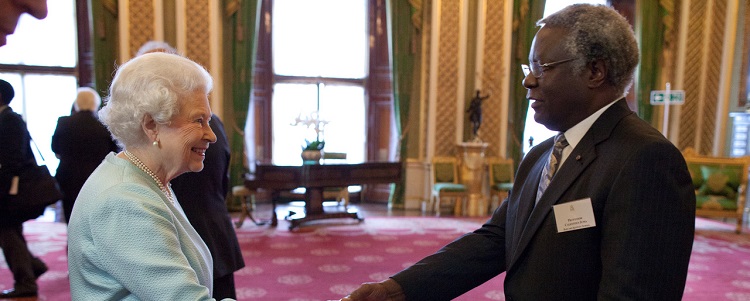 Juma meets Queen Elizabeth II at the Buckingham Palace to celebrate the First Queen Prize for Engineering in 2013. Photo: Courtesy
While he remained a global citizen for most of his adult life Juma started his career as a teacher in Mombasa before venturing into journalism in Nairobi. He was of unmatched intellect and drive and possessed a deep understanding of global dynamics, a feat that earned him a slot on the list of 2017 Most Reputable People on Earth by a South African consulting firm, Reputation Polls. A towering scholar, tech enthusiast, veteran researcher, all-around mentor and a great person Juma preferred to impact the country through science rather than politics. Still, there's no doubt Kenya would have become a science giant in the continent churning cutting-edge ideas and products had he gone for the top seat.
As the first director of the United Nations Convention on Biological Diversity, he invested heavily in building Kenya's and by extension Africa's knowledge economy.
Surprisingly he managed to stay away from politics and making a commentary on pressing social, political and economic issues even as he worked away from the limelight to fix them. Maybe he would have done an even better job working form the house on the hill.
7. Grace Ogot
Her name won't ring a bell to many young people. But Grace Ogot was the country's first female member of parliament representing Gem constituency and a long-serving public figure remembered more for her literary rather than political contributions. Ogot, a trained nurse, served as an assistant minister of culture and social services. Before that, she worked as a scriptwriter and announcer for the British Broadcasting Corporation (BBC).
As a leading light in East African Literature, she towered over the public domain with her gentle unassuming mien, reflecting a firm yet measured strength. Ogot remains the one female figure whose capacity to elicit support across political and ethnic grouping was unmatched-and untapped.
In analyzing her political journey, one gets the sense that she understood the stakes in pursuing the presidency were too high and not worth the stress.
8. Robert Ouko
A veteran of Kenya's civil service, having served for 28 years under both Moi and Kenyatta regime, Ouko knew pretty much all there is to statecraft. His intellect, dexterity, international networks and experience came in handy through the first decade of Moi's regime.
Ironically Ouko remains the president we never had precisely because he was perceived as a threat by those who saw him as a possible heir to the throne. Mystery still surrounds his assassination on February 13, 1990, a spectacle that has pretty much come to define how he's memorialized in popular literature.
Ouko is the father of Kenya's regional diplomacy and its linkage to global institutions including trade unions. He remained an astute public figure throughout the 1970s and 80s and spoke into a range of progressive issues including the famous women's right conference of March 18, 1986.
His image remains frozen in time, a testament to the potential the world saw in him and the hopes the nation had laid on his shoulder. At 59, he was at the peak of his political career right at the moment when Kenya's political landscape was changing and for a moment it looked like an opportunity had met preparation, he was taken out.
9. Joseph Murumbi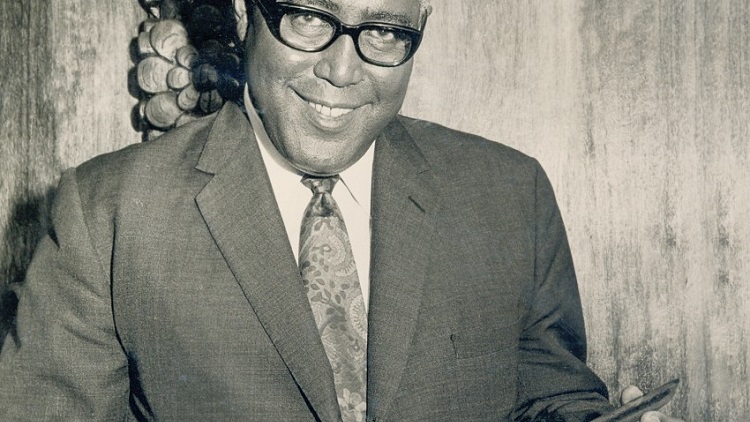 Murumbi, one of the least understood public figures in Kenyan history.
Half-Goan, half-Maasai, Murumbi remains a mysterious yet powerful political player in the immediate post-independent history. There's no doubt he played a major role in the fight for freedom including his participation in the Lancaster Conference eventually being rewarded with the position of a Vice President.
Murumbi was a rebellious aristocrat who on one hand enjoyed the trappings of high society while on the other hand fought for the rights of the landless poor and the minority.
He remains the father of Kenya's foreign diplomacy having personally overseen and supervised the setting up of foreign embassies and missions abroad. He expanded the nation's clout including at the United Nations a feat that impressed Kenyatta I.
Murumbi was forever uncomfortable with the corruption in Kenyatta I's cabinet and at one point even confronted his boss, the president about it. He would abruptly resign from the vice-presidency, a year and a half after accepting the position. Murumbi continually blamed those around Kenyatta I for the death of his close friend Pinto.
Throughout his public career, he continually underestimated the resolve and murderous instincts of the Kiambu mafia. He, while not a consummate political player, often played the role of a powerful insider who had the people's interest at heart-often enough.
10. Tom Mboya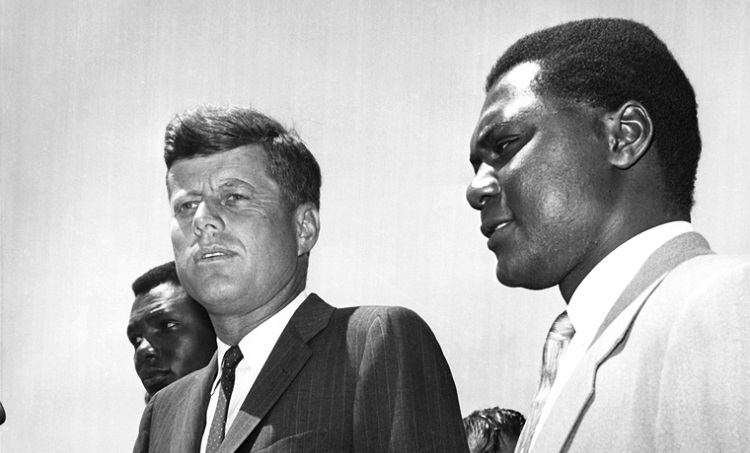 Tom Mboya (R) and John F Kennedy (L). The two were assassinated in the 1960s, six years apart.
An influential and possibly one of the most brilliant and influential sons of the continent Mboya, just like Ouko and their mutual friend JFK died young and their youthful faces remain stuck in the public's active memory.
Mboya, working under Kenyatta I as the Economic Planning minister, aired constant frustration about his job and even contemplated resigning and taking up a role in the United Nations. Mboya first vied for Legco as a worker's candidate in the early 50s defeating Argwings Kodhek. He then joined the Nairobi People's Convention Party formed in 1957. Well aware that Kenyatta I never really liked him, he threw his weight behind Gichuru.
In Gichuru, he saw a path to the presidency through vice presidency and so tried to undermine Jaramogi Oginga Odinga. Ironically the exit of Odinga I left him exposed and on the sights of the deathly Mafia.
He achieved so much, in the formative years of Kenya's independence, airlifting so many students to the United States, the students would become the first technocrats in the independent Kenyan state. Looking at their name, it was a diverse list, unlike today when such opportunities arise, they are reserved for the members of the tribe of whoever who is dispensing them.
Together with Mwai Kibaki, they wrote the Session Paper No.10, Kenya's first economic blueprint. Had the plan been implemented successfully, maybe Kenya will not be as unequal. But many people think it was the original sin, but just imagine, had he, with Kibaki been given a chance to run with it?
In 1969 a Mr. Nahashon Njenga would assassinate him on Government Road (now Moi Avenue). Young, brilliant, and erudite, he miscalculated his odds within the KANU power intrigues and paid for that mistakes with his life effectively ending his path to the presidency.
11. Barack Obama Snr
Barack Obama Snr too would have made a great president. A sharp and brilliant economist, he did so much as Economic Planner of repute, changing the regional landscape. Despite his love for tipple and much-talked womanizing tendencies, he was an instrumental figure in shaping the country's tourism sector, construction of roads and railway as well as shaping aviation and our harbour capabilities.
He conceived Bomas of Kenya, the cultural masterpiece at Lang'ata. He made possible the construction of Hilton Hotel another landmark of Nairobi. His Kenya Tourist Development Corporation contributed about two thirds of the cost of building Hilton.
The Northern Corridor, the 9,000 Km road was his brainchild. And he was a top contender for the Governor of Central Bank job, just before he died at the age of 46.
Read more about Obama Snr.