Reading Time:
3
minutes
The slow death of Nakumatt and the prolonged funeral has been one of the most painful events of this decade.
At its peak, Nakumatt was the supermarket brand with the highest snob appeal, as Tuskys played second fiddle, and Naivas was the derided choice, dismissed as a supermarket for the poor. Funny how times change and Naivas is taking over some of the most prized spaces formerly occupied by Nakumatt stores
I had a friend who will never be caught dead in a supermarket that is not Nakumatt. Nakumatt arranged its aisle in a classy way, stocked the most appealing brands, people actually didn't mind the marked-up prices. But soon, Nakumatt will only be a memory after three decades of existence with the 2000s as their most successful decade winning every business and entrepreneurial award in the book.
When the going got tough, Nakumatt quit. Shrouded in controversy, bad debts, the stores started running dry, you could not find something as basic as milk on their shelves. Walking into a Nakumatt store was like walking into a bombed out city that has since been deserted.
But there were certain vital stores that they should not have let up. Nakumatt was such a brand, they should have clung to them, by all means possible. They include.
1. Nakumatt, Development House, Moi Avenue
This one took over from Woolworths (or was it Walmart), that closed shop six or seven years ago. Nakumatt picked immediately, because the place it occupies was so good, as a store stationed conveniently proximate to many bus stations, Railways, the Lang'ata matatu stage behind it, Transline at Afya Centre, the main Bus stations. The place has perhaps the highest human foot traffic in the CBD, as people rush home. Impossible to imagine how it would run on a loss. Sadly and happily, Naivas have taken over to give Tuskys Pioneer, and the Tuskys at the Bus station some competition.
2. Nakumatt Lifestyle
This was the largest supermarket in the CBD, and at one point the best stocked. With ample parking and the many eateries it housed on the first floor, it was guaranteed shoppers at any given time, more so young people with alcohol inclinations. It was a good place for late night shopping, especially if you dated an urbane girl who liked an airy upscale supermarket. You wonder what can replace such a juggernaut.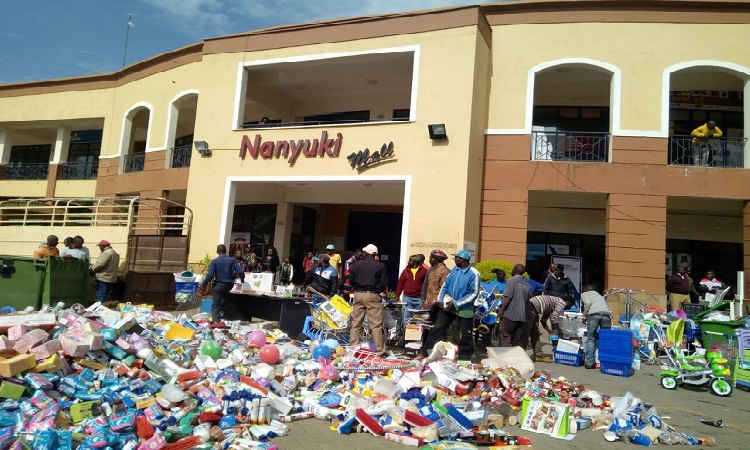 Scenes nobody ever imagined we will ever witness.
Nakumatt was kicked out of the Nanyuki Mall a few weeks.
They have closed down more branches, like the Kisii Branch.
3. Nakumatt Junction
The mall at Dagoreti Corner was the ultimate middle-class shoppers' paradise. The mall was named after the supermarket. It was easily one of the most spacious supermarkets, with so much class, that some of us always felt as lesser beings shopping there or hanging out there. I remember buying some popcorns there, they went for like 150, and in my hood, it is Sh 30. For Dagoreti Corner folks, things will never be the same again.
4. Nakumatt Embakasi
Critically in ICU. Last time I stepped in to buy water, I could find anything, not even a packet of milk. It will be closed anytime soon. Yet, it was a good place for shoppers from Imara Daima estate, Pipeline and Nyayo Embakasi. Actually, the entire Embakasi constituency relied on it. It was an averagely good place to shop and were always well stocked. Now, the mall is deserted and other than the Getrude's Children clinic, there isn't much left. The newly opened mall, is it Southfield, will clinch any remaining activity from the mall that housed Nakumatt Embakasi.
5. Nakumatt Wabera St.
So you work in the CBD. It is lunch time and you have no means of affording yourself a decent lunch. What choices do you have? Probably duck into a supermarket, buy some yogurt and queen cakes and you are set to go. The Nakumatt near the high court was just for that. I remember when I used to work at Hamilton House five years ago, my lunch was something from the Nakumatt Bakery, what-was-its-name? American pie or something…I would take that and the tea the office served and it would last me a day. Nakumatt Wabera Street was for quick shopping, and would never run out of customers. People still go there, but can't even find a roll-on to buy.
It came to that.