Reading Time:
3
minutes
Skipping lunch to save on a coin is an old trick of many Nairobians. Typically, many go for a heavy breakfast, a simple snack for lunch and eating gluttonously at the end of the day.
Gabrielle Omolo, who was buried last weekend saw the trials and tribulations of Nairobi at lunchtime back in the 1970s.
"Wengine wanakwenda kulala uwanjani, kumbe ni shida ndugu njaa inawaumiza…
Wengine wanakunywa soda na cake, huku roho yote kwa chapati na ng'ombe…"
He famously sung.
But you don't have to be hungry. We fished for cheap lunches that you can eat for Sh 200 or less.
1. KK- At Al-Yusra-Sh 150.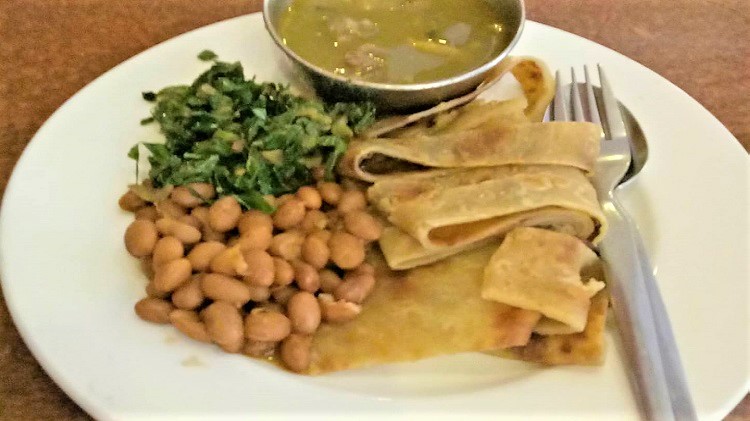 This is a standard fare at the most Somali restaurants. It consists of a single chapati, some vegetables, a scoop of beans and some soup and one or two pieces of meat. It is enough to last you an afternoon, instead of yawning in your desk. When you are hungry time moves ever so slowly.
For Sh 150, at Al-Yusra, you can get a KK. In other Muslim restaurants, it goes for Sh 200, or even 250. At Al-Yusra, you add a cup of 'small' tea that goes for Sh 50, and you would have had a healthy meal.
2. Special Mix G&R-Sh 200 (with fries Sh 250)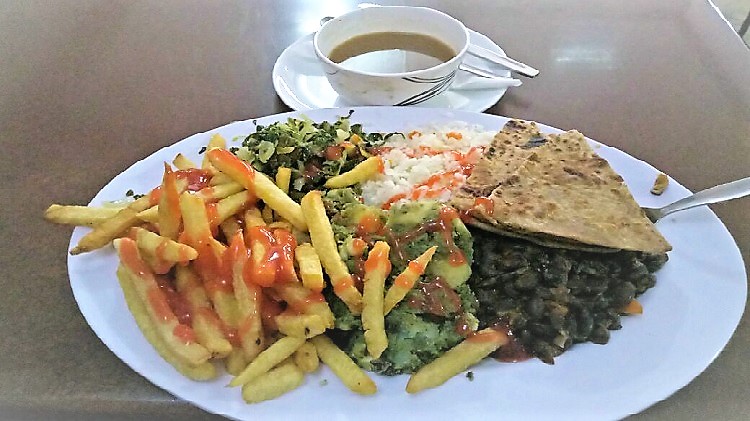 Basically,mashakura. Imagine the plate a size of a tray, with mukimo, njahi, rice, githeri and chapati. A few years ago, it included a handful of fries, but lately, for fries, you pay an extra Sh 250. The food is more than you need. It can actually feed two people. Ooh, there is also some sauce if you want. It is hardly tasty, but as a stomach filler, this is good.
G&R is ever fully, only worse at lunchtime. If you can go before or after the peak lunch hour, you will be good. It is along Muindi Mbingu and Biashara Street.
3. Ugali Managu-Sizzling Restaurant (Sh 200)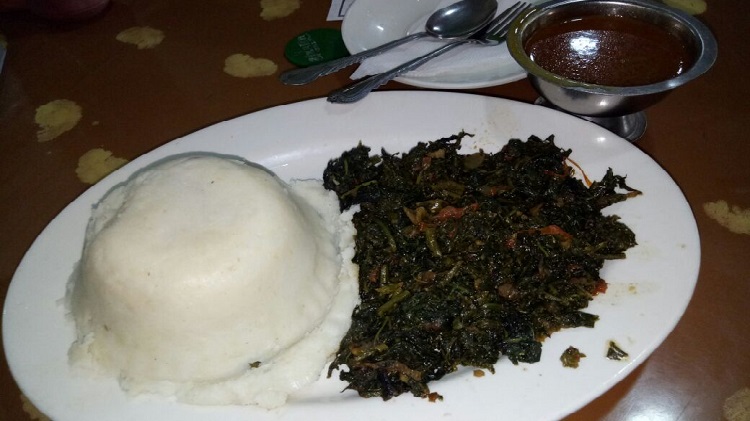 Sizzling is quite popular in Downtown Nairobi. They make the best-mixed tea in the Nairobi CBD. Their specialist is the meat or fish that is served off a burning wooden plate, hence the name Sizzling. But not every day you will afford a Sh 400 or 500 treat. Other days, their ugali-managu is a good treat.
Of course, if you are from Western Kenya, the Ugali may be a bit off, but the managus are as good as your best aunt, or ex-girlfriend used to make them.
4. Good old grease fries at Sonford (Fries Sh 80. Chicken 135)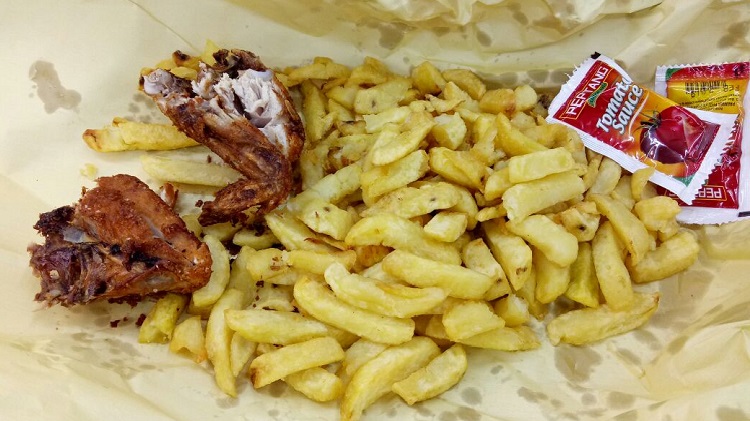 The problem with Sonford is that, almost always, you will meet someone there that you know, the annoying colleague, the silly ex, the former college friend, anyone. Also, for men, especially the older you are (or taller for my case), the more impossible it is, to step into in any of the fast food joints along Moi Avenue and Tom Mboya. But fries still hold their trophy as the easiest fix for lunch and dinner, despite growing concerns of obesity.
The old style used to be you buy two fries and share the chicken piece. It can still work. But the fries are always not the best compared to high-end eateries, but that is why they are high end.
5. City Market (Sh 150-240)
It is not the cleanest option. The eateries there are smoky and messy. But if you can live within your means, it is still ideal. Walk up there, wash your hands and taste the nyama choma for kionjo, whichever tastes good, go into that restaurant.
Alternatively, you can go and have a fruit salad. Of course, the old mamas and mzees, will cheat you with too much watermelon and pawpaw(easily the worst fruits), but you can live on fruits until jioni.
6. Githeri at any Highlands (Sh 170)
Highlands does not make the best foods, despite their claim to "African Continental Dishes". But when you are broke, you are broke, period. Go there, ask for githeri. It will hardly last you three hours, but it can get you going.