Reading Time:
5
minutes
This year has been damning. The average Nairobian suffocated and buckled under too much pressure.
Bills keep piling up and the cost of living keeps going up. This has been the year friendships have been strained by the silence of unpaid soft loans. The year when relationships have hit an iceberg because no romance without finance.
Even with December left, all hope is not lost. The high that came with jumping into 2018 has slowly worn off like the effects of a cheap drug.
Reality sets in somewhere mid-February, the futility of resolutions laughing right in front of our faces. But since we are a resilient lot, beaten spirits and tired souls we still soldiered on.
For some guys, we have come into a season where they now must go back home and show off all they have been working for this year. This means gifts, shopping, cash hand-outs, shopping center trips in their cars and sponsoring beers at the town locals. These guys hate December. If they could have it their way they would be somewhere, alone, away from the world. They would be licking all the financial wounds the year has handed them and secretly hope for a better year.
Despite what they say, ladies still like a man that has some man in them.
But not everyone will do that.
Some buckle under the pressure to impress guys back at home. For some, it is just responsibility. In the eyes of others, they've made it. So why would they not share a slice of that cake? Some are just overly generous. This article is not for them.
This is article is for the lone wolf. The guy that wants some time to themselves. The guy that will find a lonely counter and order a cocktail.
Normally they would not order one. They are too manly for a cocktail. What will people think? What will they tell them? But now they want to spoil themselves. A manicure, pedicure or a spa treatment would have done but he does not have enough metro in his sexual. So, a cocktail will do. It is sophisticated, classy and he can get away with it.
Besides, if this lone wolf is single, he could make small talk over a cocktail. You would not dare the same with your feet in a pink tub, a chubby lady holding one foot and scrubbing the dead skin out of them with a beaten pumice. Your masculinity will not survive that hit. Because despite what they say, ladies still like a man that has some man in them.
Anyway, this guy would need where to go and what to ask for and The Kenyan Bar guy got his back.
1. Mwenda's
This must be at the top of my list. More than once a fellow or two has succumbed to the strength of the cocktails here. They are not to mess with. The cocktails here pack the blessings of your ancestors and might leave you talking to them if you are not careful.
My pick is the Naked Mogash with the Long Island a close second.
2. Igiza Lounge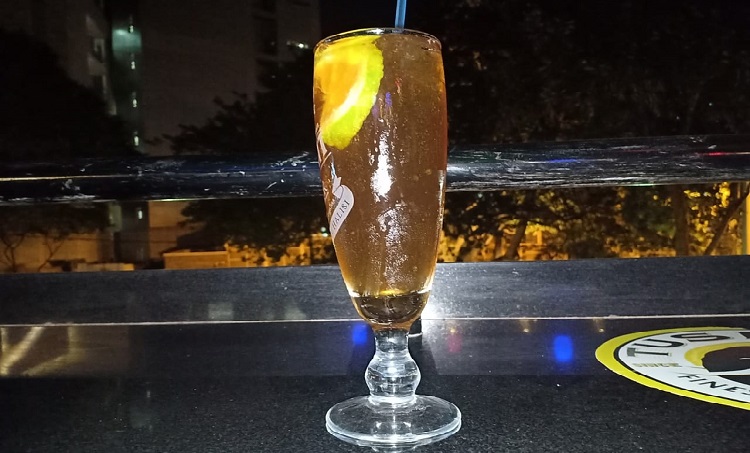 Not many know about this place. It is at the Kenya National Theater.
The good thing about hidden gems like this is the fact that they have a reputation to uphold. A reputation that is spread by word of mouth. So, if you find yourself here get a Long Island too.
It is one of those cocktails that is hard to mess up.
3.The Brook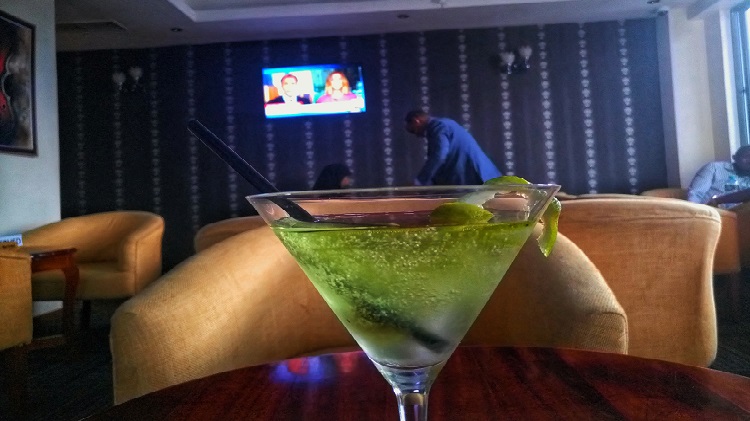 The Brook's Martini, you will love it, if you loved James Bond.
I loved this lounge. It sits at the top of After 40 Hotel on Muindi Mbigu/ Tubman road. I also had the most fun writing that article. Writing it felt like my fingers were singing a beautiful song.
I loved their martini. They serve and garnish it well and it gives you a 007 vibe. If you are going to lone wolf and feel like being fancy, suit and tie type, this joint will definitely compliment you.
4. Tusker Lite Sky Bar
This was my most recent cocktail review. I died to try the Weng Weng, and I did. The place has a fun and colorful ambiance to it. You can enjoy football matches, live or reruns, sip on a Weng Weng or bullfrog and feel good about yourself.
Plus, it has an expansive view which lights up nicely in the night.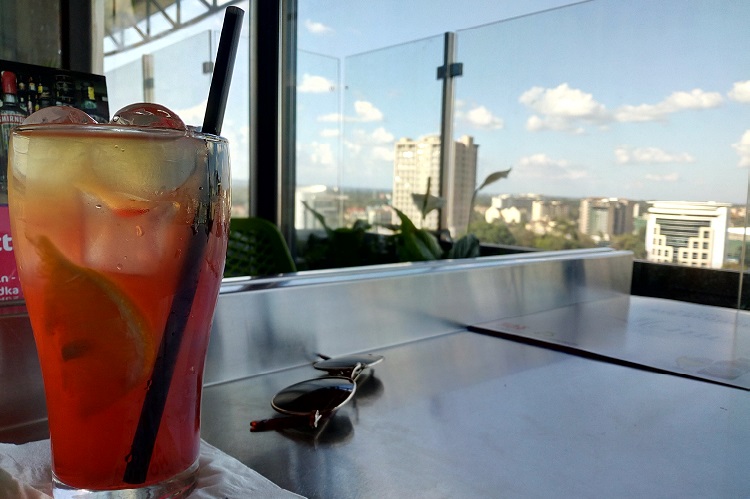 The potent Weng Weng
5.Brew Bistro
The Westlands one is the place to be. It is upbeat and has the most professional bouncers I have ever encountered. This is a good thing if you will be alone and are unsure of the safety of your belongings. They also have decent mojitos. But If you are feeling daring enough, get a French Kiss. It looks just as it sounds so don't be surprised. On happy hour you get 2 for 1.
6.News Café
You will have a good or bad time here depending on what mood they are in. Sometimes they make killer cocktails other times they put in too much ice. But if you find them on a good day get the Seven Deadly Sins. The name sells itself. You will be a sinful wolf that night.
7.Artcaffe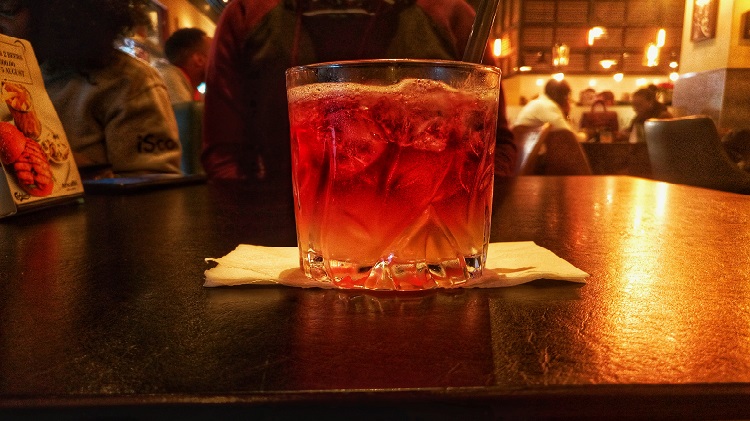 This should have been somewhere there at the top. Artcaffe gets away with being consistent every darn time. They do not waiver on quality. Methinks they keep the mixologist on retainer and offer a hefty package to keep them there.
When there try their New York Sour. Get it on happy hour and you will have 2 for 1.
Enjoy the vibe as it is divine. Just don't people watch – maintain a conversation with yourself in your head and look cool.
That's just about it. If you feel there was a restaurant I left out feel free to drop a comment, I'll check it out and add it on here.