Reading Time:
5
minutes
Nanyuki is a town with one street. The street has a few tributaries here and there but let's face it, politicians holding a pissing contest as they are wont to do at the governor's office are likely to wet the whole town before they are halfway done.
That said, it is probably one of the most culturally diverse towns in Kenya. Yep. Screw Mombasa. Or Nakuru. In Nanyuki, you find a half-British, half Kikuyu, half-Kikuyu prostitute, who during the day works in a highbrow grocery store run by an Indian who buys his greens from a Maasai farmer (no that is not an oxymoron) and wheat from an Australian who speaks fluent Kikuyu and bad Swahili like everyone else in Kenya.
There is also a ton of Khat chewing Kambas and "fake" Maasai dancers some who are Merus. Drinking is not a vice in Nanyuki. It is a rite of passage. Everyone except my friend Jerry drinks. However, the prices of the frothy stuff dictate where you can enjoy your tipple. If you are in town, you can catch a boda-boda operated by a guy with a name as normal as Charles or Hassan. I know for a fact that outside Nakumatt there is a boda-boda guy called Facebook. Of course, you could drive to Kongonis or Trout tree and pay between 250 to 350 for your tusker. Today we look at some of the places you can catch a beer, wifi, coffee and perhaps a kahalf.
1. The Mohegan Lounge
This is the newest kid on the block. Located at the equally new Cedar Mall, the Mohegan is the one place in Nanyuki that looks like some of the clubs in Westlands Nairobi. It has the perfect decor and a VIP section upstairs that I have never seen anyone there. For some reason, this section is separated from the rest of the club with some roughly hewn pieces of wood that resemble the underside of a bed. You know that thing you put a mattress on? Or better still, imagine a pearl white brand new Mercedes with "Kamau Wa Njagi Traders P.O Box 193 Murang'a" emblazoned in black below the driver's door. That is what the entrance of the VIP section looks like. I think a jeweled rope would have done just fine.
They have a pretty decent selection of hard stuff that is flaunted behind the counter with a chilling disregard for the vagrancies of Njanuary. We are waiting to see if it takes Casino's lunch since, Casino used to be the place people went after they have drunk KES 200 beer at Checkers or 220 at Numbers (By Nanyuki Standards, this is Cheap). Time will tell. I have yet to see a fake smile from the waiters, most of them are young, light-skinned petite girls with at least a dimple on one cheek and teeth that suggest they have never even driven past Naivasha. There must be males among them, but I am not sure I notice them.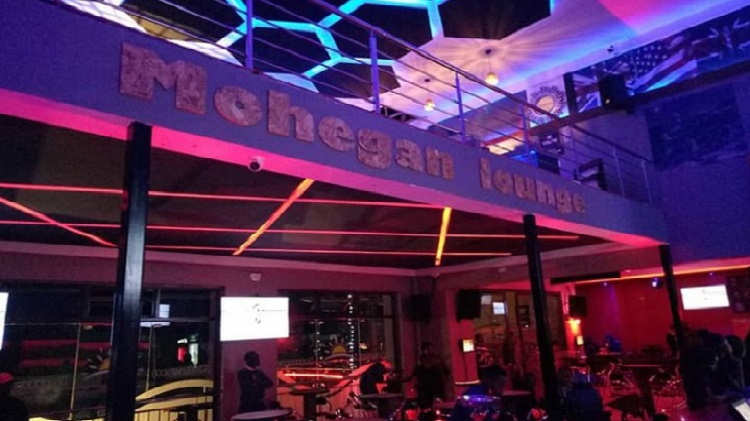 Photo: Courtesy Mohegan Facebook
2. Trends
Trends is a lot like Gary Oldman or Jean Claude Van Damme. Everyone thinks they were once very good at what they did but they aren't dying to see them in action again. That said, I am typing this sitting in Trends as I drink a Guinness priced at 170 KES which is probably the cheapest I have bought stout since 2011.
Their wifi is so slow that you have to move to Club Numbers to like their Facebook page. It has tons of space for Dunhill-switch smoking wannabes and enough parking space to accommodate the egos of V8 drivers. Not that anyone who drives a V8 would be caught dead in a drunk driving accident made in Trends.
3. The Casino
Casino smells of money. All types of money. Broke kids trying their luck at the 50 and 100 bob slot machine and British soldiers probably trying to use up their pound before the after effects of Brexit relegates it to where the Zimbabwe dollar resides. Last I checked booze went for 200 but it might have gone up. It's a popular haunt for expatriates since most locals will find it too classy or dreadfully boring.
4. The Painted Dog
One thing people from a certain tribe are known for is terrible business names. For some reason, it has to be the first syllables of everyone's name. Like Josphat/Kamau/Kimani/ Joskaki?
And whatever Macharia, Kenneth, and Nderitu call their Spa. (That is a low blow) wait did you see the second pun? Ok never mind.
So there is this bar in Nanyuki called the Painted Dog. I thought it was an English pub, but the American owner made it clear that it was as American as a bald eagle doing crystal meth in a Miley Cyrus T-shirt. It is apparently named for the African wild dog which looks like someone dipped it in what was left over after they had painted Zebras. It is located on what used to be Lilly pond. It is actually a bar on a pond of water filled with lilies that have seen greener and wetter days. The walls are adorned in equal number with original and cliche one-liners about the institution of drunkenness. The beer is 250 unless you get there during the 5 to 7 Happy hour when it is a mind-blowing 200. Sometimes it looks like a painting from the 50's in Kenya come alive with the high expat population. Other times, it looks like… well, another Kenyan pub in Nanyuki.
5. Numbers
This is probably the only place in Nanyuki with a music system that qualifies for the name Nightclub. The music in numbers is simply orgasmic. The beats travel from the speakers to your brain without having to pass through your ears. A lot of vibration especially when you are sitting near them. It tends to be pretty crowded though. On an end month Saturday night, you are likely to have someone else's sweat on your brow. Likely the drunk male college student who just came from puking in the ladies. 220 will get you a beer here.
5. Pyramid
If you want to eat goat ribs though, you should go to Pyramid. It stinks like the he-goats [thenges] were murdered right there on the table tops but the meat is sweeter than the forbidden fruit. The ambiance is, however, to die for, in the sense that its boring enough to kill you. If you are going to dine here, bring interesting company.
7. Nyama Choma Village
Nyama Choma Village is surprisingly incompetent in the art of cooking meat for an establishment that is supposed to specialize in roast meat. Every time I have ordered meat there it has had blood in it and no, I did ask for rare. The last time I had chicken there it was so raw I am sure, as the good Chef Ramsey would say, any half decent vet would have had it running around in minutes. It is also possible that I don't like the fact that they don't sell alcohol.
POSTSCRIPT
Updates since this post was first published
In a previous post, I talked about how Nakumatt was crapping its pants with the Arrival of the new cedar mall. Well, I did not know how right until the owner of the Nanyuki Mall welded the doors to Nakumatt shut. Leaving the poor elephant in the cold. Zero chills, I think especially given how much poaching happens in Laikipia. Then he came to clean out space last week and Nanyuki was treated to the second biggest loot-fest in Laikipia. Nakumatt Nanyuki does not exist anymore. The police were directing traffic to ensure the looting went on like a VIP's visit to a slum.