Reading Time:
5
minutes
One of the best discoveries you can make in life as a man when you are 24, is a decent restaurant where you can treat a woman to a proper date. I mean, at 24, you now have the cocky confidence to talk to your crush and ask her out to a date. 
No decent girl turns down a good date. But when you are 24, your crush is probably your age or younger. A girl in her early 20s tends to have some unrealistic standards and impossible expectations out of life. Because she is at her prime, nubile, smooth, curvy, and every pervert's dream. That means you can't treat her to a date along Tom Mboya St. Or any shady restaurant that gets overcrowded in the evenings and tunes to the tasteless 7 o'clock news. Somali restaurants could measure, but despite their finger-licking good food, most young women do not get overly enthusiastic about their decadent young goat barbeque.
So, the only other decent restaurant in the CBD for a good, quiet date is Dancing Spoon Restaurant and Wine Bar in the 20th Century Building. It is a private, quiet and mature space. In fact, it can be a triple treat for her.
Here is how you go about to score maximum points. Dress decently. Call a Uber for her and it should drop her outside the building around 2.30 p.m.  Have her walk up to the Dancing Spoon restaurant, preferably hungry. In the meantime, order some soda, Sprite or Stoney has some neutrality, nobody will judge you. When she arrives, go for a hug, hands to waist, tighten a bit, rub a little, almost suffocating her, that sigh afterwards is usually sexy.
Throw in a compliment about her hair (if it is hers), her skin, her sense of humour.
The restaurant normally serves some scintillating meals. Their fish fillet, or steak served on a pan, sizzling hot on a burning piece of wood is the kind of meal that a woman will not forget, 30 years from now, when married to some douche who treats her badly. Ensure she goes for fried, or roasted potatoes. Then like a man, go for ugali, if you are not as hungry, try their rice, risking your manly credentials.
Make the conversation light. It should be about her.  At 23, a woman is self-centered. So, ask her interests, listen carefully. Ask questions, but allow her to eat. Throw in a compliment about her hair (if it is hers), her skin, her sense of humour. Be playful. Grab some fries from her plate, feed her some. Let her have the fish but have her taste your steak. Ask her opinion about it.
Once you are done, order some fresh juice for her. Make sure it is passion or orange. Another soda for you. In an hour, step out of the place and take her to a movie across at IMAX. A 3-D movie will be more magical. Do your assignment properly and ensure it is a movie worth watching. The better if it is her first time, given she went to Moi Girls Eldoret and only came to Nairobi when she was joining the University of Nairobi's Upper Kabete campus to study something about inseminating pigs.
You forget.
Hold her hand, as you go in, sit and let the movie roll. Squeeze her hand from time to time, especially if it is a horror flick and she needs reassurance that everything is fine. Tell her your name is Fine. Once the movie ends at 6.30 p.m. she will probably be tired and may want to go but that is when you suggest that there is a wine bar upstairs.
Show her where the washrooms are, the juice may be down her bladder, and sometimes some people are toilet shy.
The better if it her first time, given she went to Moi Girls Eldoret and only came to Nairobi when she was joining the University of Nairobi's Upper Kabete campus to study something about inseminating pigs.

 
She will feel loved if that is her first time there. The red-themed bar for the longest time has been the places for women who know their value. Women who like life, have standards, date good men, and like a good wine. The wine bar's ambience pulls you in. Often it is not as crowded. So, you can pick the red lounge chairs, preferably at the corner. Or much more respectfully, sit at the counter.
Since it is her day, and you are doing your sovereign duty to make her happy, buy a wine bottle. They have decent wines, some quite affordable, at Sh 1,800 get her one. Red-sweet. The bar man is chatty, easy guy, who will recommend the best wine, and since he is hell-bent in making you score, he will recommend you buy the bottle. It is a good bargain. You can have the wine with her. But you should be a man.
You remember your visiting uncle buying you some bourbon whiskey by the name Jim Beam. As you sit by the counter, you see bottles of Jim Beam on display and that is what you order for yourself. The bar man knows his job.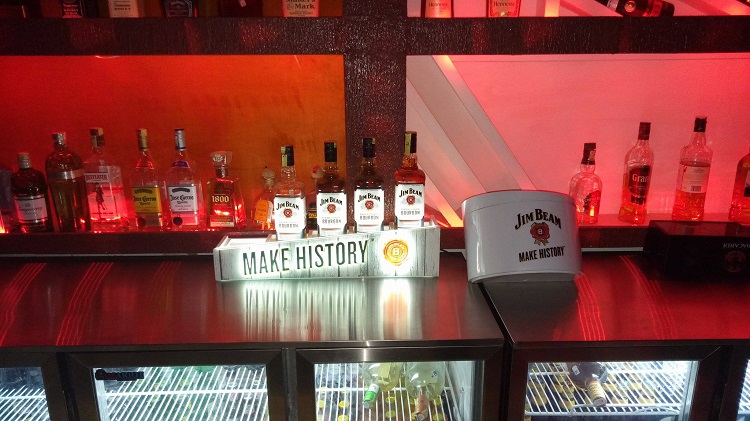 The girl will know you have class. The women with their Versace handbags and expensive human hair imbibing, will inspire her. She will know what kind of woman she would want to grow to be. And this is the time you go in for the kill. Women lose interest so fast and you must keep your wits tops, as much as possible. By the time she finishes her first glass of wine, you should have your pitch ready.
Paint a world you want to have with her. Be candid. Tell her you will cross the damn ocean for her, can go fetch the moon for her and other romantic things. By now she will be amazed that a man can dedicate so much energy on her. By the third glass, you can get touchy-feely and test how far you have come (enhe, not that coming). Touch her knee, her neck. Wrap your hands about her waist and tell her it is the best you have touched in the world. Look her in the eye and ask her any bold question, like what works for her sexually. Or what her fantasies are…Get dirty to test how proactive she can be.
By 8.30 p.m., you should call it a night and order an Uber for her. This is how you do it. Once the cab comes accompany her to her estate, hoping she doesn't live in Mathare North or any other shady place.
When you get her home, step out, and see her to her gate, hug her and try a kiss. If she grants it, you did well, if she slaps you, go home and count your losses. But she will never forget how important you made her feel.