Reading Time:
4
minutes
No doubt that Two Rivers Mall is the best mall in the country. Set in a serene neighbourhood, the mall was built with better architectural standards than every other mall that litters Nairobi city.
It is huge, spacious on the inside and gives you multiple options on how to spend your time. Security checks can be meddlesome but it is a small price we have to pay for the freedom we enjoy in this country.
Often, they say restaurants give malls character and Two Rivers packs some decent restaurant. Most people favour Pizza Inn because it is affordable, but it is worth trying Urban Burger, or her elder sister, Artcaffe.
First time at Two Rivers I went to Pizza in but it was too crowded and I get uncomfortable around crowds. Besides I was meeting a top boss of a company and needed somewhere that is private and a bit intimate. I tried at Artcaffe, but this cold weather is not for an alfresco dining experience.
I went into Urban Burger, mainly because I love a good burger since I first watched Pulp Fiction. That scene Samuel L Jackson takes the burger from Frank Whalley still gets me.
When my boss arrived, we made our orders. Being older and richer, he definitely does not like junk food, but it had been a while since I sunk my teeth into some juicy burger and sampling their menu, it promised a sumptuous serving.
The lady who served me, was helpful, in helping settle for their Texas Special. It didn't disappoint. The beef patty was well done. A friend usually tells me, beef has no unique test, that if you were given boiled beef with no salt or spice, it will taste like paper. But their beef patty has character. It is succulent in a decadent way. On top, there is a crispy bacon, subtly scrunchy enough to go down well with the patty. Additionally, there is cheddar cheese, a fried egg, and some lettuce and barbeque sauce. There was some side salad, but I'm always cynical of the salad anywhere. Often it strikes me as never fresh and I'm afraid of food poisoning. So, I steered clear of the small serving of yellow broccoli.
Their burger is a perfect size. There are those humungous burgers that can embarrass you, especially when they are dripping too much. Their choice of bread complements the patty perfectly.
My boss went for their salad and draft beer. Since I like my beer cold, I could not have it, as I was developing some tonsillitis. Besides, I'm trying to quit drinking altogether, so whatever excuse. Instead, I ordered their dawa. It is good enough that every restaurant now serves dawa, and I'm not sure where the fad came from. Ten years ago, we just used to order lemon with hot water, but dawa is now a ubiquitous drink in the hope it can cure some flu. Also, fine for those checking their weight.
The place was quieter for a conversation. The high roof gave the room some airy feel, and the yellow interior and the décor is warm and inviting. Overall, you feel comfortable. Whereas it is a small room, it is well arranged to accord you the privacy you need, you will not eavesdrop conversation in the next table.
Better still, is that they have good screens for football matches. They also have a bigger screen on one wall at the end.
Best still, they have this Soccer Combo offers, that I hope lasts beyond the World Cup. It basically consists of six mini-burgers that you can order in every variety on offer. Add to this, two pairs of their fries, or onion rings and salad. And on top of that, you have two litres of their draft beer. The second time we went there, we tried their dark beer and loved it. The light beer, well, didn't work for me.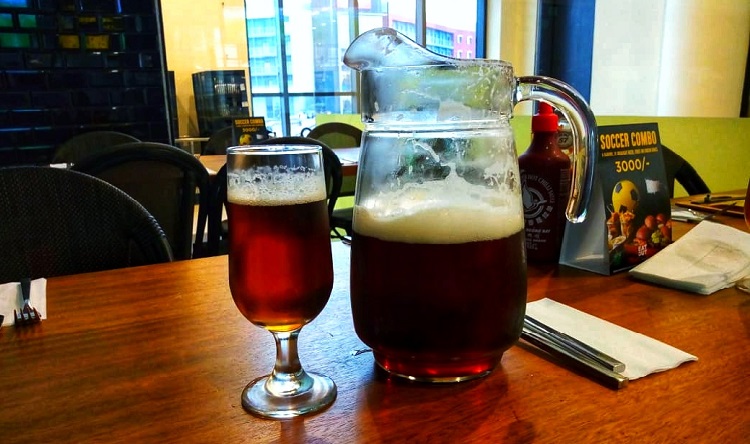 In simple terms, if you are two of you, that is three burgers for each of you, fries, and a salad and two beers for each of you. Enough to last you a random afternoon.
I want to imagine you took your family to Two Rivers for whatever reason, and your kid bro is visiting. You let the mama roam about shopping, you go in and catch a football match, while at I, grab some late lunch or dinner.
The only downside is that if you have to wash your hand, you have to walk all the way to Artcaffe (not far, just next door), or stick with the wet-wipes, whose efficacy in killing germs I always doubt. Wish they even had the hot towels. Or is it too hard to have a sink somewhere within where you can wash hands?
My mate Shadrack Landi, says that having a sink in the eating area is a bad idea and often earns the restaurant some bad rating.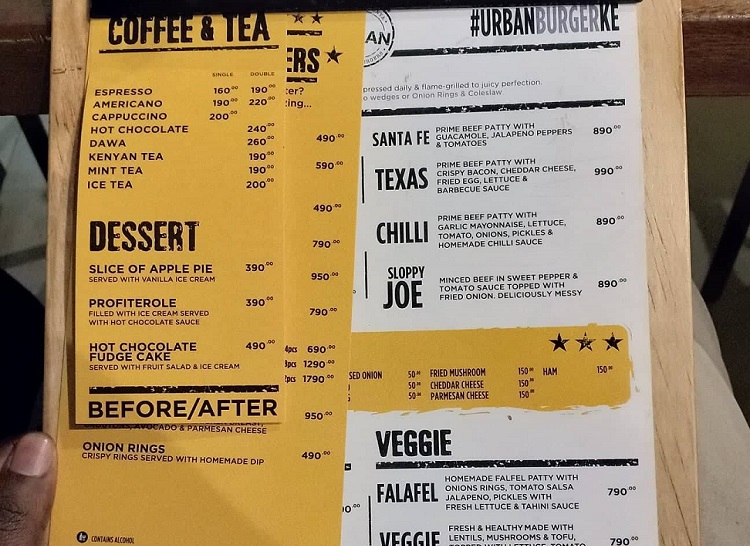 Rating 8/10