Reading Time:
6
minutes
She is Arguably, one of the most telegenic and most sought-after model in the country.
Fiercely private, never controversial, for a person of her stature and looks (and looks especially), she is too laidback. But that is who she is. Maybe you have seen her on a billboard at Two Rivers, her smile beaming down on you, assuring you everything is OK. Or a Minute Maid billboard, and you wondered what could be sweeter, the juice, or her smile. Or the Little Cab one, urging you to go shopping using Uber's main rival in Kenya. Or the GoTV ad, where she represents Nairobi.
She spoke to Cool, about her journey so far, the Harvey Weinstein of Kenya, and why Maseno University holds a special place in her heart.
1. Growing up, did you ever see yourself cat-walking?
No, I never saw myself cat walking. To be honest, I didn't know what Cat walking was until after joining campus.
2. How did you end up in modeling?
On my first day in Campus, I made a friend, who turned out to be my best friend to date. Her name is Faith Mariera. She convinced me to try out the Mr and Miss Maseno beauty pageant. She believed that I could do something great with it. She went to great lengths to train me on how to walk on heels, while smiling with the eyes. All this was new, and frustrating, I nearly gave up. For those who know, wearing heels and walking in them for the first time is not a joke. But Faith was not going to let all that effort go to waste. When I auditioned, I managed to go through the auditions, all the way to the finals.
3. How was it like studying in Maseno on the far West when you were raised in Taita, as far East of the country as possible.
It was a unique and exhilarating experience. See, I am consumed by wanderlust. It is exactly what I wanted; to be far away from home and creating a whole new experience for myself. Meeting new people from different tribes in Kenya, getting to study and forming strong lasting bonds with them was quite the experience. The love and zeal that the community of Maseno University has is one to desire. It is actually a unique university. I made memories that I will hold dear for the rest of my life. Taita is also a great place to be for people that love a cool and chilled environment.
4. What is it that people most misunderstand about modeling?
Most have this misconception that the industry is for the desperate and cheap people. Granted, they are entitled to their opinion. But really, it is an arts industry that needs proper structural support. The talent that lies in our country is just too much when compared to other countries.
I mean if the government and the key stakeholders in this industry decided to offer strong support to modeling as a career, most youths wouldn't be crying over unemployment. Look at it this way, if the Ministry of Public Service, Youth and Gender Affairs decided to set aside some money for say talent search for high fashion models in Kenya, then collaborate with the Ministry of Industry Trade and Cooperatives and then use the models to showcase clothes made at our processing zones, it would directly employ the youth. This would ultimately change the perception that people have about modeling.
All that I am today was born in Maseno University and bred at Miss World Kenya.
5. Are there many sex predators in the industry, you know the Harvey Weinstein scandal has badly exposed the predation in your Hollywood, which can extend to your career.
Yes, there are sex predators in the industry. They are not many. The few that exist are controlled by greed and they are not actually concerned about a model's growth but what they can get out of the model. But if faced with a predator, common sense comes into play.
6. What will you, advice a young woman who is faced with a sex predator who has the key to a possibly great future? Especially if she is really desperate?
You don't have to and should not give it up. For your innocence and for your conscience. It is advisable to seek a mentor, someone you can trust to show you the loops, how to maneuver, and one that will show you how it's done, because again this is not an industry for the desperate, but for the strong willed, people with good character and ones that have a passion to change or do something for the greater good.
When you feel like you desperately want to get in, all you need is to breathe, pull yourself together and approach the industry with sobriety. When you show your weakness to the world, you will be taken advantage of. You might be worth much more because of the features you possess, but if you show that you are down for whatever, then whatever is what you going get. There are quite a number of reputable agencies in Kenya that you can join and seek mentorship from within as well. Believe in yourself and believe that you can do it.
7. You have moved into commercials? How lucrative is it to appear on a billboard? And, how frequent are the gigs?
When I first moved to this sector, it was actually lucrative; things have been a bit slow lately because of the exit of major corporates from the country.
Yes, print advertising pays quite a good amount but depends on other factors like how long the ad is going to run, in how many countries, and such. The gigs are quite frequent. But this depends on what the client is looking for. If your profile fits, you can get as many.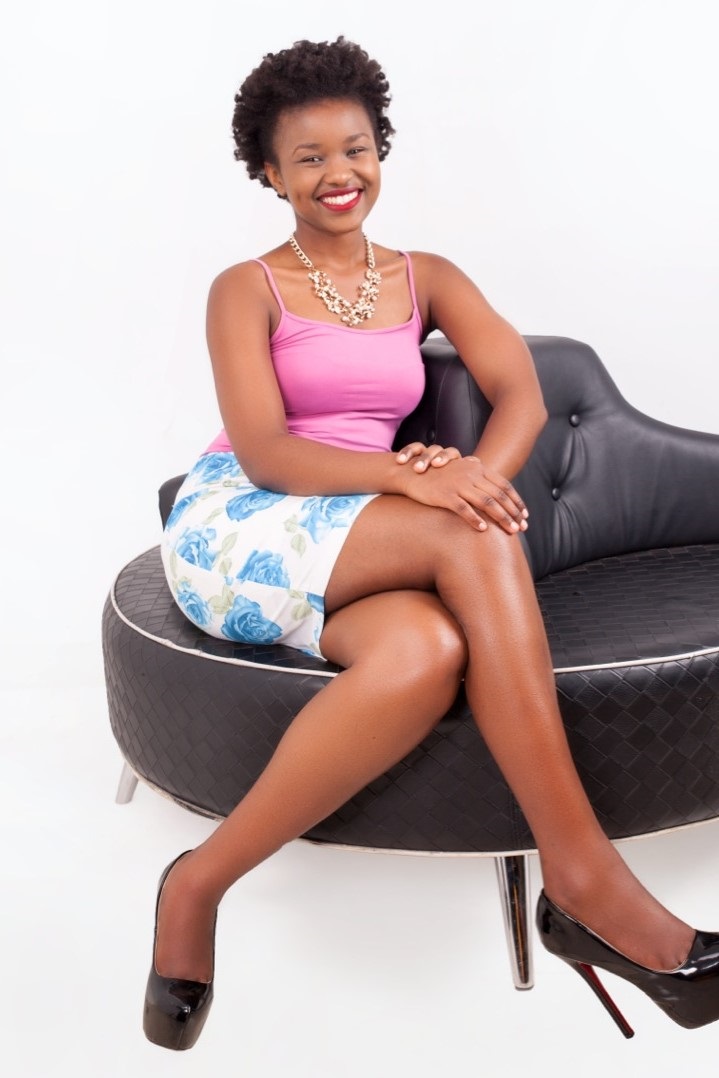 Alice Mutuli with her signature smile. Photo: Courtesy
8. If you had a daughter and she wanted to become a model, would you advise her to try it?
Yes. I would advise them to try it, and guide them while at it. Be there for them every step of the way.
9. Which international model do you look up to and why?
Priyanka Chopra. She won the Miss World Title in 2000. She is now one of the best actresses in the world and she starred in the ABC series, Quantico. I look up to her because of her zeal and her passion for value creation for youth in the society. This is all translated in the philanthropical works she does.
10. What was your worst experience in your modeling career?
I went through a series of auditions for a big brand synonymous in many homes in the world. I was to star as the mother in that advert. The ad was to be shot in South Africa. I didn't have a passport at the time, I only applied a few days before it before traveling and I didn't have it in time. I missed out on it. The carpet was swept right under my feet and for a moment, I felt as if I was walking on cotton wool for sure. I have never forgiven myself for that lost opportunity till today.
You might be worth much more because of the features you possess, but if you show that you are down for whatever, then whatever is what you going get
11. And best?
My best experience was during the Miss world Kenya 2013 where I was a participant and emerged Third runner's up. I was in a in a boot camp with very great ladies, whom we are friends with till today. We were trained by the very best on Etiquette and Public image- Derek Bbanga, Catwalk by Tony Chirah and Okellow Odadah, and even had an in house life Coach- Ms Jennifer Karina.
It is the best experience to me because, it is in this camp that I learnt of how to let go of my fears, connect with an inner me I never knew existed, gained my self- esteem and discovered who I really was, what I was made of and what I was capable of. I am still grateful to Ashleys Kenya Ltd, the owners of the Miss World Kenya franchise because they gave a little country girl a chance to explore her dream and showed her the way.
All that I am today was born in Maseno University and bred at Miss World Kenya.
12. What are you looking at in ten years to come?
In ten years to come, I am looking at being one of the people that will have taken part in coming up with proper structures in this industry so that it can create some serious job opportunities in this economy.
Also, I am looking at ways of ending Cyber Bullying as it lowers many people's self-esteem making them shy away from achieving their dreams as models and building very high walls around themselves, making it hard for them to explore their unutilized talent.