Reading Time:
4
minutes
My advice is to avoid Two Rivers Mall, if you can.
It's like a beautiful siren whose tale you've heard over and over and you are enchanted by the mystery it's shrouded in. But getting there, is like a mini road trip. Limuru Road gets clogged up, cars kissing each other's butts and you have to bear good reggae from bad matatu speakers. If you're running late you're better of signing a rain check. Nothing is as bad as getting to a date where you have to start with an apology.
But if you find yourself on that side of town, you deserve a good spot to recover from the grueling journey. Btzek promised to be that spot. The rave reviews and the promise of their signature cocktails, especially of the Caribbean weed cocktail that I was dying to try, was all I was looking forward to, this chilly Saturday afternoon. But as fate was not on my side. Btzek was closed and looks it will be closed for a while. The inside looked like the remains of a bombed church. Frustrating.
But as they say of importance is life.
For a mall as large as Two Rivers, it is shocking that there was only one lounge. So, after walking another 100 square miles trying to find a decent joint for the England VS Belgium match, I landed on Artcaffe.
A gentleman always shows up for a date slightly tipsy and funny.
Ah, about the right time too because they have legendary cocktails on happy hour. I not only love their happy hour for its affordability but for its philosophical dilemma. It's how you choose to look at it.
It can either be buy one get one free or buy one at half price. I prefer the former. I am a sucker for free things. The thing with Artcaffe cocktails is their consistency whether you're in the Lavington branch or the Galleria branch it's all the same. I fancied an Old Fashioned but walking into this Artcaffe a stark reality hit me, they don't have television sets. So here I am. Young. Tired. Thirsty. And a hunger to consume World Cup like my fellow testosterone pumped species. Meaning I had to move.
I didn't go far. Where Artcaffe failed, her younger brother Urban Burgers came through. They have screens hanging all over the place. And a large projection at the stern of this glorious ship. And this, mates, is where my story begins.
Urban Burger is a restaurant designed to cater to sports fans. In the heat of World Cup or the soon to star English Premier League, it is an ideal spot. Roomy and warm. Playing commentary from the speakers (which is underrated until you're at edge watching football to Morgan Heritage) and most importantly, now wait for this… a happy hour.
See I'm not easily impressed by joints (places not weed). I've developed a high standard and most places don't live up to it. So, the easiest way into my heart is humor. Urban Burgers did that and I don't even think they knew it. It's all in their beers menu. Again, apologies to cocktail lovers, their selection left me limited to a long island and a white Russian. I turned down the former because I had a date (which went well, by the way, to—if you're asking and I had a Long Island then). Wasn't going to show up hammered, it's impolite.
A gentleman always shows up slightly tipsy and funny. So back to the beer, they are named light and dark. I don't know if I had anything to do with their personality. Or if they follow the cliché and one supposedly looks better but that aspect I liked. So, I got the dark. Or rather we got the far because at this point I was not alone.
See if Urban Burgers was a lady (I know I use this line, a lot) she'd be that lady you think is above you. The one that's always dressed up. Polite. Eloquent. You'd think you don't stand a chance with her. Well, until your paths cross, and you realize she's really a down to earth person.
That's urban for you. She's really nice. It's not the kind of place I'd normally tell you to go, unless it's Monday and you want a two for one offer for burgers but go there on a hectic Saturday. Buy a pitcher of 2-litre beer for 1700 and get another free on happy hour.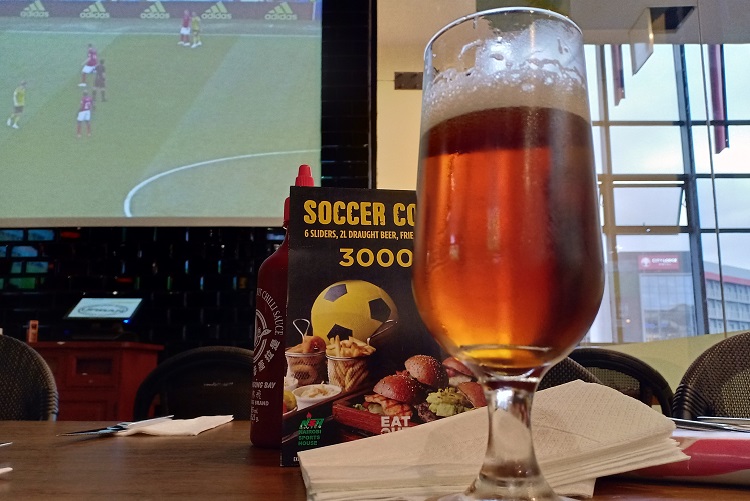 The Soccer Combo that comes with six burgers, two fries or onion rings and 2 litres of beer is a good score. Dark tastes better.
Get the dark one too. The light one has a bit of an attitude problem. And if you're in Two Rivers tell Vero I sent you. She has a beautiful smile. I'd write a poem about her smile.
My unprofessional rating of the place is a 7. I'd give more but the toilets are far and after a pitcher and a half you really have to go. But that is how Malls are designed.