Reading Time:
5
minutes
There are places you cannot pronounce. This lounge is one of them.
Marquee is not a traditional name. Some say makwee and others say makii.
It depends on your first date with English. Some had it rough. Think of starting with a teacher with a heavy Central Kenya accent in class 1.
Such influence can be so debilitating to a kid that forever, words will not roll out easily.
Marquee.
This is the name you'd give to a daughter you want to go to an international school to rub shoulders with the top feathers of society. If life hands you a dumper then you teach her to start with her other name that is easy on the tongue. I interchange between the two pronunciations depending on my mood. Also, I am one of those people that's good with pronunciations but sometimes I bangle it up for the culture. We must keep it African aye?
Marquee is a seductive joint on a Wednesday. She belts out smooth RnB from well-tuned and balanced speakers. Her music comes at you soft. It is what I'd imagine a kiss on the ears would feel like. They have ambient lights set up giving her an air of mystery.
Back to the music. It is familiar. Laden with nostalgia. Reminds you of days when you'd get home and listen to Easy FM and nurse imaginary heart breaks just because Breezy was pelting "With you" or Mariah Carey was crying "We belong together" was playing. You can guess my age huh?
On Wednesdays, she doesn't have bouncers. She shows you a vulnerable side that only an empty lounge can show. She reeks of attention seeking and she swallows you into her warm bosom with it. It is cute. And admittedly not many lounges can do that.
For me, visiting joints in the middle of the week is a hobby. Because you find yourself smack in the middle of happy hour and you are allowed privacy. There are no prying eyes and roaming ears. It is one of those spots that allows you to think through the week. You know? Stock check and at the same time lets you unwind.
She's located on the 8th floor of the Westerly. The rooftop. A relatively young building in Westlands housing offices. But behind her soft demeanor, she looks like she'd get freaky, maybe on a Friday. Maybe on a Saturday. The staff is what I hear getting called phantoms. They hang back like a shadow and anticipate your moves. They don't have the unnecessary bugging tendency to linger. A good quality if you tend to have private conversations. The kind where you either whisper sweet nothings or in between breathes utter secret deals with the government.
Her interior blends warm brown bar stools. They pepper them around giving enough space to move about. She gives you enough space to maneuver tables even if she gets full. The bar area is your normal chic counter. Lined with expensive whiskeys at the top. The kind you don't dream of at the time a month hits a curve.
You salivate over them. You want to feel it on your tongue. You want the flavors to open up and savor the spiciness, vanilla, and the oak hints. You are tempted to ask for a single or a double but instead, you opt for a crisp cold beer.
If you sit next to the windows you're offered a nice view of the Westlands skyline which right now is gaudy because of Christmas lights all over the place. It is like the festive season brings out the Kikuyu Auntiness in building landlords.
Young Man Sipping White Cap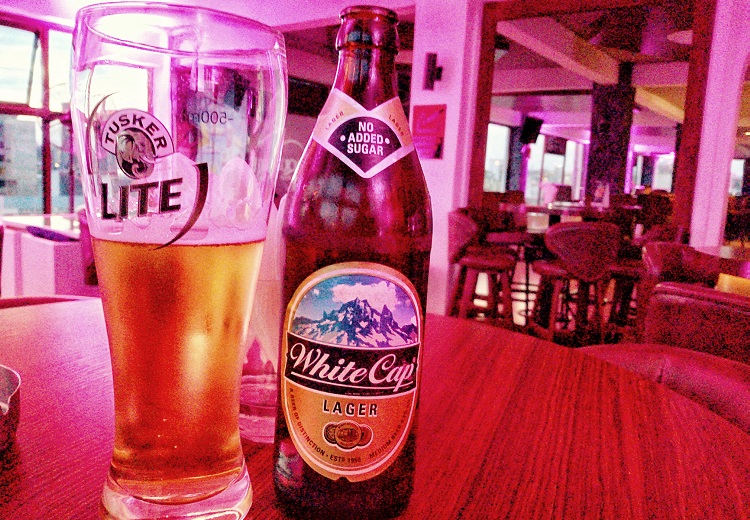 I'm having a White Cap. Ironically it is served in a long Tusker Lite branded glass. White Caps to me have been the preserve of oldies. I once profiled White Cap drinkers to farmers, potato farmers, with old white pick-ups that they would not trade for an SUV even if you tried to give it to them for free. Those pickups, to them, represent years of toil. From ferrying milk on cold early mornings in the highlands to dairies to being stacked Wiz high with potatoes and maybe cabbages for transportation from Kinangop to Nairobi.
But, in all fairness, the beer is smooth and crisp. Rarely does it sting and if it does the storage has to be questioned. Like all beers, it should be served cold. The flavors bloom like spring flowers that way. It's a beautiful feeling especially when it trails down your throat. The places ambiance strips the beer of its profiling. Here it is chic and urban. And makes for a good photo op. Always photo ready.
The music also helps with the niceness of the beer. The ambiance swallows out the noise from the passing cars below. Sitting here makes you feel like a god watching others go about their business. Oblivious to your state. To them, you do not exist. Their lives move on and it is such a lovely thought to have. I mean you are having a good beer why would they not be thinking about you?
Often you'll see a luxury car, an E class, cruise past. It is always an E-Class. You can never miss those and even though I am a bimmer guy, I must admit that the design of that car is epic. An E-class does not have the softness of femininity that comes with soft curves. This is a car that was designed after a greek gods jaw. Well cut and with sharp edges. This is a car that would put on a suit, well cut, two piece, and wear it to a baby shower.
Then there are the matatus with wary Nairobian soldiers tired of the day and looking to catch the next connecting bus. They are dreading dropping off in town because there they will face rowdy streets spilling over with hawkers and their wares. They will face stone-faced guys in dirty clothes sniffing glue and threatening them with shards of metal for their money and phones. Hectic. But on their minds, they are probably thinking about home. Maybe food. TV. Spouse. You never really know what is on their minds. Except for the fact that they do not think about you, on your seat, listening to baby-making music sipping a cold beer.
Anyway.
At the root of it, you'll love the place.
Her prices are a bit scary but that is part of the appeal, no?
They also do a decent happy hour though they do this with their more basic cocktails.
For their signature looks you'd have to cough up more. Which I hope is worth it because we all know I get a bit critical with whack cocktails. Which I wanted to dive into but this writer was tired. The week had been unforgiving. It came at me like it was related to karma. Maybe next time.
Two cents, it is worth a try. You will love it.
It is chic.
(Chic. Not like a young hen. But like shiko without an o. How I say it anyway.)
Oh and speaking of happy hour, local beers make it to the list. For the thirstier guys, you can grab a 2-liter sangria and split it among your manicure having friends. Because let us face it, guys like me, guys that chew nails when a nail cutter is missing, we don't do Sangria. At least not at will.
PS: I did not notice any screens. Not sure what the place is like in the heat of English football but I guess I'll pop in one Saturday and find out.