Reading Time:
4
minutes
How many Somali restaurants can a small city like Nairobi hold?
Apparently, so many of them. If you thought, that Moodys and Kulan were the last ones, think again.
Beirut, on the Mezzanine floor of the ICEA Lion building, facing the Jamia Mosque is the latest entrant. It bills itself as an Arab and Indian cuisine stop, but its location, couldn't be more "Somali" than Indian. Besides, where do Indians exactly eat in the CBD? You never see them in any restaurant, or do you?
I went there on Monday, February 11, their first day of operation and here is the report.
I first heard about it, over a year ago. And they have been working on the interior décor for some time until we forgot about it, altogether. But whoever who did the job, got it right. It is terrific. I loved the lighting, the black and white theme, and everything about the enterprise. You walk in and you notice, in the tradition of Charlie's and CJs, the standards have certainly gone up. It is easy to say, it has the third best interior, after Charlie's and CJs in the CBD. Moodys will probably be fourth.
The mood the designer probably wanted to communicate is that of royal splendour, some bit of clear Arabic nights, charming excitement. Impressive.
However, the worst time to try a restaurant is on their first day of operation. Nowadays people always rush to open, it is not like they can't wait for a week to get everything right. So, the first day is usually a tough, disorganized day and you can see the frustrations on the faces of the waiters.
I went in on the hot Monday, nursing some bad flu, and nose bleeding. My first stop was in the washroom and I loved them, even though it seemed they were still fixing the teething problems of plumbing. Having cleaned up my bloody mess, it was time to look for a proper seat and try their cuisine.
The balcony, overlooking the mosque, and the crowded Banda St, is a good space, being airy and giving the right vibe about Nairobi as a cosmopolitan city. But it was obviously full, this being around 2 p.m. when Muslims are from their lunch hour prayers. Obviously, all customers were male, somewhat older and patently Muslim. Hardly a problem for me, as some people mistake me for being a Somali (flatters me, honestly), but most of my female acquaintances are never comfortable in such a crowd. In fact, two of my dates, have in the past flatly refused anything Somali, despite their killer biryani. Which breaks my heart. The place being full, I find a seat near the counter and I foolishly hope the waiters will spot me.
For all their urgency, the helter-skelter, it takes a while before one notices me, but even so, the place is so busy and demanding for them to show me some love. Bill Bryson once said, no matter how impatient you are, the waiter will see you when they want to see you. I ask for the menu, which they bring. I expected those huge, leather-laminated menus, but they have kept the simple A4, ordinary type. As usual, the pictorials on the menu look salacious enough. I want to try their chef's best but I ask a waitress, what she would recommend and like many waitresses she is lost, but she proposes a chicken tikka or something.
She leaves me to go through the menu, too crowded to make sense. I don't do seafood, and I have had one too many arostos. Besides the prices are a bit scary. A plate of arosto is Sh 1,200, which is almost double what other Somali restaurants serve. I ask a second waiter, this time around and he tells me to try the same chicken. On the menu, it is called Tandoori Murg Tikka, which is marinated chicken roasted in tandoori oven with Indian spices.
In the picture, it looks like yellowy chicken pieces held with a skewer and interspersed with boiled eggs and vegetable, like a mshikaki. It indicates it goes for Sh 1,000. I order that, even though I am not a big fan of chicken.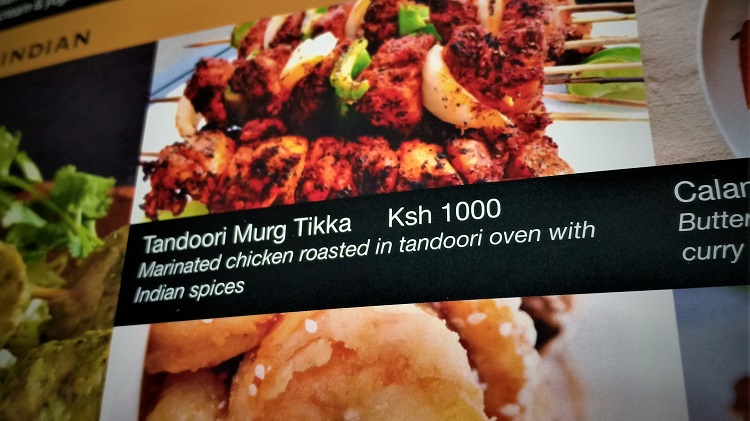 What the menu shows. Different fro what they served. The waiter said, next time, it will be better.
Next, he asked me what starch serving I should have and they only had one option, the Indian flatbread(basically chapati, only that this is not cooked with oil.)
The waiter brings my order, and he literally runs away from me. The meal is dryer than the jokes on Churchill. There is no sign that he is going to bring something to soften the food. Some soup. Some gravy. Whatever.
Suffice to say, I have a bad flu, and my throat is dryer than your worst ex's love for you. With courage, I start attacking the food. The Indian chapatti may be healthy, but it tastes like nothing. We really underrate the value of cooking fat or oil. Yes, we do. He had asked me how 'chapatis' I wanted since I am cutting weight, I said one. Good move. The chicken is well done, the spices worked on it and it was decadently good. Only that it needed something to make it go down well. The portions, well not much, but enough for a 105 kg human being who is cutting weight down to 90. Lovely vegetable salad too.
I wrestle the dry food and ask for the bill. It comes to Sh 1,350. I rarely have the energy to complain when I feel short-changed, so I pay and leave. One thing, they are yet to set up their payment systems, like LIPA NA MPESA, but that should be done any time now.
Beirut will survive, given its prime location. If you don't go there, there is nothing great you will miss. Neither will they miss your patronage. Because, they have ready clients, who will always pop in as long as the mosque exists.