Reading Time:
4
minutes
The United States had Mark Twain. Britain had PG Wodehouse. Kenya had Wahome Mutahi.
In the 1980s and 1990s, it is no stretch to say that people bought the Sunday Nation (and The Standard, in the brief interlude he shifted there) for his Whispers column.
For a man who entertained millions of Kenyans, giving them the best antidote—humour—when Kenyans needed it the most, we have not honoured him enough.
As a country, we are always super-slow to honour our heroes, reserving honours to less deserving, extremely corrupt individuals. No Kenyan deserves the highest prestigious honour for his sheer output than Wahome Mutahi. Whispers was the most consequential column in the 1980s and 1990s.
And it was with relief, that during the 15th anniversary of his death, Tony Mochama, one of the most prodigious writers in the country, offered to lead the charge to rename Kijabe Street to Wahome Mutahi Street. Many writers today, columnists especially, all aspired to be Wahome Mutahi and we have all fallen short of that aspirations, settling into shoes that we can comfortably walk in.
In a packed auditorium at the Pawa 254 on July 20, 2015, Mochama told the enthusiastic Whispers' fans that he will personally lead the campaign.
"Whispers literally lived on that street, we should rename the bar at Kenya National Theatre, or whatever name those running it choose, it must be accompanied by 'Whispers', he said, adding, "Kijabe Street is ideal, just off the heroic Harry Thuku road, then you have Kijabe with the many bookshops and publishers, how cool if we rename it to Wahome Mutahi?"
"A gift from the gods"
Sydney Sheldon once said, the gift to make other people laugh is surely a wondrous gift from the gods.
And no writer was a great blessing than Whispers. He was the most accessible writer. His brand of humour was imbibed from Nairobi to every little village in the corner of this country where Sunday Nation reached. It was not uncommon, like this writer, to have a collection of whispers columns, cut and stored somewhere.
But he was not just a humourist. His columns were a running commentary about some of the socio-economic and political ills in the country, starting at a time of clampdown of dissidents, real and imagined when Kenya became a de jure one state after the 1982 attempted coup. Wahome Mutahi and his brother were arrested in 1986, as intellectuals were targeted, as the paranoid government was searching for Mwakenya. The crackdown brought the worst brain drain to hit the country. Kenya never quite recovered. He captured his ordeal at the Nyayo torture chambers in his 1991 novella, Three Day on the Cross, a dystopian tale, that revealed the horrors of a rogue and insecure regime.
In the 1990s, with Structural Adjustment Programs taking root, leading to the collapse of the manufacturing sector, massive retrenchments and job losses, the country suffered a terrible recession that the country only recovered from fully when Kibaki took charge in 2003. The 1990s also were the peak of the AIDS epidemic that was a recurring theme in Wahome Mutahi's column. He did especially well in satirizing the stigma that surrounded the new disease that the public was ill-equipped to handle. It was not uncommon to gossip about anyone who contracted a disease or showed signs of stigmatized disease. His book House of Doom was exclusive about the politics of HIV/AIDS.
He mocked politicians, he mocked proselytizing religious sects that were mushrooming in the 1990s, he mocked corporate honchos and every public figure, whose public utterances and actions demanded his opinion.
But most importantly, with extravagant self-deprecation (often not sparing his family) he laughed at Kenyans and made us laugh at ourselves and our idiosyncrasies, and he involved every Kenyan community and its unique culture, in clean stereotypes unlike what pervades our modern comedy shows.
Kwamchetsi Makokha said in 2003 when Whispers died, "With the exception of God and disability, Wahome Mutahi could laugh at anything. He laughed at society, he laughed at the government and he laughed at his family—but he laughed at his himself the hardest.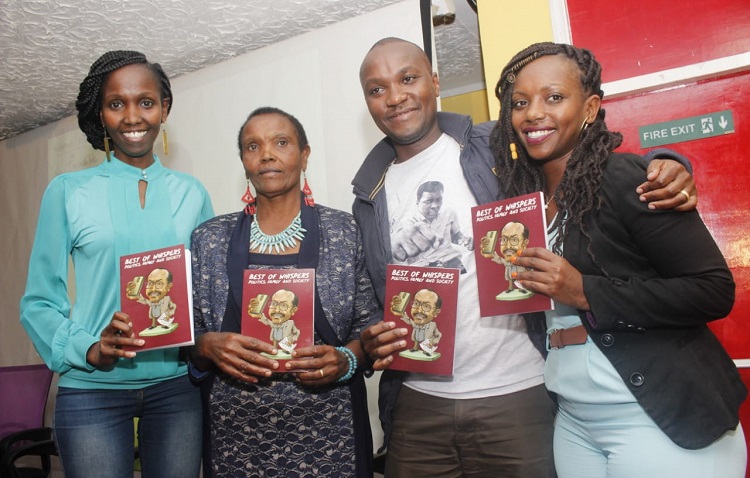 Whispers' family, often the target of his satirical pen.L-R: Caroline Muthoni, Ricarda Njoki, Patrick Mutahi and Evelyne Wanjugu Photo by Moses Mwangi
Among the panelist who discussed Mutahi's works were Dr. Wandia Njoya-Daystar University, Dr. Tom Odhiambo-University of Nairobi, Dr. Dociline Kiguru, and Dr. Joyce Nyairo, who all appraised his work.
There are many Kenyans who deserve honours. Who deserve lecture auditoriums to be named after them, who deserve streets and footpaths to be named in their memory. We don't have to wait until they win a Nobel, or they die for us to that, as it happened with Wangari Maathai. Artists have especially been given a raw deal.
Looking back, at the body of work of Whispers, the cultural impact of his pen, and the fact 15 years later in a country that suffers bouts of selective amnesia, it was impressive seeing that there are still many fans who hold Wahome Mutahi in the highest esteem.
Few Kenyans enjoy a wider appeal across the country that people sometimes view everything through an ethnic lens.
Newspapers have struggled to replace Whispers, but that has been largely a futile effort, and quite frankly unnecessary. Some people are simply irreplaceable. And we can only preserve them in our memories.
And that is why that Kijabe Street should be renamed. And the bar at the Kenya National Theatre. There used to be a head sculpture of Whispers, at the bar, but renaming the bar will be a better tribute.
The ceremony also launched a book, a collection of some of Whispers best columns. The book will be trading for Sh 500 in local bookshops.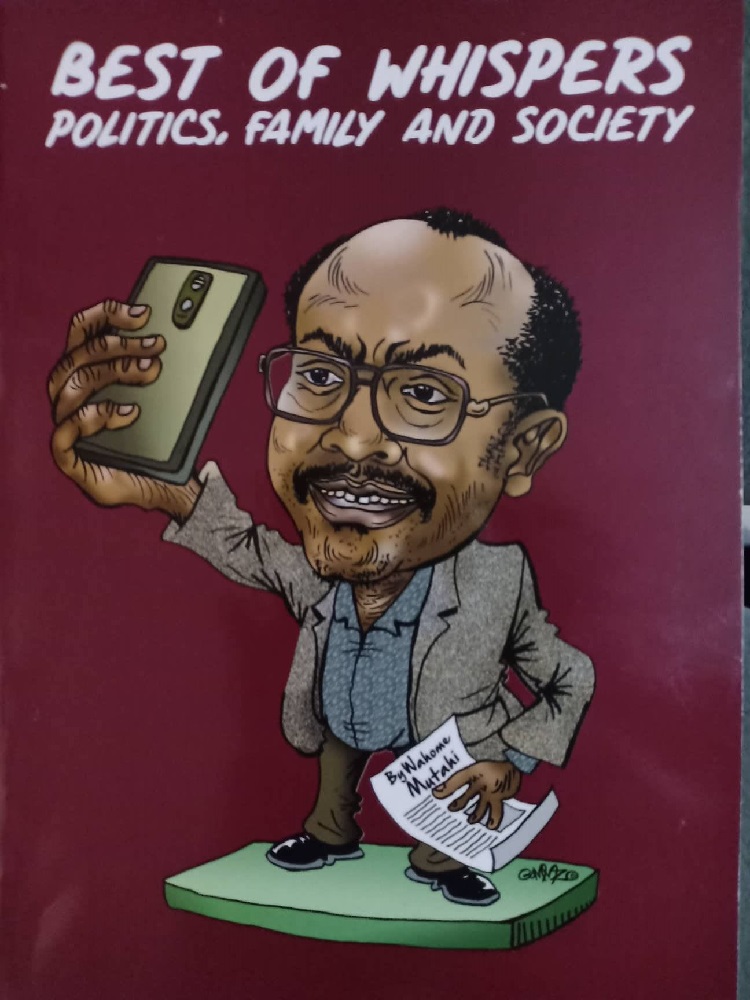 The newly launched book.