Reading Time:
4
minutes
The two girls swimming in the miniscule pool had grabbed our attention instantly. The first one was slightly taller, her skin colour molten honey. The second one, was darker, shorter with a taut ass, attractively large breasts that she had propped up well to make me dream of falling in love again, on a balmy Sunday evening.
We were seated beside the pool, admiring the Kampala skyline from Cassia Lodge, upon Buziga Hills. Dusk was setting in, the lights were coming on, and a city never looked so beautiful. Everything about the evening, the sun setting down, the red-roofed residential bungalows down the hill, the lodge's lawn, the people gathered in the balcony, enjoying a drink, made me thank God that I was still breathing.
We were in Kampala, en route Juba, by road and my high school buddy who made Kampala his home when he went for college in Uganda was showing us what was good in Kampala. And Cassia Lodge was a gem.
There is something erotic about water dripping off a woman who just walked from a swimming pool.
As I was being thankful about life, my buddy Jeremy, had cozied himself to the girls. Jeremy is a swimmer with 17 years' experience swimming and fishing in Lake Victoria. Since I can neither swim nor dance, he had two on me.
Ever the charmer, I noticed the girls were now closer to him, being chatty and drawing hearty and throaty laughter and that annoyed me more than it made me jealousy. Here was Jeremy, possibly the poorest lad south of the Equator, relaxing in a swimming pool with two girls, like a movie star. It was like a scene from a movie or a music video of contemporary African musicians who can't sing.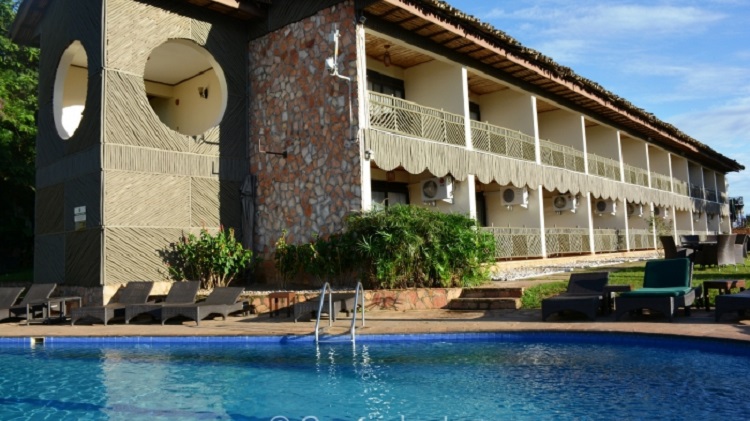 Life is full of ironies. Here we were, poor sons of bitches, on our way to Juba to try to make a quick buck after Nairobi had proved a hard nut to crack, relaxing on top of the hill, soaking in the best breeze and panoramic sight of Kampala, like gamblers who had struck millions. And Jeremy was seducing two women, probably lying about searching for investment opportunities in Kampala.
Sensing my unease, Jeremy brought the two girls to our table. There is something erotic about water dripping off a woman who just walked from a swimming pool. Small talk ensued.
The darker one was Emily. The lighter one, Hellen. They were in their early 20s, in college. One of them studied literature but had never read anything by Achebe. That made me sad.  One was doing a business course, and I'm green in that area, thus could not pick that line of conversation. That made me miserable.  Our Ugandan host did chat them in Luganda, and from the way they were laughing, he must have told them that we were running from Kenya to Juba to look for jobs.
Women anywhere in the world are always fascinated by foreign men.
I noticed the girls were not interested in my vibe at all, and Jeremy was feeding the light-skinned one some baloney and the girl was genuinely interested in him, definitely because of the allure of the foreign man. Women anywhere in the world are always fascinated by foreign men.
And Jeremy for good measure is tall, ebony black, muscular and talks in that masculine bass, he would have made a good career in the movies. Myself on the hand was skinny, lanky and only drunk women have described me as handsome. I knew it was not my night, when the black girl seemed more interested with my Ugandan host, so I kept browsing on the phone. I had been unlucky in Nairobi.  I was now unlucky in Kampala, what is life?
Mosquitoes started feasting on us and we had to go in. The lodge had a homely feeling. I instantly wanted to be a billionaire and buy the place at whatever cost. I really thought of my several crushes from college I would have loved to bring there. Making love from such a vantage point in Kampala became such a fantasy, it is amazing how I have stayed sane that long before going back.
There was a bunch of whites, presumably expatriates, with those books about Africa with the cliched covers designs. We settled on a table by the wall and my Ugandan host requested for tea.
And right there, my life changed. As a connoisseur of tea, that was the best tea I ever had, or will ever have in my lifetime. They had used cinnamon and it was eclectic. It made me feel so alive, rich despite being so broke, and we had to order for the second pot. 
But like all good things in life, it was short-lived, barely two hours and we had to go down the hill for our overnight bus to Juba.
But Kampala, and Cassia Lodge will always be on my heart. And I wish I can go back and find that dark young girl, who must be now on her late 20s, may be married. May be with a kid. Or two.