Reading Time:
4
minutes
Honest Africans, know for a fact that Bantus are very poor cooks.
Boiling is their preferred method of cooking and only when they roast, do they attempt something that is distantly edible. And by this, I mean all Bantus, bar none.
For the jumpy, reactionary and highly defensive people, I will start by mentioning that my favourite dish is ugali, sukuma wiki and avocado, and if you top up it with sour milk from a calabash, you will knock me off, totally. I love Bantu foods, no doubt, but I still hold that our cooking is underdeveloped. Somalis, and Ethiopians (and some Coastal Bantus) know something about cooking, that we can learn from them.
To prove my point, drive to Habesha, on Argwings Kodhek Road, about five minutes past Yaya Centre, on your way to Kawangware.On your right, you will their sign, make a turn and go in. It is set a homely compound, complete with a parking lot, and an outside restaurant set within trees, offering a rare alfresco experience in a city busy cutting down trees to make way for billboards.
More on Food and Drink T-Tot Machakos: Nostalgia, Dreams and Longevity
Al-Yusra's Liver for Breakfast, Anyone?
What is the Ideal Place for Lunch along Kimathi Street
The first thing you will appreciate about Ethiopians is that they know the benefits of eating in a calm, if relaxed environment. That means you only go to Habesha when you have time, to savour their delicacies, and you have an hour or twoto drink some freshly squeezed juice, which I noticed they don't add much sugar, like the restaurants in the CBD.
Over the years, I have eaten at various Habesha restaurants, and their every single serving always makes me want to go back for more.
Their standard fare, their mixed dish has an injera base (injera is their starch serving, made from fermented teff flour. Teff is a type of Ethiopian annual grass with a seed that is is the source of the flour). The towel like flatbread has pores that can induce trypophobia (that irrational fear of clusters of pores or bumps, I used to think it doesn't exist until I took my young in-law for a treat at Habesha and she could not eat or even stay at the table. The pores scared the hell out of her. I think she spent too much time looking at that fake but scary skin disease on YouTube). The injera is served with a spicy sause called WOT. And then there are several classes of meat; minced meat (spice and non-spice) as well roasted and fried meat; vegetables (hot and not so hot). The vegetables include cabbage, kales and some potato sauce. Not sure what they use to prepare their vegetables, but they taste differently from what your average Kenyan restaurant serves. There is some boiled egg in some sauce that if you are on a date, you can let your girl to have.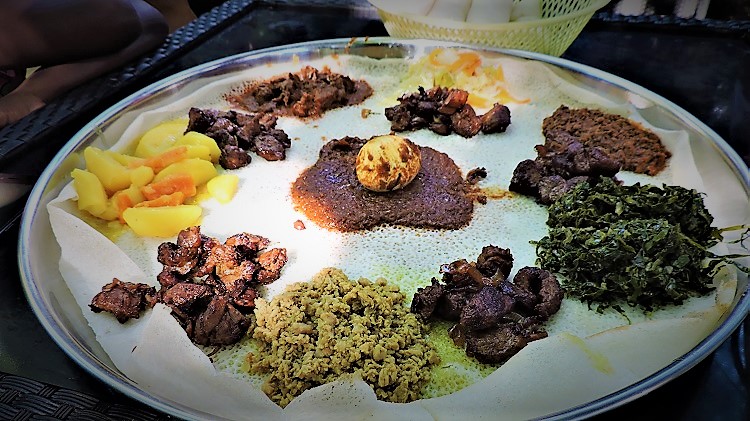 The Standard Ethipian fare.
But this is never enough, if like me you like too much meat, then I can recommend two options: there is the Shekla tibs; pan-fried goat meat, properly seasoned with rosemary and green paper, served off a sizzling hot pot, or you can go for Kikil which is perfectly boiled meat which is marinated in traditional spices and cooked in the Ethiopian way. When Willam Cowper said 'Variety is the very spice of life' he meant Ethiopian spices.
For the longest time, I used to ask what makes Ethiopian dishes such a decadent culinary treat, until recently I discovered, it is something to do with spices.
And that is why most Bantus never quite scored on the culinary treats front. I checked and discovered that other than pepper, we basically had no spice. And our contact with Indians was so delayed until the 20th century. Those who live by the Indian Ocean Coast probably learnt how to cook with spices and evolved their cooking ten steps ahead, when we were busy boiling tubers and smoking meat. Ethiopians had access to Somalis, to Arabs and Egyptians who got hold of spices hence their cooking evolved a million steps ahead.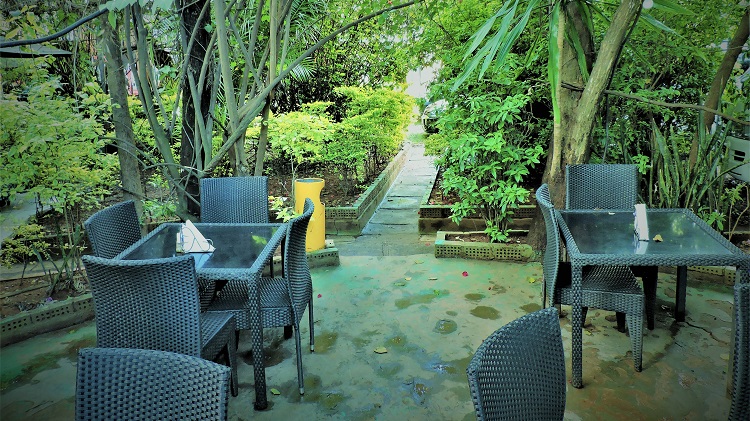 When was the last time you had an Alfresco experience?
Other than the spices, another thing the Ethiopians score well is that they cook with their heart. You can always tell when a meal has been prepared with love. The panache, the perfection, the expertise touch is felt in every bite you take. Besides, they also serve the meal with love, unlike your average restaurant the meal arrives and there is always something wrong with it; the food will not be fresh, the juice rarely freshy and too sugary, and the waitresses serve the food with so much hatred and impatience. Ethiopians serve the food patiently, and with so much love. Not so much because they want your coin, but because they still have some vestiges of humanity remaining in them.
Also, Ethiopians have standards. All Habeshas across the world tastes the same. I have eaten at the New York Habesha on Morningside Heights, and my best friend in New York was from Eritrea and used to invite me to their home in Harlem and it is the same good old Ethiopian/Eritrean fare. In most Kenyan restaurants, nothing is ever standard. Today, you will eat green mukimo, tomorrow, it will be dark green, the following day brown, the next day it will be blue and that is the same restaurant. Same with Ugali, only Kosewe serves standard well-made ugali. Darn it.
The Hurlingham Habesha has more than 30 delicacies that you can pick from. I have noticed that most people, especially women, young women that is, don't like the injera. But neither do they like ugali, goes to show they like fine things in life. But every other meaty serving and their sauces, they will like.
So, who should go to Habesha? Definitely, if you have a family, it is an ideal place. Also if you are dating and you want a place where you can talk over a decent meal, a place that is quiet, and you can breathe some fresh air, then try Habesha. It will be a different experience, especially if she has not been there.