Reading Time:
4
minutes
Typically, I like my fish just deep fried and dried properly. Or smoked. Or roasted, especially at the source. But in a restaurant, dry fried, some side of kachumbari, a sprinkling of pepper and white ugali easily ranks my best diet in the world. If you want one of those soporific afternoons and you are eating at Kosewe, you order a glass of sour milk and you are totally knackered.
I consider overeating over lunch hour quite irresponsible and the reason men start spotting shapeless potbellies after 30. Women too, lately. Too much rum and Nyama choma has its misgivings.
Later in life, you will be advised to go slow on red meat. What with the scares about cancer, arthritis, and stuff about how unsafe the meat we consume is. Indeed I often see those Maasai cows in my hood foraging in damp sites, eating used pampers and all manner of dirt, including condoms.
If you are middle-class, talk about the safety of white meat becomes common fodder at the dinner table. But broilers are reportedly fattened by ARVs injections. But we eat them anyway. Because kienyeji chicken are just too expensive. But if like me, the doctor is categorical that you must quit red meat, then your protein options diminish pretty fast. You can only survive on beans and other legumes for so long before you become your stomach fills up with too much noisome gas.
For long fish was considered a safe diet, even for vegetarians. In the strict sense, vegetarians are not supposed to eat, or even look at animals and their products, but many do make an exception when it comes to fish. In Kenya, we are not so big on seafood, except in big hotels. Besides our religious mores often limit our culinary experimentation to the basic every day African continental foods. But fish is a favoured delicacy in culture.
But now, we import fish from China. Rumours have it the fish is so poisoned with mercury that you should not even be worried about the mercury in sugar. And for traditional folks like me, we always liked our fish from the lake or river. The fish from ponds, equally fed on suspect things that are now paraded in every third-rate hotel in Nairobi usually tastes like crap. The size is equally wanting in many restaurants in the crowded restaurants downtown.
Hence it helps to go to a reliable restaurant.
I asked on Facebook what are some of the best vegetarian restaurants in Nairobi and Healthy Foods in Kenwood House featured on the list prominently. Kenwood House sits at the far end of Kimathi Street, near Jamia Mall. It is the building that house Kilimanjaro Restaurant and Petma Restaurant which have a large floor space and a clientele to match. The name is a bit self-serving, if phony, but that is the point.
Healthy Foods is tucked in on the first floor to the left of Kilimanjaro. It is minuscule and typically packs middle-aged people who are now conscious of their cholesterol levels. The deep green colour gives the restaurant a healthy magnetism, you will think the food you are eating is very safe.
The lady who comes to serve me is dark and beautiful with that personable smile that reminds you of your favourite cousin who got married to some douche who gave her three kids and beats her for fun. Life.
Anyway, you tell her that their reputation precedes them and what best do they serve?
"We have mixed vegetables, but I would recommend you try our fish," she helpfully explains.
"How do you prepare the fish?"
"We have dry fry or wet fry? She tells you.
There are only two wet fries that you like. One of them is mbuzi. The other go figure.
Anyway, she recommends the wet fry and goes away.
About 25 minutes later, she arrives with a sizable fish, with a proper serving of greens, in this case, managus to go with the fish and yellowish ugali.
It is as good as it gets. They give me a hot towel, that smells of mint and it is as natural as it can be.
You devour the fish with so much dexterity. The ugali is a bit bland, as I prefer strictly white, especially made of Hostess or often the whole meal from a posho meal.
The fish looks good on the eye, but the wetness takes away the fishy feeling of the fish. And that is my problem with stewed fish. I like soup as a specialty, but not part of the meal.
Overall, it is a wholesome meal, fills the stomach, and you are sure it is healthy.
Healthy Foods Restaurant has remained consistent. The look, the food, the clientele is the same, since the first time I ate there in 2012.
I love the freshness of the food. They have an open kitchen, which makes it easy to trust the food.
I can definitely recommend someone to try them.
They are a bit pricey, as ugali, fish, and managus go for Sh 750.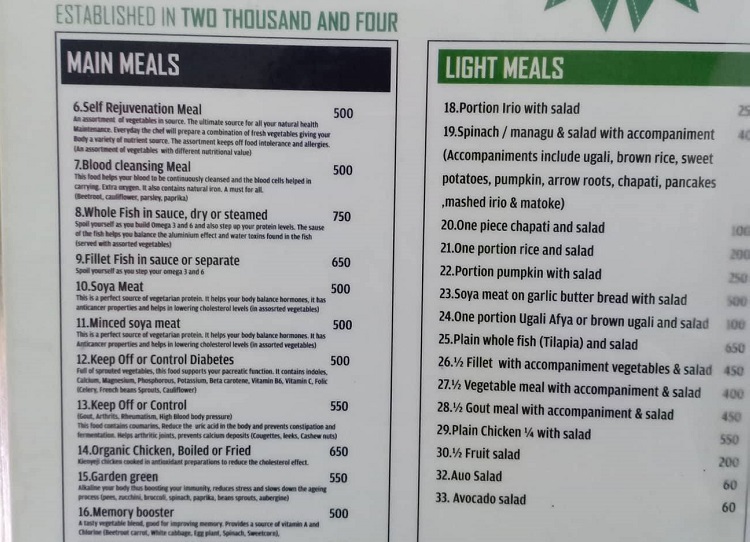 As you, it is slightly on the pricey side. But well worth it.
Rating 6.5/10