Reading Time:
2
minutes
The self-proclaimed Original Gangsta, Khaligraph Jones, released the much-awaited album, Testimony 1990, last week. The hits were dropped on his birthday, June 12, 1990, a nod to his year of birth.
The album is a concoction of brilliantly schematic lyrics, furiously rushing towards the creation of heavy themes that characterize daily interactions in the life of the ordinary Kenyan. The compilation is a noticeable leap from the seemingly plateaued career of the OG, with bold experimentation; the style of delivery, lyricism, and flow.
The creator of the Yego (2015) and the Omollo (2018) masterpieces takes his wave of talent a notch higher by indulging the world with stories that illuminate larger themes that touch both social and political aspects in the country today.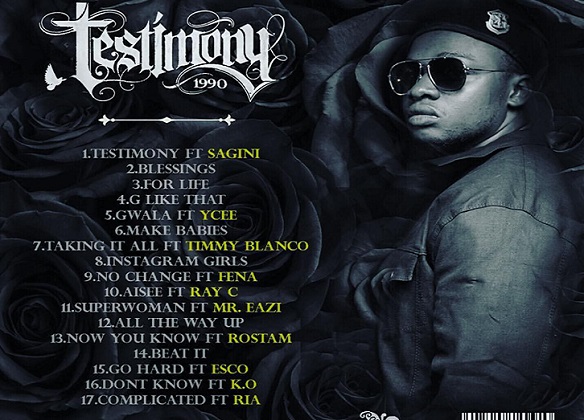 In Testimony 1990, Papa Jones delivers powerfully, experimenting lyrically and in delivery.
Testimony 1990 is a wholesome taste of the Khaligraph Jones from the times of Imaginary Love ft. Otile Brown (2015) to the OG of the Khali Cartel (2018). Even though the styles used in the album fall within a familiar range of skill, the collaborations with other artists inject a freshness that is well deserved for his fans.
Through the album, the artist expresses his feelings about the struggle in the industry through songs such as Blessings, where he thanks God for helping him in the difficult journey to the achievement of success in a field where he is the only competition (sic). He mentions the struggle of maintaining sanity at the top of the food chain, with the song Instagram Girls, where he sings about thieves masquerading as Instagram Girls and his finding delight in the irresistible whorish goddesses. In the track, No Change ft. Fena, Papa Jones throws a comment against the middle class, cursing their slackening efforts towards crushing an oppressive system from the comfort of their mansions. The theme flows into another track, Complicated ft. Ria, where he laments about rigged elections and ineffective governance in the country. Even then, if you are not keen, some of these lyrics can easily escape you, so that you only hear lines like, 'ata lolo analamba', when the artist decides to explore his naughty side with the unmeasured prowess of a noisy gangsta.
The flows in Testimony 1990 come at you both sure, decided and stranded, all in one album, but if you are looking for a feel-good moment, the OG will not disappoint. Check out G like that pop of a good beat. Check out Now You Know Ft Rostam for a smooth vibe with the taste of Tanzanian seduction, and slip your way into Make Babies for when you want to spread your existentialist misery to the future generations, and bet on Beat It to give you a moment to be with your savage self.
Respeck the OG.
9/10
PS: The album will officially be released on June 26 at the KICC Helipad.
Sample the magic in Unadatisha with Tanzania music queen Ray C