Reading Time:
3
minutes
On January 14, 2020 Khaligraph dropped Best Rapper in Nigeria, which even Nigerians admitted was the best rap song they have ever heard in their country. It was a moment of extreme provocation to the continent's most populous country. The hilarious comments on YouTube are proof to the respect, the OG commands.
You cannot deny that one of the most hardworking artists of 2019, and the entire 2010s, is Khaligraph Jones AKA the OG. From gracing several events throughout the decade, appearing on Coke Studio and being featured by top artists or featuring them, his tremendous work ethic has been incredible. He also delivers hard-hitting bars every damn time – it's safe to say that he does deserve the self-proclaimed title of OG.
In 2019, the OG has teamed up with some high-level artistes such as Magix Enga, Masauti, Ice Prince and even the gospel sensation Hope Kid giving us bangers all through. Let's not forget the sensational freestyles he puts upon his Instagram stories that speak to common day youth problems, cues Ruby.
Listening to the OG only means one thing, hooked. He's like a rap drug. Each line is carefully thought out, the rhyme scheme impeccably delivered, and he is not afraid to step out of his comfort zone while sampling beats that are outside the hip hop genre case in point – Kiboko remix. This comes only from a guy who has mastered his art and genre busted the ceiling and has been intentional about experimenting outside his zone.
Inside his zone, the guy is a legend. Let me take you back to high noon where they teamed up with Wakadinali. He simply blended into the old-school hip-hop beat went bar for bar with the legend Abbas and still owned it. This just goes to show you how much growth the artiste has achieved.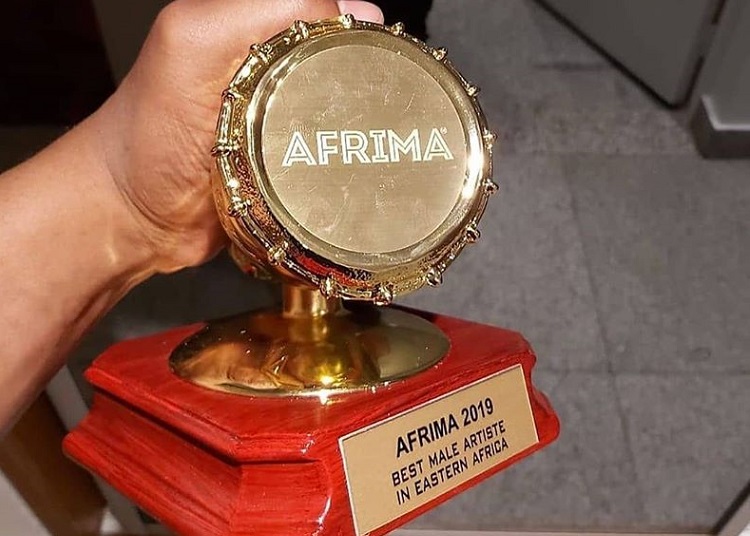 Khaligraph holding his AFRIMMA Medal for the best male artiste in Eastern Africa
Also, who can forget how he almost single-handedly took on a campaign to force Kenyan media personalities to play Kenyan music? It looked almost like a futile battle. Especially with the air media personalities carry themselves around with. They felt like demi-gods in their various positions. But the OG being the OG came out and relentlessly bashed them. He offered examples of Nigerian clubs where all they play are Nigerian songs peppered with some music from other countries. Even Nyashinski, during his comeback, could not believe how Nigerian music had taken over the scene.
But of course, the media personalities took cover under the umbrella of quality music. Even going further to say that our artistes have different platforms they can showcase their art. The OG heard none of that and with the help of a few heavy hitters, #PlayKEMusic has become a trend. Media personalities waved the white flag and now Kenyan music is dominant in most spaces. A night out is not complete without Ethic, Sailors or Boondocks gang, Nviiri, Bensoul, and the likes blasting through the speakers. Now that's one hell of an achievement, don't you think?
If that's not all, in the recently concluded AFRIMMA awards he bagged the title of best East African male artist. A well-deserved win with only the sky being the limit. He also has an "office" a studio where he grooms young upcoming artists and shows them the ropes. This is one guy that has realized the top is definitely lonely and is taking the company up with him.
Listen, this might be my own opinion but the burly muscle-bound guy from the streets of the one-nine-sixty is the best artiste of the decade.