Reading Time:
6
minutes
I knew Mazda when those 'seven aside' matatus were the means of transport in the Kenyan countryside. I know in Eldoret and North Rift where it is 1973, they are still in operation as other parts of the country prefer the deathtrap called the Probox.
I knew Mazda when those seven aside matatus were the means of transport in the Kenyan countryside. I know in Eldoret and North Rift where it is 1973, they are still in operation as other parts of the country prefer the deathtrap called the Probox.
When the 14 people sat, nearly 100 more people or more could be through in between the space, too small to fit even two goats. You will bend inside the matatu, your nose against someone's ass, God forbid if you were tall like my editor, and you were traveling some 60 KM on a rough road.
'Seven-aside' matatus were the worst human rights violation in the history of transport and passenger service that we have never addressed to date. A travesty.
So Mazda has been around the block.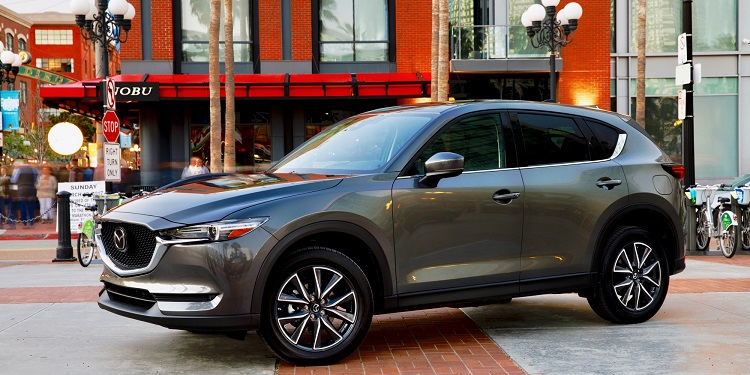 2017 Mazda CX-5. Photo: Courtesy
Anyhow, Mazda had the B1500 pickup that was hardy, and back in the boondocks, they were often too old, you caught tetanus just looking at them. Then along came the B1600. I took notice when they introduced the Mazda Midge and later the Mazda Hunter, the small pickup that rivaled the Datsun 1200. Did well I must say, it was fast and most businesses did buy several units.
Locally CMC had the dealership until family politics and business rivalry wound it up. But many other iterations have come from Mazda like the Demio, Axela, and others that clog the Nairobi traffic, presently.
By itself, Mazda has seen better days though. It was feared it could go under when the car manufacturing business whore GM pulled out (pun intended). One day we shall discuss General Motors and how it destroys good brands it preys upon. It killed SAAB, almost did the same with Mazda. Luckily, Mazda rejoiced its exit since it got a chance to develop its own concepts and among them is the CX-5, my focus today.
The CX-5
Mazda has struggled with engine development. I personally struggled with a B1600 engine that kept chewing the camshafts, distributors, bogus steering box and I can't even list them enough. Those who follow, know about the wonderful but expensive to keep rotary engine. They also know about the concept of the Mazda Rx3. But let us limit ourselves to the CX-5. Most people are attracted to this car seeing as Mazda introduced some features that make this model quite a looker. The much blabbered about SKYACTIV feature has been of particular interest.
So if you are the type that uses Lunga Lunga road packaged Lacheka oils, stay away from this car before Mazda find you and wring your greasy balls.
Don't be scared or intimidated by this 'skyactiv' thing. It is a collection of AI (Artificial Intelligence) that has been mechanized to achieve efficiency in fuel, transmission and normal driving, that is, GVC or vectoring if you may. Actually, most of the tests are done on Hybrid cars since much of it could not be attained during trial runs in NAs (Naturally Aspirated engines).
The CX-5 comes in both petrol and diesel engines as well as both auto and manual transmissions. As it were, we are all interested in the reliability of this car. I must admit I have a problem listing pros and cons row by row but let's finish off what we know about this car on Kenyan roads. Wait, what are we driving?
We are driving a 175hp four-cylinder Mazda CX-5 with a torque of about 400-420nm going by the 2190cc engine displacement.
By the way, the displacement 2190cc means we have that much cubic centiliters of the air-fuel mixture in the combustion chamber, you nabobs. Some tests have shown this car can shoot to 100 in about 9 seconds, what with a turbo? So what else do we know about this engine? Basically, when it is cold, it has a knock that disappears when it is hot. This can worry many a driver but in some markets, this is never a worry since the car is being sold with a 3-10 year warranty. As such Mazda reluctantly updates its engine but those who have driven this car will tell you of a reliable engine with good consumption on the highway albeit it is a noisy engine.
Am restricting myself to the diesel type because one, my editor might is still recovering from the World Cup hangover, and may decide to chop off my petrol and or auto/manual comparisons of the same car and two, most of us are inclined to the diesel version of this car.
Having said that, before you go for this car, you should know it doesn't really pass the test for an off-roader SUV. It tends to struggle in real off-road conditions. This brings me to my second point about the CX-5. The steering gets a little stiff depending on the speed even though it is instructive this has to do with G-vectoring. Thing is, in the CX-5 are some features that were in the CX-3 that Mazda tried to perfect at the console and the general interior.
When such moves are pulled, you often find one improvement compromising another. Either way, G vectoring is a technology developed mainly to assist in cornering or is it steering, by limiting or say determining the torque supplied to each wheel to ensure smooth steering, albeit not directly to put it simply.
Some drivers don't fancy it, some do, so to each his own. But it makes more sense for fast or rally drivers. This throws into mind issues to deal with under/oversteering but this is not to say our CX-5 suffers this.
As you may have noticed, I avoid giving my view as your dealer may because his main interest is to sell you the car with some features that you need and some you do not need absolutely.
That is why I deliberately avoid delving into the nitty-gritty of the automobile balderdash. But stepping off my own rule, I must mention that imperatively the CX-5 has a stability control system for the hot-blooded millennial leaving 1824 in the AM on a Sunday morning. In our time, we used to go pick our dates from their mother's kitchen at night and return them before the first cock crowed and the CX-5 would have been a better car given it has the Smart City Brake system that applies itself to avoid emergency impact just in case one was late returning the date to her mum.
There are the usual add-ons like Satnav, lane assist and such which are really optional. But bear in mind that some of the features you keep hearing that they are optional are not really optional. Reason being, most manufacturers are preoccupied with the weight of the car. Car weight affects consumption and they are keen to reduce the weight so as to beat the consumption tests. The less weight the car has means it will attain the best consumption Km/L.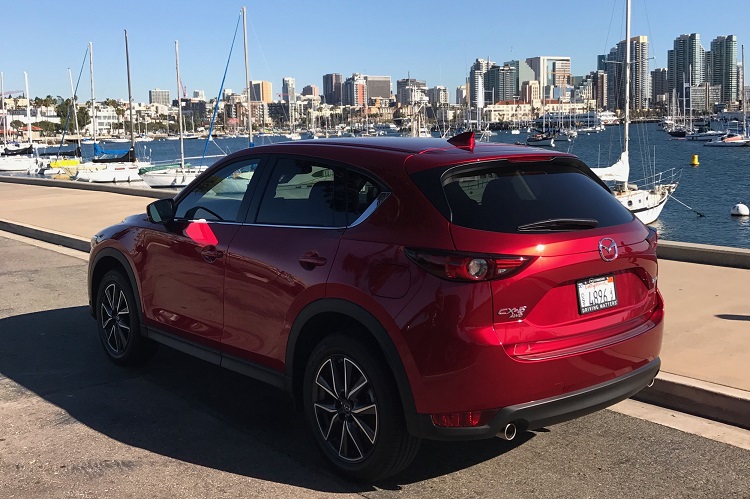 2017 Version is as good as it gets, but would still rank it third against KIA, Nissan Qashqai, and Ford Kuga.
Nothing major has been reported or said about the CX-5 suspension. So, we won't dwell on it but instead point that if you go for this car, and happen to go the automatic transmission, be sure to service the box using the original Mazda ATF. Some users have reported problems using other brands of ATF. So if you are the type that uses Lunga Lunga road packaged Lacheka oils, stay away from this car before Mazda find you and wring your greasy balls.
Finally, there is the niggling problem of the Bluetooth coupling or is it pairing in the 2016/17 versions. This can easily can be fixed by firmware upgrades or resetting the whole system. Yes, there is a reset button somewhere there. Equally, there is a tyre pressure monitoring system on the clocks. It will buzz or is it flash to the point of being an annoyance, but this can also be reset. Dare I say I admire this feature? There is also the issue of the radio not going off when you switch off the car. An incident was reported in North America where the gear shift chamber assembly is the reason. Apparently replacing it fixes the problem.
Simply, most errors appearing on the dash in the CX-5 can be sorted, you know, DIY. Get some popcorn, tea and sit down read the fucking user manual as Barraza could put it.
The CX-5 has the KIA, Nissan Qashqai, Ford Kuga and the Tiguan as its main competitors. We shall have a look at some them as we proceed although I must again mention that the CX-5 is somewhere around number three or four in this competition depending on who the voters are. So, you can take comfort Kenyan voters are not the only ones known to vote for pigs, some people vote for cars.
PS: If the fish tells you the Crocodile is sick, it probably is sick.