Reading Time:
3
minutes
Kilifi New Year festival lived up to the expectations, yet again as hundreds showed up for the three-day year-ender music festival that ought to be in the music festival die hard in the world. Sitting on 20 acres of forest, with more than 200 people working on it, no place would be more ideal for a music festival, nestled deep in a forest.
The music, the activities set to mark the year and the venue worked well for the crowd, a rare feat considering most festivals rarely fulfill everything they promise. About 80 performers delivered great performances across the two main stages and various impromptu ones set up by artists.
"I was in Lamu last year during the new year period, some people came down after Kilifi New Year and couldn't stop talking about it. This year I came, 5 days early in fact. I couldn't miss anything," said Lionel Untsworth, a 45 year old English tourist. It's day one on the festival, December 31st and he's sitting in the food stall area having miraa shot after miraa shot to recharge his energy. The previous night had been a pre-party, the festival organizers expected a crowd of perhaps 200 for a small free get-together, they got 700, most of whom were still partying.
Monica Lacerda arrived from Brazil 18 days ago, echoed Untsworth's word. Other volunteers arrived as early as six months in advance.
Walking around the site was like walking into a purpose-built wonderland art gallery.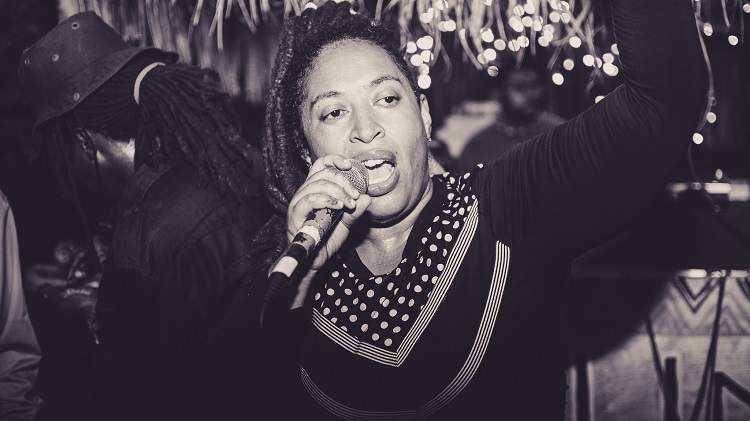 Rapper and Reggae icon Nazizi performing at the Kilifi New Year.
"The whole concept was to create a jungle playground. To achieve that, the team went crazy with ideas for sculptures but we finally settled on a giant elephant, two giant praying-mantis, a unicorn and, a giant chameleon made by Alexa Orsi using discarded bottle caps and plastic bottles," Gareth Humphries, festival art director. explained the concept.
The visual aspect was beyond imagining but one can't even begin the painstaking task of curating the music for the festival. Even with big names like Da Capo from South Africa who kept everyone dancing for the last set of 2017 and first of 2018, it must have been a task to satisfy everyone's music tastes for three days. Festival director Mat Swallow said they had been working on artists since last year. Not forgetting that Chronnix, possibly the greatest reggae singer this reporter has seen life, gave an impromptu performance at the Umojah Sound System stage.
The three-day extravaganza cannot be covered simply in one article. The coverage on social media, speaks for the event. If at any one time you get the opportunity to attend something close to this you should! For example, Africa Nouveau, another festival set to kick off in February.
More pictures from the Festival.