Reading Time:
5
minutes
After 40 Hotel is nestled away from busy Nairobi streets, tucked on a corner of Biashara Street.
A tall building of eleven floors piercing the Nairobi skyline where most buildings barely have five floors.
The logo indicates it is Somali or Muslim owned; a yellow crescent and the North Star cuddling the number 40. If this town has shown me anything it is to expect the best service from these guys. They don't scheme off the top. They're straight arrows, with strong perfumes and funny accents.
I'm headed to the tenth floor. The Brook. A lounge I've heard so much about but not enough about it. It's a shy lounge. Doesn't really scream its presence but it's there. It knows it's there and it's okay knowing its there. Those that know, know. And today I am one of those in the know. A select elite you will soon be a part of.
The thing with rooftop bars is that they have a reputation. Mostly they're cold. Pricey. And sometimes noisy. (Cue in Brew Bistro, Westlands.) So, this bias informed me as I silently zoomed up the elevator into this lounge.
I should've known the name was a dead giveaway. Brook? Come on. The place lived up to its name, small and silent. It must be the fact that it's set in a hotel or that right opposite is the willow, a restaurant.
The Brook is a calm breeze in a storm of noisy bars. This space defines intimate and cozy. The wall, as you enter, is covered in a unique black wallpaper that has silver parsley crests running along it. It's carpeted. The whole expanse of it. Gray carpet with black threading. It softens your walk, silencing your footsteps and hugs your tired feet. It adds to the serenity.
Inside, two televisions are on. One on CNN and the other on Super Sports. They want you to know that you can catch up on your World Cup matches and not skip a beat on world news.
When it comes to intimacy this place redefines it. Small cuddled seats in mustard yellow grouped in two fill up the space. A small space. You couldn't even swing a cat but instead of making you feel cramped the intimacy welcomes you, makes you feel like you are the only person there.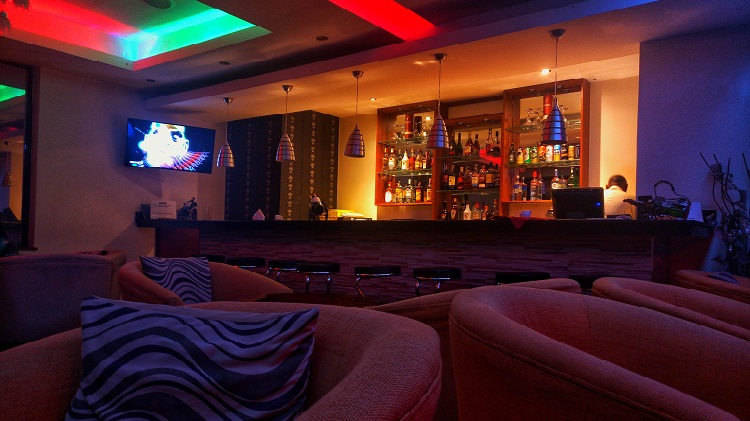 Private and Intimate, ideal for that mature date.
There's hardly any music. Some instrumental lingers in the background away from your ears yet still right there. Music that respects your space. Heck, even the televisions don't peep a sound. Around me, there are different kinds of people. Men in striped suits and protruding bellies and ladies in polka dot blouses accompanying them. Men in gray trench coats and nicely pressed shirts with iPhones. Groups of ladies talking about a gig they're planning, maybe musicians, maybe not. They add to the calmness of this place. But then, of course, there's the off crowd that always spoils it. Circa 6.40 some group of boisterous young guys enter. They're talking cars. Photo shoots. And have the cheers baba lingo on lock. They talk for a while, picking calls loudly until the place engulfs them. The Brook is not big on noise, it demands silence. And calm.
Despite those guys, there's a lot of business talk going on. And wheel dealing. All in tones that are near whispers. This looks like the exact place a tender could be won. Then, of course, there's the bit where I hear a conversation or two where big government names are thrown around with familiar ease. So, fellas, this place is the real deal. I might be back to try my luck.
It's this talk that informs me what drink to take. I must fit in. Can't stick out like a sore thumb and order something g as crass as a cold Tusker. Beers have their place and time. A beer is a drink that needs social conversation. Social conversation is not quiet. It gets loud. Beers force you to cheer football matches and to sympathize with dying antelopes on Nat Geo.
So, I get a dry martini. It is 500 bob. Which is fair. I expected a bit of a markup. Not that I would mind it because deep down I know I will let this place get away with anything. It had sold itself without selling itself.
This is my first martini. Ever. So, I feel like James Bond. The suit I'm wearing doesn't help much with my reverie. I don't know what to expect with Martinis. All I know it is a gin-based drink and that one time I heard Daniel Craig shoot an order "Stirred not shaken".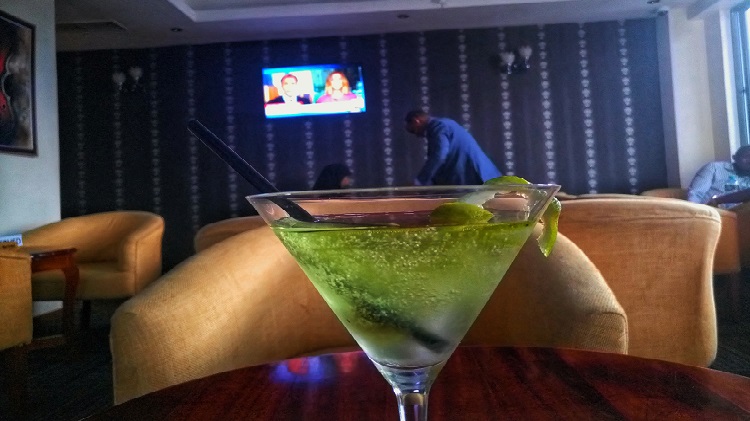 FYI: Mine came shaken. Charles the lad behind the counter did a whole jig with it. He'd fit right into a Missy Elliot video.
As I came to learn, in a martini. A dry one. There's Gin. Vermouth. An olive and a lemon twist to garnish. From experience, gin has a lingering herbal taste. It's bad. Gin is bad. Gin leaves the taste of bad relationships in your mouth. Drinking gin is a sign of giving up in life.
But in the Martini, she's different. Yes, she's a she. A gorgeous drink in a sleek tall glass with a wide rim and a slender stem. From the first sip, the horrible herbal taste is almost absent as it infuses with the vermouth and you get a completely different experience. Also, the taste of alcohol stays far behind, it respects your tongue treats it like a princess. Curtseying with polite regard.
Simply put, you can barely taste it. Must be why James Bond loved it so much. The only confusion with this drink is to whether you should eat the olive or not when you're done. A quick IG poll I did showed that most people don't. Olives taste bland. Try putting some olive oil on your tongue if you don't believe me. But hey tastes are different so to you I ask that old age question; to eat or not to eat.
This place deserves a perfect score. First of all, it is nested above the rest of Nairobi. Away from the rushed steps of the working class during rush hour and further away from the exhaust fumes of tired matatus. This gives it a serenity that's been lacking in Nairobi. Its intimate setting does not infringe on personal space. Matter of fact it didn't even get half full when I was here.
People walked in, sat, ordered, drank and left. That's the norm. In my opinion, it is miles ahead of joints in Westlands, Langata and even Kilimani that fancy themselves lounges.
The only thing you might hate is when the blender is put on. The sound will overwhelm every other experience. The bright side is that they won't put it on for long. All you have to do is to pray to your martini god that no one else orders a smoothie.
(Yeah they have those too – so you can tag along with your teetotaler friend too).
Now let me enjoy this martini, maybe get a second, and get immersed in this rare comfort.
Menu Breakdown
Local beers 350
International beers 400
Cocktails 500-700
Wine by the bottle 2200-3000
The average price of shots – 350