Reading Time:
3
minutes
The first time I had Pizza was at a job interview. It was scheduled for 2:00 p.m. but either the interviewer had forgotten that people are super busy or it was part of the test, since he never showed up for like 30 minutes. 
When he did arrive and ushered me into the office, there was a box of pizza between us. Of course, I refused the invite to have a bite because the rules of an interview clearly specify that you decline offers even if you didn't have lunch and it took you three hours to get to your interview. 
But Africans like insisting that you must eat and can go to ridiculous lengths on how their ancestors will roll in their graves, if you refuse to partake in what they are offering. I didn't want to be the cause of someone's misfortune so I took just a slice to save this fellow whose destiny depended on my appetite. No, I didn't lose the job because of that one slice.
In retrospect, I saved the interviewer. The pizza would have gone to waste, because real men don't carry leftovers home. The pizza was from Artcaffe and I always wished that I could go to Artcaffe to treat myself. 
The time came early in the week, when I decided to attend the Nairobi Pizza Festival. And Artcaffe was my first choice. 
 I called a friend, who after much reluctance gave in. 
 "Ai huko ni mbali kwani hawana branch ya tao?"
"Actually, there's no Artcaffe in town." I told her.
"Ama you ask them to deliver"
"They are actually delivering whatever you buy for Sh 100, until Thursday."
So, she agreed and off we went. Getting there, we were served a drink within five minutes of taking our seats.
Options were plenty. You could have a glass of wine, Carlsberg beer, bottle of soda or water.
The waiters are unlike the ones Bill Bryson talks about, who only see you when they want. They are fast, and you don't have to wave your hand for like a month, before they notice you.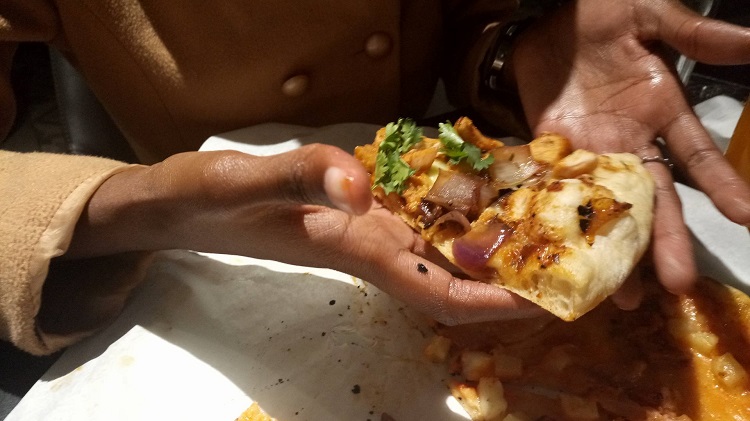 With the kind of ambience ArtCaffe Garden city offers at 7:00 p.m I went for the glass of wine as my friend went for a Fanta.
Two ladies on the corner table were enjoying what seemed like chicken while a gentleman and a lady at the far right were having coffee, could have been tea. A celebrity and the girl friend walked past our table, preferring to settle outdoors.
For a Tuesday evening the place was livelier than you'd expect, but again, this is Nairobi, every day is HAPPEN DAY.
It took around 10-15 minutes before the pizzas arrived as we sipped our drinks and had a chat with the manager. Who passed by our table to find out if we're comfortable.
At the very start she went through their pizza menu with us, not tiring from our constant questions on what exactly to go for, what she would recommend and what's new
We ended up picking the Pollo and the Hawaiian
The Pollo is spiced chicken, barbeque sauce, mozzarella, grilled red onion and coriander.
The Hawaiian is bacon, pineapple, pomodoro sauce and mozzarella.
Their pizzas are actually huge, if you actually boast of eating a lot and don't like sharing food because they're normally in small portions, for 8 pieces you might end up having five. The Pizzas are healthy and not thin like you'd expect during promotions. The toppings are also in great proportions and not minimized for decoration sake.
And because you're not actually going to finish the pizza they even pack it for you very neatly and you also don't have to worry about showing the whole world that you're carrying food because of the paper bag ban