Reading Time:
4
minutes
I live for the possibilities that exist in storytelling: the thrill of crafting a story from nothing and coming up with your own make-believe world and having people sit at your feet to get inspired, educated or just entertained.
We all have stories in our heads that would strike the world: most of us just fear what threading our stories would tell about us and so we often let the stories die inside us. It haunts us, just as the great Maya Angelou told us that there is no greater agony than bearing an untold story. I stopped sleeping on my stories when I learnt that there is always room in the world for a story that can capture and transport people to a different place.
It is for this reason that despite expecting a cheesy romantic film, I was excited to get home and watch Lowla Dee's film PLAN B. It had been greatly hyped on social media platforms on days preceding the premiere and so I expected an all-around great production, from the script to the cinematography. And, let's be honest now gents, it had Sarah Hassan as one of its leads and I still love me some good dose of Tanya. That's how I ended up watching the feature film on the first day it went on air.
PLAN B is a simple film. Girl and boy break up over dinner because the boy announces he is going abroad alone. Girl goes to a bar to drown her sorrows. Girl gets drunk and then meets another boy and they have a one-night-stand in some hotel. Girl finds out she is pregnant but does not remember the boy. Girl, while on some random business, bumps into a magazine cover that has the boy (the one-night-stand one) as the cover model and realizes he is a rich IT company top dog.
Boy refuses the claim and offers money. Girl has a really funny best friend (props to Cate Kamau) who helps her craft a strategy for getting money from the rich guy. They succeed but girl wants more from boy after getting the money. Boy and Girl fall in love but something happens and boy falls out of love and girl goes to live with grandmother. Boy thinks about his life and decides he wants to be with girl and asks girl's best friend to take her to where girl is. Girl accepts boy back and the film ends and this is where you add girl and boy live happily ever after.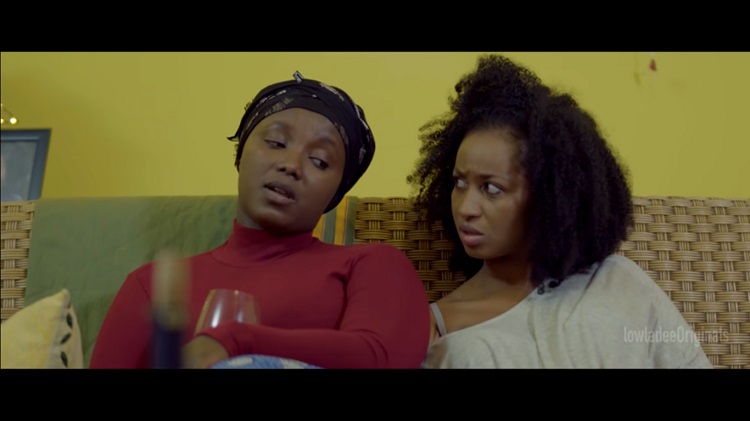 The exact moment when the Harpic girls lets out a thunderous fart, that could be heard in Lagos. Photo: YouTube
PLAN B is not a great film, at least not by any screenwriting standards. At least there is nothing that screams outstanding because we have seen better films like Rafiki and Nairobi Half Life with a near similar budget.
From the onset, it has a really lazy storyline and the script is full of lapses in character development, timelines, and plot lines. For a film that circles around only three major characters for a whole hour, the film writers would have done it justice by anchoring in it more believable plot lines and avoiding the monotony in the scenes that follow the whole film. The girls are always in the house and the boy is constantly in the office. In the film, the timelines are off and there is very little believability on the time periods and character development. How is Lisa (Sarah Hassan) a stylist when she is constantly buying clothes and delivering? How is Joyce (Cate Kamau) a hotel manager when they are eating Ugali and tea in the house for supper? Is Ugali and tea even a supper meal in a poor urban Nairobi household? How is Dele (Daniel) a rich IT honcho with an office that has one disinterested receptionist and one laptop to claim? How does Joyce even get to pull off being a lawyer with her kimbelembele? So many loose ends and lazy writing all through. Even a simple story should not be that simple.
"Our nascent film industry still lags behind simply because of lack of synergy from all the players involved.
On the flip side, the production does a great job. The casting is stellar and Cate Kamau provides the much-needed humor relief as Hassan and Daniel live up to the image of the poster TV girl and boy. The cinematography is also great despite having very few shooting scenes to work with. Like Genevieve Nnaji's Lionheart, it is the kind of film Netflix would jump into purely for its production quality and not script quality.
In all fairness though, it's a misstep and not a step forward.
I wish Kenyan film producers and directors would be receptive to ideas. I picked up scriptwriting four years ago and I have learnt a lot in that period on how our nascent film industry still lags behind simply because of lack of synergy from all the players involved. My first script was stolen by a local mainstream news network, and when they could not pick up on where my pilot script ended, the production was shut down after only one season. I have emailed almost every great director and producer a teaser script for a discussion and they have always asked me to send a one-page summary. Even the great Oyunga Pala once asked me to send him a one page summary for a script that would have taken him thirty minutes to pore over. Then I knew we still have a long way to go. We still have many more years of Papa Shirandula and PLAN B if we do not get receptive of ideas and exposure.
There was a foreboding feeling that the movie was going to end like this. Photo: YouTube
Let passionate screenwriters do the writing.
Let dedicated directors direct.
Let able producers take production up.
Then we will have a film industry we are all proud of.
Austin Arnold is a creative writer & Screenwriter based in Nairobi.