Reading Time:
5
minutes
Number 7 was a joint that shook the table that is Nairobi clubs. It came, saw an opportunity and conquered it.
In a short period, it became popular, social media was abuzz singing its praises. It lit the upper sides of the CBD that had been dead in a long while. They had decent cocktails that in the beginning were stronger than normal. Plus, they were among the very few joints that hit the sweet spot between potency and price.
I want to think that the success and meteoric rise in popularity led the owner to open shop in the heart of party central – Westlands.
The new Number 7 is located on the ground floor of Unga House. You enter the building, walk right across an ancient atrium flanked by numerous computer stalls, and then there nestled in the corner are the glass doors with the signature with the arrogant yellow Number 7 logo and a yellow sign hanging above it. Like a crown.
Outside is a bouncer, jovial, he even shakes hands and asks how your day was. A nice touch away from the normal stone-faced goons manning most clubs. The management briefs them well, because heck, even the town branch has really nice bouncers. Always eager to help and they strike conversations easy. You'd think you schooled together back in the day.
Inside, the setting is different. A good kind of different – I think.
They've set up benches almost as high as tables. It sorts of resembles a high school dining hall but with a touch of class. Actually, space is set up as a High school dining hall. They share the same corridor feel as the town branch only this one is longer. They have benches on each side and sparse low round table towards the end. Where these tables end the club opens into a small intimate space that's marked "bottle service area" for those exclusive meets and big spenders hehe.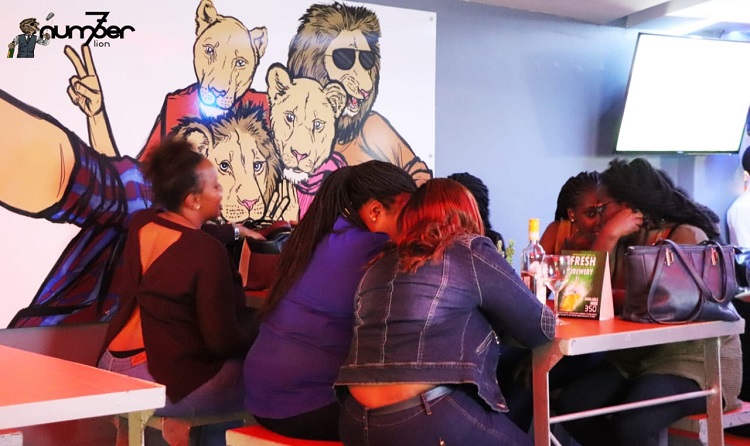 The sitting arrangement can be uncomfortable. Makes going for a leak a bit harder if seated at the end.
The set up makes it a great place to meet a large number of friends. Say 7 or 8? (Maybe you can fit 12 if some of them are as pint-sized as this writer).
The place is still ideal more. High school reunion? Uni Alumni meet up? This is your go-to place. But with the good come the bad and for this club, it means the intimacy in the set-up forces you to share seats with strangers if you happen to be alone. Also, when the pee demon strikes, your bladder needs to let up you'll have to keep asking them to move over. The bench set up was a novelty idea but not really practical in the long run.
I'm a sucker for staying in a place for quite some time. When age stops playing hide and seek it comes at you fast. So, all this club-hopping business doesn't sit as well as it used to be. Like most people, I prefer a cozy place that's comfortable and can babysit me for hours on end. But this joint doesn't look like it will allow me that. The bench-like set up is uncomfortable after the first twenty minutes. You're always hunched up and at the end of a night, your back cusses your poor posture decisions.
But come on I know you guys don't come here to read all the technical stuff about a place. So, let's get right into it – the booze. Number 7 in town sold me with their old fashion. It is a perfectly balanced drink, the wizard behind the bar worked his magic and the sweets did not overwhelm the sours. There's nothing as bad as not being able to enjoy the smoky flavor in a whiskey. That drink went down smooth, I bet it has a string of girlfriends in tow.
So that's what I tried here. Though from the menu it higher priced compared to the ones in town. Must be the new clientele the joint is trying to attract.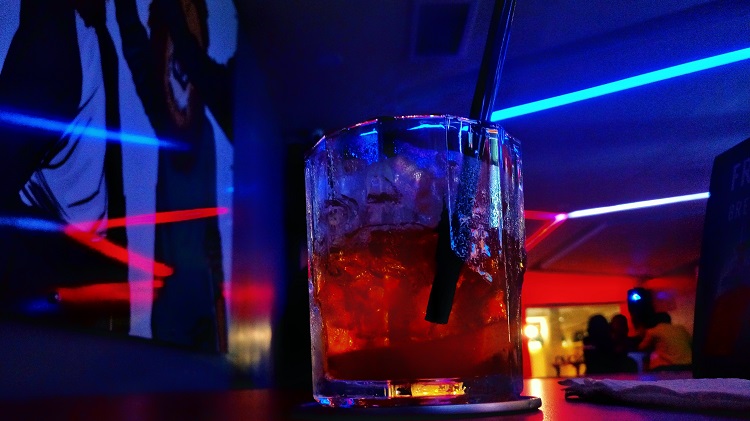 Well, I wanted to try the sidecar, a cocktail that promised whiskey and rum. But I felt the need to stick to my guns. Compare notes and sh**. Also, there's that little thing where the waitress, lady with a nice smile, didn't quite catch her name – okay I did not ask, didn't sell it or try to. She was more the kind to let you reach your own decision. A rare trait. But I had this feeling where I asked for a recommendation she would not hesitate.
Side note: When I asked her, what was in the sidecar, she knew. She did not look around and dash to the counter to confirm. Wait staff that knows their stuff is always a plus.
To the drink.
The first sip, it seems strong. It assaults your tongue in a pleasant way. You immediately know two of these will knock you out. It comes in a round whiskey glass, peppered with rugged ice and a short black straw. But this is short lived. After a few sips, the strength dwindles. Maybe it is the melting ice? I was slightly disappointed.
Nothing hurts me as much as weak cocktails. I feel like I didn't get value for cash. Maybe there's a first sip phenomenon. Like maybe they dip the straw in alcohol before serving so it seems stronger. The first glass barely buzzed me. To put it in context, I was coming from a heavy night the previous day – which meant I'd be easy to sway. It didn't. But since they do not sell themselves as a cocktail joint they can get away with it.
Number 7 is more of a social space. Meet friends. Get pitchers. Talk and catch up. Have fun.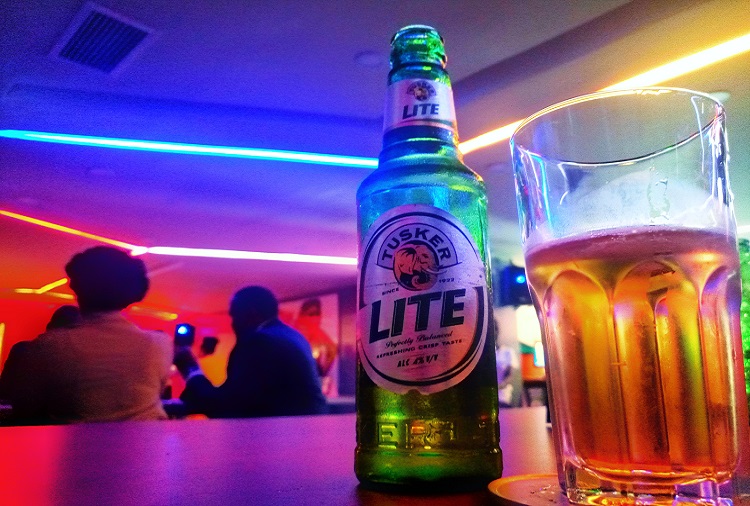 Beer goes for Sh 300, and that can be a put-off or can discourage binge-drinking for the average cool guy.
The music was good, a little bit too loud but good. I did notice, however, much like the town one, the deejay has a liking for Le Band and their song number 1. Must be a numbers thing hehe.
Side note: here they don't count on sex to sell. The waitresses are dressed decent and coax you with charm. No exposed thighs in mini-skirts freeze and shine vibe. Respect to that.
For me, it is a solid 7.
I know lol.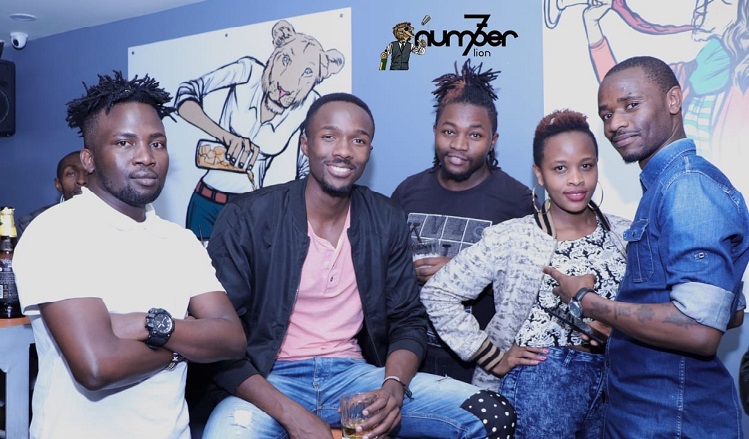 The town Number 7 has hilarious drink zingers, but in Westlands, the designer tried some art. Not bad.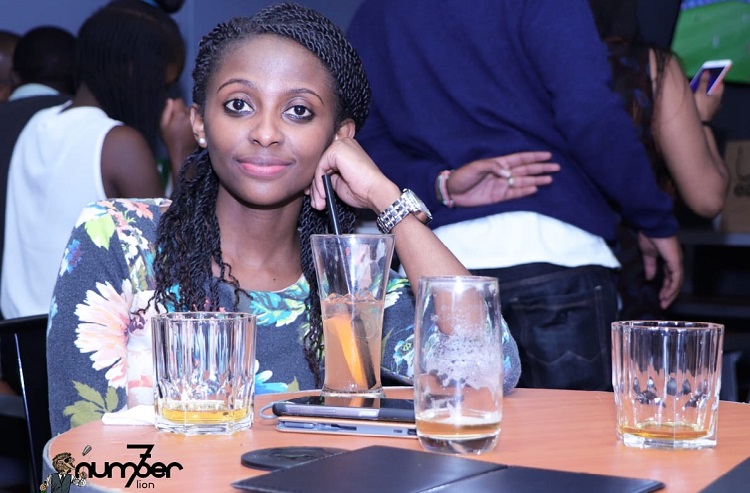 A girl can have her cocktail in peace.