Reading Time:
3
minutes
In popular fiction, a writer sometimes can fall in love with a character, prompting him or her to reprise the character's role in their subsequent works. There is Robert Ludlum's Jason Bourne,
Lee Child's Jack Reacher and Tom Clancy's spy turned president US president, Jack Ryan. But fewer recurring characters are as funny, as annoying, lovable and reliable as Nelson DeMille's John Corey.
When he first appeared in arguably DeMille's finest novel Plum Island, he instantly became a cult hero among the legions of DeMille's fans. In the book, the detective investigates the murder of a couple working in the secretive government installation located on Plum Island, New York. The obvious assumption is that the couple may have leaked a government secret, the reason they got murdered, but as we discover (and in deed in all DeMille's books), the most obvious suspect is never the actual suspect.
John Corey-Strengths
Always disrespectful and distrustful of his seniors, he teaches us to never take everything our bosses tell us at face value.
Always trusts his gut instinct.
Humour: his irreverence wisecracks and political incorrectness will get you laughing and turning the page.
Always thinks outside the box
Always gets relieved from his duties for doing such a good job, reminding us that in life, we don't necessarily get rewarded for doing a good job.
Weaknesses
Being rude and macho, becomes a bit boring and a tad repetitive
Often the wisecracks come across as rehearsed, contrived, and misplaced. The only redeeming grace, they guarantee a good chuckle.
His work has not allowed him to be a family man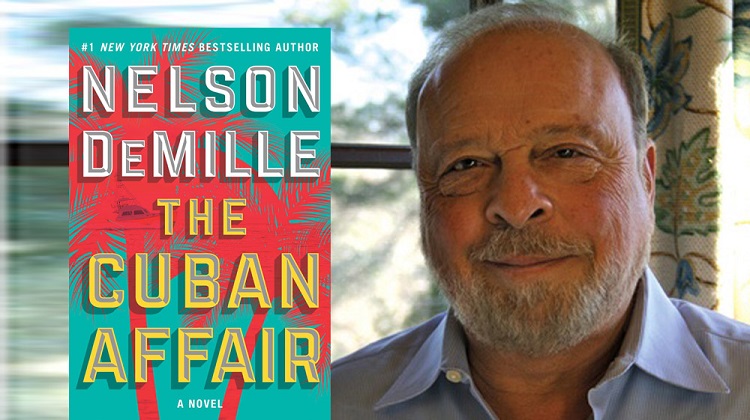 DeMille and his latest book, The Cuban Affair, released this past September. 
10 best quotes/wisecracks
"Women are terrible judges of character,"
John Corey thinking to himself, his partner seems to be a crush on Ted Nash of CIA, a rival spook, in Plum Island 1997.
"If earth had an anus, it would be Yemen."
The opening line of Chapter two in The Panther-2014
"If I wanted to be watch arseholes all day, I would be a proctologist, instead I watch arseholes for my country."
Opening line of Chapter two in The Radiant Angel (A Quiet End-England version)-2016
I've done a lot of stupid things in my life, and it would be hard for me to list them in order of stupidity. Except Number One. Skydiving. What was I thinking? And I couldn't even blame this on my dick.
–The Lion.
"Sometimes shit happens even if you have a shit shield"
― The Lion
"The air was so thick with testosterone that the wallpaper was getting soggy."
― Plum Island
"Never have sex with a woman who has more problems than you do."
―The Book Case
"Do you know why Italians don't like Jehovah's Witnesses?" "No… why?" "Italians don't like any witnesses." (as a fan of mafia movies, this is one of my favourite)
-The Book Case
Anyway, I shouldn't make too much of this, though it is a little odd. Basically, it is none of my business, and every time I ask too many questions about things that seem odd at 26 Federal Plaza, I get into troble. Or, as my mother used to say, "John, Trouble is your middle name." And I believed her until I saw my birth certificate, which said Aloysius. I'll take Trouble over Aloysius any day.
Wild Fire.
"I gripped my right ear and twisted, which is how I tune out idiots."
-Plum Island
***
Best order of reading DeMille
The best DeMille book to start with is Plum Island. Follow it up the Lion and the Lion's Game, and then Wildfire. That will introduce you to John Corey. Then you pick another favourite DeMille Character: Paul Brenner in The General Daughter (played by John Travolta in the movie-adaptation of the book). Brenner also appears in Up Country, making trip back to Vietnam where he fought during the Vietnam War. Brenner is very much like Corey, reason being they are literally alter egos of the author. Then you can try the John Sutter series (Gold Coast and Gate House).
Drawback of reading DeMille
Sometimes, the book goes on for too long. Like the Panther was at 250 pages longer than necessary. But if you are into knowledge about cold war, cultures, geography and such, all the information will go into waste.