Reading Time:
5
minutes
I felt as lost on my first day of internship as I felt on my first day in secondary school…
The only thing I knew on the morning when I reported at my station was that I was going to be in Ward 6 for the first six weeks.
"Visiting hours zimeisha, unaenda wapi?" is the question a guard standing outside the main gate to the wards asked me.
"Mimi ni daktari," I replied. He looked at me, opened his mouth to ask a question and then decided against it and ushered me in. On the second gate, the guard couldn't let me in, not before telling him where I had trained, what I had specialized in, which ward I was going to, showing him my name tag, and telling him what each letter of the MBChB on my name tag meant.
I didn't know where WARD 6 was. A young girl taking care of her sick grandmother in the same ward is the one who directed me to the second floor of a building in the farthest corner of the hospital. I took the stairs two at a time, found the admission room, deposited my handbag on a chair, wore my white coat, took out my stethoscope and hanged it around my neck, then lowered myself into a chair. I just wanted to sit for only three minutes, trying not to cry. The door flew open as I was scrolling through my phone wondering if I should call my mother or not. A man stormed in and demanded to know why his mother was just being given "water" and not a single drug since being admitted the previous evening. I had to go find out from the nurses.
I want to see the reaction on their faces when they finally see two patients on a bed meant for one. I want to see what they will do when they get to theatre ready to work only to be told that all theatre gowns are wet because it has been raining and the hospital relies on the sun to dry its linen.
I didn't even introduce myself before I was told to see a patient who was 'gasping' in acute room, bed one. A nurse was bent over her giving chest compressions. Another one was bagging her while shouting orders to the third one to call "duty room" and tell them that the piped gas wasn't reaching our ward. All the patients and their caretakers had their eyes on bed one. I stood at the foot of the bed and fought the urge to run away. Six minutes later, the nurse who was giving chest compressions stopped the one who was bagging looked at me and told me to check if she was alive. I put the stethoscope into my ears, put the bell over her chest and listened for five minutes or so. I had to hold my breath, for my own heart to stop pounding before knowing for sure her heart had stopped and her breathing had ceased. Her pupils remained dilated as I passed a light over them. She was dead. I left, went back to the admission room. I wanted to get as far away as possible. But the day had only started, that death had to be certified, the ward round had to be done, blood, urine, sputum and stool samples had to be taken to a lab that no one had shown me. Then I still needed to find time go back to my house mostly using a boda-boda for a wash, something to eat and some warm clothes for my first-night call!
To put it mildly, my first week was hell. I got lost on my way to the lab three times. I missed lunch that entire week. I got late for my first major ward round and was reprimanded in front of everyone including the patients! The morgue attendant quarreled me once for not labeling a body before calling him (this is not my work and I am not even the one who had called him). I cried every single night as I slept on the mattress I had put on the floor of my single room. I cried all the way from the hospital up to my place the day when someone stole my purse and the only three hundred shillings I had. We were not being paid yet and I was too tired of asking money from my parents. I even cried the day thieves broke into the house of another intern while she was on night call and stole her laptop, gas cylinder and beddings. I cried because I felt sorry for her and also because I wondered what I could do if it had happened to me.
Things got better when they started paying us. I moved to a better house, got a bed and stopped skipping meals. But they didn't even get as close to what is in store for the Cuban specialists who were supposed to arrive on Monday, May 28, but will now arrive on June 7. Apart from earning a little over Ksh 800,0000, they are going to get furnished homes, airfare during their annual leave (so that they can visit their husbands and wives back home), transport to their places of work, their bills are going to be paid by the county governments. They will also receive security and translators.
After they are launched into the country in a ceremony that will be as colorful as any Kenyan political ceremonies can get, they will be given time to get over their jet lag no doubt. Then when they will be finally ready, they will be given a tour of the hospitals where they are going to be working, no watchman will ask them who they are because every person will know them by their names. The government of Busia is ready for the two who will be working there. Here is the budget for the households. The only thing the Cubans are going to take to Busia is themselves and their clothes.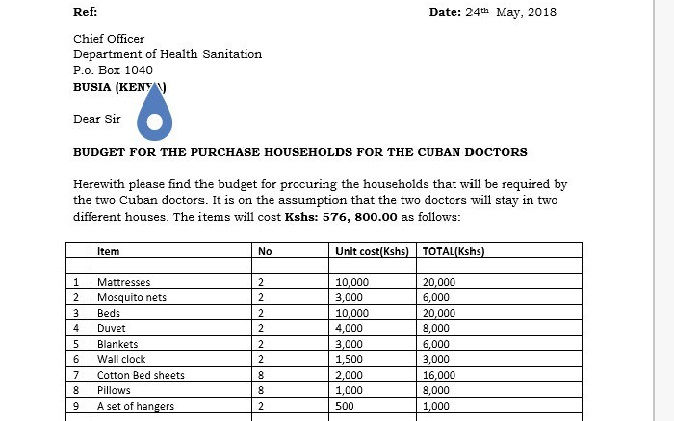 A section of the budget of Busia County's purchase of household items for Cuban doctors. Kenyans doctors are never as lucky.
I am going to miss the opportunity of working with Cubans just to see how they will behave when they are conducting ward rounds.
I want to see the reaction on their faces when they finally see two patients on a bed meant for one. I want to see what they will do when they get to theatre ready to work only to be told that all theatre gowns are wet because it has been raining and the hospital relies on the sun to dry its linen. I want to know if they are going to donate their thousands of our money and buy the hospitals drying machines. I want to know what the anesthesiologists who are coming are going to do at three in the night when they are called to give anesthesia to a woman in labor only to discover that there is not even a single spinal needle left and either someone forgot to order or buy induction agents so general anesthesia is out of question.
I want to see how long it takes them before they become perfect in making cervical collars from carton boxes. I want to see how long it will take them to come to terms with the fact that they have to write a prescription for every drug they prescribe for the patients to buy. I want to hear if they will be told that there are no gloves in the hospital, and what they will say. I want to see if they will remind pregnant mothers coming to deliver for free to buy cotton wool, oxytocin, intravenous cannula and intravenous fluids. I want to see how the one hundred Cubans are going to deliver Universal Health Care to Kenyans. To see how they will offer rehabilitative, curative and preventive services to Kenyans at a cost that will not see them sell their cattle and pieces of land.