Reading Time:
2
minutes
Early on Thursday, Kenyan-born, Australian senator, Lucy Gichuhi delivered a Public Lecture at the University of Nairobi. The lecture was held at at the Manu Chandaria Auditorium in UoN Towers.
Senator Gichuhi was born in Kenya and is the first black person to be elected to the Australian parliament, through the Family First political party(now in parliament as an independent). She represents South Australia.
She was born in Nyeri, and grew up in the village, walking to school barefoot, she told students and members of the public in attendance. She went to Lwak Girls in Siaya County, far from her village and a totally different culture where she learnt the art of disagreeing with people without being disagreeable.
"It is sad that now, I hear teachers cannot be transferred to work anywhere in the country. Even civil servants cannot work anywhere they want," she said, bemoaning the intolerance in the country.
"Australia, by electing me, a black woman, set an example that we should embrace everyone."
She says, growing up sharing a Sunday School best dress among her five siblings, her experience in Bondo and finally studying at the University, made her appreciate differences. And going to live in Australia, a country with over 200 tribes and all nationalities, has made appreciate the beauty of diversity.
Her experience of living in Australia for the last 19 years has taught her that it is the scarcity mentality that makes people disagree and the source of conflicts that buffet the country.
"Instead of the 42 tribes fighting all the time, they can be a strategic asset for the country, each individual in the country is a steward of the national cake," She said.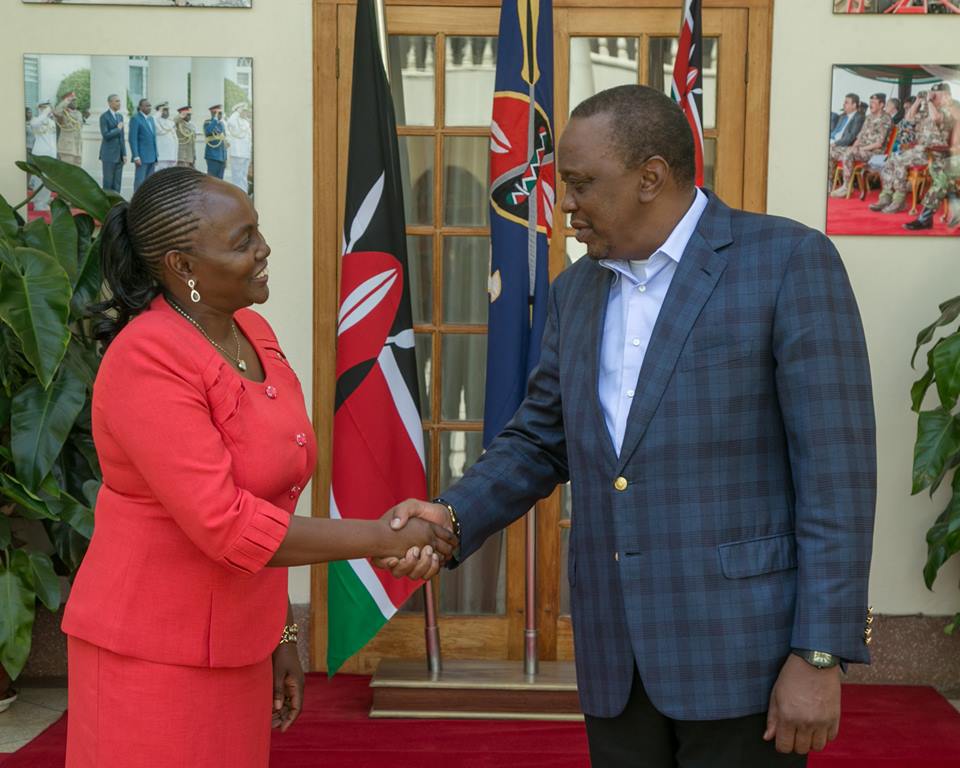 Senator Lucy Gichuhi at State House where she paid President Kenyatta a courtesy call on Tuesday.
Photo: PSCU
As a young democracy, we should not be too hard on ourselves. For conflict resolution, each party must understand where the other is coming from. It is a lesson she has learned from her work as a lawyer, solicitor, advocate, accountant, parent and now as a senator.
She urged leaders to address the root cause of the problems. We should rely on outside help because we don't know the intentions of the other countries, "homegrown problems need homegrown solutions. So, preserve all that is good.
In Australia, she is known for her opposition to the same-sex marriage that the Australian parliament recently passed. She was among the 16 out of the more than 200 members of parliament who voted for the Act, last year. It is among the things she has said NO with conviction. Others include refusing to change her accent, standing up to fashion bullies. She prefers to keep simple and maintain her roots.
The senator urged Kenyans to forgive and forget about the past, where possible. Kenyans should learn to laugh and mingle freely. Kenyans can learn a lot from Australia especially on integrity and Australians can learn a lot from Kenyans too, hospitality, our ability to take care of each other and our attitude to life.