Reading Time:
5
minutes
Soho's came as a suggestion by a friend who also doubles as a fashion designer. We met a few months back at Mwenda's and he sang praises about the place.
Then it turned into one of those conversations where he wanted me to do a review. Months later nothing came out of it. Life happens. You forget these things, adulting is a curse. Then, two weeks ago, he hit me up on Twitter. I was singing praises about Windhoek; a wonderful beer from Namibia I tried which you can read about here. He asked me what happened to Soho's. I guess that to me was the wakeup call because that same week I found myself there downing a cold Tusker Premium Ale listening to the best selection of music I've heard since Nairobi clubs went the degenerate way.
Here's what I found about the place. Generally, a quintessential cube that radiates warmth like the dying embers of a fireplace on a cold October night. That's one way to describe Soho's. It has imposing wooden doors that look they might have come out of an 18th century Chinese emperor's palace and an ancient-looking 'private members club' sign at the door that can be intimidating. Although I must admit it gives personality to the joint. You feel like you are stepping into an exclusive circle of Nairobi nightlife not sure what to expect.
It is touches like that gives the place a classic look. The décor, wow! well the décor isn't borrowed from the Nairobi night club guide book. You don't have your red and white couches in corners marking an obviously non-VIP VIP section. These guys have put some thought into their décor. It has been carefully chosen and comprises a tasteful blend of European style living room setting, American style dining room and of course a bar counter with a long wooden top that winds under your drink endlessly into a corner with a brightly colored painting. As usual, the counter bar is well stocked. Choice whiskies and cognacs grace the top because there's a hierarchy with these drinks. They sit there and look down on the less fortunate drinks that guys like me can afford with disdain and wait for their wallet padded clientele who will ask steadily for a double on the rocks and toy with the drink for an hour or two. The fridges at the bottom have all sorts of beers ranging from the premium ale. Which I had. To Windhoek which you know, I love too.
The downside of the counter bar is the old TV on the counter. Barely 32 inches and nothing close to HD. Since they are not a sports bar or care for it anyway my advice would be that they should leave it for the staff in the back room. Let them catch up on news, or the latest game or a soap. Just put it away from the eyes of the customer. Also, it is not a vintage piece. It just looks like an old television the owner needed to get rid of form their house. In total, I counted two screens. At least one wall mounted, fairly sized and modern. It was positioned like one of the paintings in between two pillars. Not the sort of place though to watch a match. It just acts as a necessary distraction should you need to look up from your phone or avoid your company's eye contact.
The walls are dressed in solid bright colors and adorned with beautiful art pieces. The kind of art that is painted by poems written by the artiste's paintbrush. Nice quiet poems. With no rhymes but so deep they immerse you into another world. Art like fine wine. Wine that sits in a long stem glass with a wide brim, no bubbles just permeating with flavors. Wine you'd enjoy more looking at than drinking.
The one thing most joints have been unable to do is to minimize outside noise. Now, considering Soho's is at the junction of Muthithi and Parklands road you would expect a lot of ricocheting noise from the Westlands traffic and rowdy matatus. There's none. The place has an ambiance that swallows noise from the road and creates a little piece of heaven for a weary soul. It also helps that if you take a sit on the couches, you can lay back, drink on the coffee table, and let the cushions absorb all those bad office days.
When I mention couches I should also mention that they are set up in the smoking zone. However, that zone is more of a lounge with lots of space and air. It is set-up in such a way that the person smoking in the booth next to you won't affect your enjoyment. The booths, well that's something else. They promise privacy and comfort. This club has been designed with you in mind. Also, the music is something you don't have to shout over, you don't have to look like you are in a colored version of a Charlie Chaplin movie.
Also when you are about to leave a mellow voiced waitress will ask if you are sure you don't want to add "one more". This is usually normal but for Soho's, it is in the way they ask it. Like it is almost a favour you are doing yourself.
The lounge has wooden Chester styled couches with beige cushions all arranged in an intimate setting. In the middle are black mahogany coffee tables. The place is perfect for non-formal business meetings. Where wheel dealers you can close a deal over beers and a cigarette. Which I think might be exactly what happens because I saw a couple of red plate machines parked outside and men in coats that could not close past their huge bellies.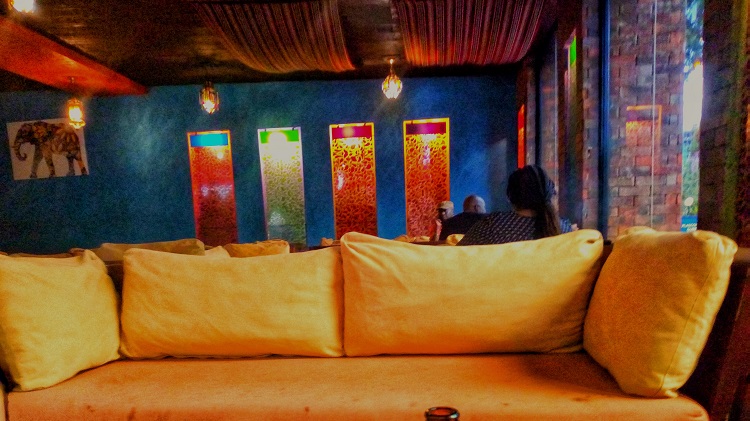 The music was a nice selection of old school bangers from TLC's Scrubs, Blu Cantrell's Breathe, Coolio's Gangster Paradise all the way to Destiny's Child's Survivor and all your 1990s and the aughts best numbers. But as the night went on Bebe Rexha and Designer featured. Not loudly though. They maintained the softness but you'd be able to head bop if you needed to.
In terms of service, the wait staff are polite. Very. And attentive. The staff anticipates your drinks. Refill your glass and ask if they should top you up. This place really feels like living in an upmarket townhouse with your own set of servants. Also when you are about to leave a mellow voiced waitress will ask if you are sure you don't want to add "one more". This is usually normal but for Soho's, it is in the way they ask it. Like it is almost a favour you are doing yourself. They know how to up-sell. Which is a quality any staff at a joint should have. They have shed off the abrasive nature of most wait staff where they don't give a shit. These guys are invested in the place and it shows.
With beers at KES 350, this place goes on 'my after work' drinks list.
Pick a Thursday, find a friend and come catch up over cold ones. You'll not regret you did.
And on that note: For me, Soho's is a definite winner.