Reading Time:
6
minutes
Silas Nyanchwani invited me to this piece of real estate on the interwebs to tell a few words about any affordable car I have had a good experience with. He's handed me the mic, I have blown into it (it's a hallowed national tradition), *cough-cough* and we can start.
For the car reviews, I'll do here, I'll focus on what most of us can afford for daily driving. In the off chance that someone hands me keys to something exotic, I'll gladly share the experience. In Kenyan-speak, this is a premium German sedan or SUV, not a Lamborghini or anything with a prancing horse on the till. Those are unicorns on these shores, God knows I'd love to meet one. To rouse up the dust on this fun corner of Nairobi Cool, I'll review a car that I have used regularly in the past year and a half. It's been a family vehicle, and I have had a good experience in its maintenance. Something that, in the words of Labrinth, I have seen beneath its beautiful.
Debut; the surge of the wave
Between 2005 to 2010 Honda decided to do a double entendre on the subcompact class by building a five-door station wagon version of the first generation of Honda Fit. The station wagon in question is the Honda Airwave which proved that at the Honda brand of lightning can strike twice. It was sold in two trim levels, the basic "G" and the slightly more 'luxuriously' equipped "L" model. A panoramic glass sunroof was an option on both, along with front wheel or all-wheel drive (AWD). Most examples, including our dear example under review here, are front-wheel drive. This is a car on the thrifty side of the automotive divide where terms like AWD send buyers scampering back home to keep up with mortgage payments. It's understandable. Nobody buys this car to drift on snow, the foremost priorities are space and economy. Besides, if you want an AWD from Japan that truly delivers, look not an inch past Mitsubishi and Subaru.
Looks and Interior
The Airwave is no head-turner, but it is handsome in a way that takes some getting used to. The back isn't quite as sharp looking but the curved back-glass and the lights add some sizzle to what would be an otherwise bland ass. The front features; a sloping A pillar that rendezvous down at the chromed bonnet tip with a front fascia that holds a single-slit- louver-grille design. The Honda logo sits boldly at the center, letting the wind sift through to power your dreams. The interior is remarkably spacious. Am 6ft 2" and I never have to push the driver's seat that far back to be comfortable. The seats are fabric but supportive, no cows died for this. Good news for tree huggers. Bad news for you if you are looking for Audi-esque ambience here. The utmost priority was space and economy. The rear seats fold forward and offer a flat space for your goods. I once fit a 2.2-meter-long TV stand back there and took it home without a hitch. Honda says 2.7m will fit if you play around with the front passenger seat. Front seat control is manual; you pay for what you get. Japanese simplicity.
At the helm, you have a three-spoke steering. No volume, radio channel…no fancy buttons. This is not a multi-function steering wheel but it is sufficiently ergonomic, neither too big nor small. Paddle shifters? No. Are you high? These lack on the basic "G" wagon, the "L" model has some of these bells and whistles (paddle shifters, courtesy of a reprogrammed CVT with 'gears'). The radio on most is an analog example but the speakers hold a lungful of good sound.
Vital Specs and transmission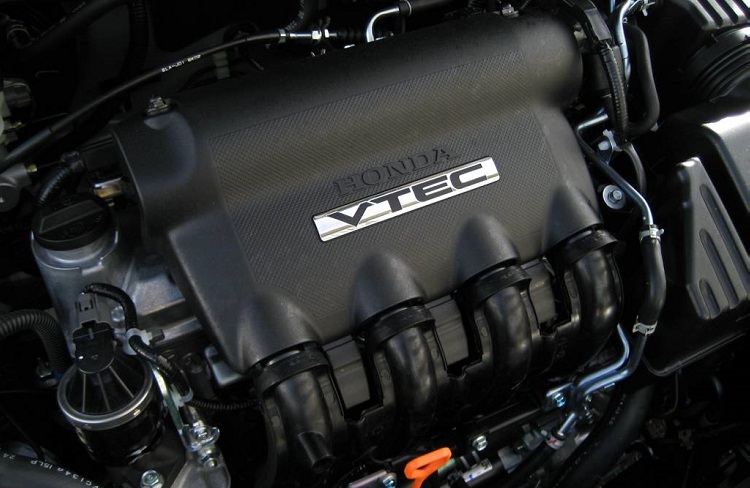 "Honda's 1.5l L15A VTEC i4"
On the business end, the airwave packs a 1.5l L15A VTEC i4 mill that provides motivation to the front wheels via a butter-smooth CVT gearbox. I've driven this car to Meru, to Nairobi, and to other far-flung corners of the country and I found this combo quite smooth and satisfying for a 1500cc. the motor gives you 109hp of grunt at 5,800 rpm and 143Nm of thrust at 4,800rpm. Coupling Honda engine ingenuity with a CVT gets you up to 19km/l of highway driving if you keep the needle below 130kph and let the Subaru crowd play from a distance. Accelerate slowly, get to a comfortable cruising speed and hold it there. The result is surprising economy, encroaching on the territory of nduthis and other forms of transport where the rider serves as part the chassis when the shit and the fan shake hands. Town use and its jams give you about 9-13km/l. These are real-world figures. From a Honda with 160k km on the clock. Impressive. I did the math myself. I'll explain how I did it at the tail end of this piece. Throttle response is sharp for a CVT and the rear exhaust breaks serenity with a quiet even tone that beguiles the Honda magic under the hood.
Handling
On corners, the airwave is no monkey and if you take corners too enthusiastically, the soft suspension will serve you back large dollops of body roll. It's a butt-clenching experience you don't want to repeat, especially on the winding-50m-cliff-at-the-edge-of-the-road route to Meru. This girl is tall and she isn't a fan of Jamaican dancehall, take her slowly. The brakes are standard Japanese subcompact car fare, discs up front, drums outback. The ABS give you decent stopping distance with this threadbare setup but you don't want to push this to its limits. It is sufficient for normal driving for the sane working man and his family. These aren't four-pot or six pot brembos, so keep theatrics to a bare minimum and you'll be happy with this car. You and Kimani from insurance.
The usual foibles of station wagons strike here too. Rear visibility is hampered by Fat D-pillars and the lack of reverse cameras. Reverse maneuvers need delicate helmsmanship lest your beer budget goes to buying fillers and paint for both you and your irate neighbor at the parking lot.
The Honda Airwave rear
Keeping it Wavy
Maintenance wise, this baby is very reliable. Strictly use full synthetic oil during service, VTEC engines work best on this. For the CVT change the oil every 40,000km or so and you'll be good. A common complaint on Hondas and this model too is vibrations and hesitation when accelerating before it smooths off at higher speed. If you experience this without a check engine light, do a computer diagnosis, if nothing comes up, change your full set of ignition coils. All of them. The problem will probably go away. That happened to me.
Smoke in the morning? Check plugs and the oxygen sensor. Computer diagnosis first. Don't let some bogus kawaya ruin your car ownership experience. If your electrical guy shows up with those shady pin testers with a bulb on the end and not a computer diagnostic machine, tell him to go home. The suspension is pretty robust and you will not be changing bushes or mounts in a long time.
Buying cost
You can't import an Airwave since production ended in 2010, but you can pick a well-kept locally used example for 450-650k with about 70k-170k on the clock. In my opinion, it's a good value for money alternative to a fielder of the same time period (2005-2010) which tend to be overpriced to the high heavens. Toyota worship will be the end of Kenyans.
All is not lost, the Airwave was replaced by the Honda Fit shuttle, low mileage examples of which can be imported here for about Ksh 800,000, upwards. Available is 1300c hybrid version and a 1500cc non-hybrid option. I propose the non-hybrid 1500cc version. More reliable, almost as economical, no risk of the hybrid battery pack failing on you. And don't they look good? Happy hunting, and let's keep this shindig going. Bella Ciao people…
NB:: Ladies and gentlemen, here is how you get a relatively accurate calculation of your fuel economy figure. At the start of your long journey where you expect no jam, Fill the car while it is level, tell the attendant to stop as soon as his sensor on the nozzle detects its full. Note your odometer reading. Travel, hopefully for more than 100km, then head to another petrol station and fill the car again. Now note the number of litres you topped up. Check your odometer again, subtract the previous reading at the first fill up, and divide with the litres you just topped up. Don't rely on a trip computer or rumors (those that make people shy away from anything above 1800cc). The same engine on the same model may have varying consumption due to driving style, engine condition, load, road topography, traffic…. etc.