Reading Time:
4
minutes
When the only Brew Bistro opened on the floors of Piedmont Plaza it had a chip on its shoulder. An Ivy League scented hubris characterized by a famous brunch; an even famous draft beer all rolled into a joint that would comfortably fit two cowboy hats on a rainy day. It did not have to introduce itself, not that it would if it needed to, you had to know the place, or you were not important enough for its attention. This is a reputation it has carried along into its expansion. To Westlands and to Galleria.
But then maybe, just maybe I am a little bit hard on the first Brew because when it opened, I only had two strands on my chin, an internship contract and an ID that would only get me into a government building.
The first time I ever got into Brew I was to do a write up on the owner for the company I worked for. He, an interesting chap, came to Kenya after his studies abroad and with a passion for making beer opened the place. It was the first time I sampled a Nyatipa – weird (interesting?) name for a beer. It felt more suited for an animal grazing the savannas. Or a traditional instrument played during a rite of passage ceremony.
The Brew at Fortis is bigger. There could be a herd of elephants having mojitos right around the corner and you would not even notice them.
Wet behind the ears the one thing that stuck with me after my first sip was the simple taste. It did not have the concoction of complex flavors I was expecting. Served from a tap the temperature was blissfully cold. But the most important thing was that it did not carry an after taste. It was exactly what a beer should've been.
Now, years down the line with a healthy stubble on the chin and two more Brew branches opened I decided to revisit this simple beer I one had – Nyatipa. My location of choice, Brew Bistro Roof Top. This one looks down over Electric Avenue from the top of its throne at Fortis Towers. It's a Wednesday and the clock has just kissed happy hour territory.
The Brew at Fortis is definitely bigger. There could be a herd of elephants having mojitos right around the corner and you would not even notice them. It's airy too and for people like me that fancy a smoke once in a while that's a big plus. Plus, it has this long counter that stretches for miles with a view over Nairobi that gives you the lonely bar feel without actually being at the actual bar. They could do something about the sits though – not that the elephants would complain they have plenty of cushioning.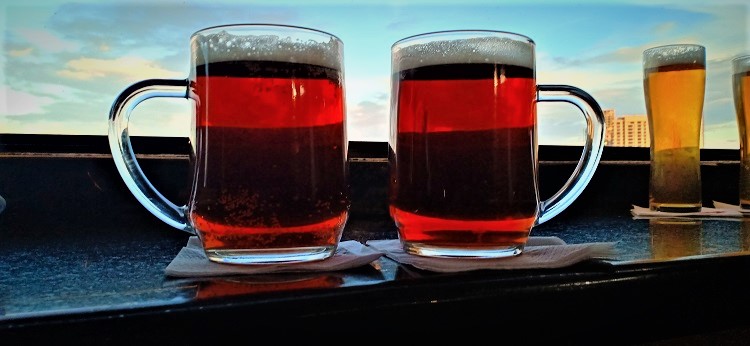 During happy hour there's a buy-one-get-one-free offer on draft beer, house wine, and selected cocktails. Though, if you get a waitress that's more enthusiastic about her job she will let you know that the BOGOF can also be converted into a 50% off because you might be there on a Tuesday and all you wanted was one drink to knock the edge off. Also, maybe because your wife knows the smell of more than one drink, and you do not want to get into trouble. Rumor has it they have a nose for everything.
The beer.
I ordered the Nyatipa and since I do not have a wife with a nose for things or a wife for that matter – I got the BOGOF. Besides, it was Wednesday, which technically is a Thursday, and which technically is a Friday if you round it off to the nearest two business days.
The beer comes in a tall glass shimmering a shade of copper that reminds you of dried hay. The glass looks dainty. Like you'd want to buy it dinner first, ask it what it does for a living and its favorite color before you can finally smack lips. But it's not. Here, it fits right in. Among the high stools, grass carpets, uniformed staff and the chatter of banter from artiste types or young professionals. The place just carries a vibe with it. One that's non-intrusive and welcoming.
This is a beer that you respect and only have enough to get you jolly. Don't let this beer get you drunk – it deserves better.
I will not say that ever since the first time I tasted a Nyatipa I had never had one again. That would be a lie. But it had been months since I tasted one. I expected a flood of nostalgia to hit me with the first sip – just like the movies. But instead what hit me instead was the insanely crisp freshness of the beer.
At 6.5% ABV, you'd be surprised how every sip of this beer feels like the first. Cooled down to proper beer temperature you are not in a hurry to down this guy. You want to sit there with them and get to know them a bit more. You want to enjoy the view together. Maybe talk about football or the weather or why chess is higher educated draughts.
You will notice how the consistency always almost remains the same since with beer it cannot always be 100%. But with Nyatipa it feels like it comes in close to a solid 80%. This is the kind of beer you have with friends or acquaintances or just a random person you've met there – it won't disappoint. This is a beer that cools down your throat and puts you at ease after a long day. This is a beer that you respect and only have enough to get you jolly. Don't let this beer get you drunk – it deserves better.