Reading Time:
6
minutes
At first, I thought the Capital Club is in Upper Hill. Not that I'm new to Nairobi, but it feels like Upper Hill. It sits at the top of Imperial Court, Westlands Road. I was going to the sixth floor and the close proximity to my office meant I was here earlier than most. The event: a whisky tasting by a premium whisky brand, The Macallan.
The venue itself is elite. Capital Club is those places you hear about in whispers mentioned in business dailies. The kinds of place where people rub shoulders with the "who" of the city. Businessmen, politicians, top executives and their ilk all flock here to catch a breather after making economy shaking decisions. To go here you have to be a member or get an invite.
Considering the kind of people that come here, the lush carpets really do justice. The well-heeled want their comfort. They do not want to scratch their brogues on rough carpets or badly done floors. You walk in and your feet sink in. Suddenly your feet feel un-worthy but the place doesn't. It welcomes you in like you belong, there's none of that stiff nosed atmosphere you will get when you try to enter the VIP section of a club.
I come into a tastefully decorated hall. There are high tables set about, draped in black shimmering cloth. A centerpiece that serves its purpose. You notice it until you don't. The room was filled with soothing sounds from a violin and a soulful keyboard from the corner. A band sat there doing their job. At the corner. Their job to provide soundtracks to the whisky chatter that would be going on.
You taste each flavor, you savor the moment. Which is the only way to enjoy this drink. You savor it like it's your last kiss.
The air itself was cooled down. It would be hard to notice the A/C vents if you did not take a closer look. They blend in with the lights in the ceiling. Every breath you take feels like you are at the Alps, cool and fresh. The wall is lined with pictured frames of members. All people with high standing in society. At the helm, in the biggest frame of them, all was one of Bob, in a cavalier blue blazer and white shirt, smiling and seemingly unknowing of the camera taking a snap of him. From stories he sounds like he was a good chap, the picture does him justice. May his soul rest in peace.
I take a lap around the area. I notice Patricia Kihoro. She's around. Looking stunning as always in a black dress. The urge to tap her shoulder and ask for a selfie is overwhelming, but this is not why you come to such events. She's her usual bubbly self. She even said hi when we passed each other. Thank God I did not fumble my words. A simple hi back with a smile sufficed. I felt good about myself. Wouldn't you? After all, it is Patricia Kihoro!
The venue does justice to the event. The Macallan is one of the world's leading single malts, by value. Which means it will set you back quite handsomely but in the same stride reward you with its rich flavors and taste.
The event slowly kicks off and I'm standing next to Sam, he works at KCB, a decent fellow by all means. Tall. Deep voice. The typical whisky drinker profile. In a black suit much like everyone else. He orders both of us a drink and while he has the Old Fashion I go for the Nairobi Sour. We make small talk, really small. The conversation between us was mostly punctuated by sips and the music but as the night went on and the whisky lit us up we were conversing like old buddies.
Somewhere in the room, I spot the sales manager for BMW. Did a gig with them a while back. We give each other a knowing look until he comes to say 'hi'. Everyone in this room wears confidence on their sleeves. I seem to be the only one not. After a few pleasantries and figuring out where we knew each other from we exchange cards. Something good should come out of that I hope. Whisky has this ability to bring people together.
Back to my drink, the Nairobi Sour. A slight twist to the name because The Macallan can. It is a mix of the Triple Cask 12-Year-Old Macallan, fresh lemon juice, sugar syrup and laced with rioja. The last ingredient I cannot pronounce but I guess half the room could not either.
At first sip of the Nairobi Sour, you'll think it's the orange zest garnish. It might be. It could be part of it. Then the next sip has you think the ambiance has something to do with it. Smooth violin music playing in the background accompanied by sweet melodies from a skilled keyboard player. But then you take a few more sips and you get why this sour is so special. It is the 12-year-old MAC. Yeah. After having one, in this setting, you get to call it a MAC. Plus whisky is about bringing people together and I feel like we're nicely acquainted. MAC and I.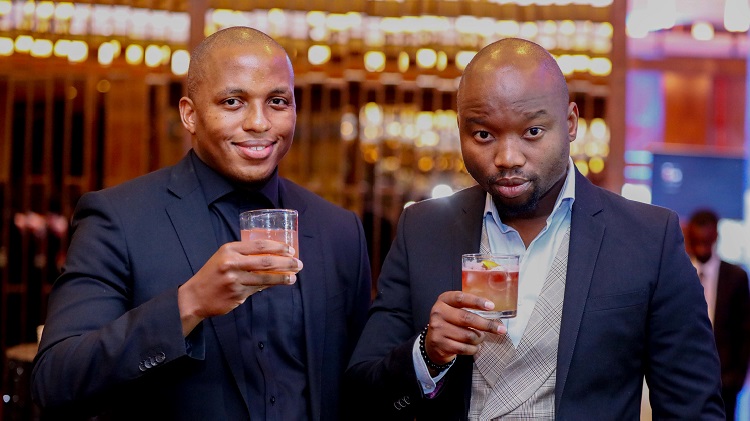 Sanele Gwala(left) and Dada Maseko (right), the men who brought Macallan to Kenya
The sour comes cloaked in ice. A nice orange twist garnishes the glass. The bartender knows his stuff, it's balanced. Well balanced. Doesn't kick the back of the throat. Neither does it hide in the flavors. You taste each flavor, you savor the moment. Which is the only way to enjoy this drink. You savor it like it's your last kiss.
But what would the point be if I did not try the Macallan Old Fashion as well? Even though my stint with old fashions ended a while ago because of the sugar. Sweetening whisky is not one way to enjoy it. While it may float a few boats, I desist from the crime. I hope the whisky gods read this and send in favor my way. A nice 18 YO MAC would do by the way (just in case they read).
The MAC old fashioned is a savory blend of the 12 YO Triple Cask, angostura bitters, a brown sugar cube sitting inside the glass and orange zest. The 12-year-old carries that distinct whisky flavor. Flavor that can only be carried in a Macallan. They've done a good job balancing out the flavors. It's still sweeter than I'd like but you enjoy the sweetness. It goes down well with the chatter of networking professionals and a band playing coming home in the background with violins. To be honest it's a bit stiffer than the sour. This is my second one. Cocktail, not Old Fashion. But I did do a second one. Threw in a little comment about the sweetness and I think they topped off the whisky because the second one, I enjoyed.
What is whisky without food? Every good whisky deserves a decent base. They had prawn cocktails. I steered away from them. White meat, especially seafood does something to me. But I swear it looked delectable. The chicken wings though, their tanginess brought out a fiery hint to the whisky. Every sip after the wings stung a little bit. Not in a bad way though. But like a little jolt of flavor. Spicy flavor. And it's beautiful.
The Macallan wants to be there when your first baby arrives. Being proud of you as a new father. Anniversaries and weddings too. Basically everything. And since this is a brand that wants to stay with you for life it will also be there during the lows.
But I did not come to a Macallan tasting to while the night away on cocktails. I came here to experience it. What better way than to have it neat?
When you take it neat the whole story changes. You understand why a Macallan is a Macallan. You appreciate the top-dollar price you have to pay for it. I started with the 12 YO. The drink blooms on your buds. But, it doesn't assault it, instead, it makes its presence known and felt. In the words of Patricia Kihoro, it is liquid sunshine and I could not agree more. Your insides warm up. A bubbly feeling rises and the vanilla note takes over your mouth after the initial warm spark dies.
My next was the 15 YO. The 15-year-old has a peculiar flavor pallet. It disappears on the middle tongue and only leaves you with the sweet notes at the tip of your tongue while lighting up your body on the way down. You feel warm.
Finally, I got to the 18 YO. The 18 YO Macallan has honey and vanilla notes. However, as soon as it touches your tongue it evaporates and you don't feel the taste lingering. It is the definition of smooth. In fact, if it was anything the 18 YO would be smooth and suave. Like a debonair Playboy. Straight out of a James bond movie, where it plays the villain. Smart villain. The one that doesn't get caught. The one that gets the lady and retires on an island with a small fishing boat. They don't live on the edge but every once in a while they get a scare.
Now here is the thing, the Macallan brand have an elaborate strategy to grow with the young professionals of the city. Those of you in your late twenties with hairs kissing thirty. That's you they want. They want to be with you when you celebrate milestones. When you get that promotion or pay rise they want to be right next to you sitting in a glass with ice. They want to be there when your first baby arrives. Being proud of you as a new father. Anniversaries and weddings too. Basically everything. And since this is a brand that wants to stay with you for life it will also be there during the lows. When you lose someone, when you get dumped, when a deal falls through or if you've just had a rough day at the office.
And trust me after a few doubles of it, I want it to be with me all the way.
To understand The Macallan distillation process, watch the video below.