Reading Time:
3
minutes
Hurlingham in recent years has become home to some of the best restaurants in Nairobi. Both local and foreign cuisines are served in good portions in restaurants such as 360, Ankole Grill, G-Spot Lounge, Fogo Gaucho, Habesha and a number of Indian restaurants, famous for their highly peppered food.
And to this, add The Royal House Restaurant (Bait Al Malaky in Arabic) that was opened on Sunday, March 17, in an occasion attended by VIPs, who were treated to sumptuous portions of Arabic cuisine. Wajir Senator, Abdullahi Ibrahim Ali, former Garissa Governor Nathif Jama, area MP Simba Arati, as well the Ambassador of Saudi Arabia, Dr. Mohammed Khayat., among other MPs and Somali businessmen. Over 500 people attended the launch.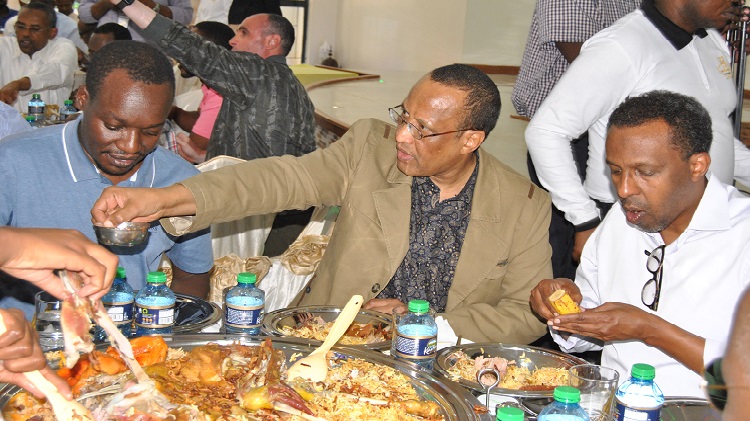 Senior Counsel Ahmednassir Abdullahi breaks bread with former Garissa Governor, Nathif Jama and Dagoreti MP Simba Arati
Located at the intersection of Lenana Road and Woodlands Road, just past DOD and across the Chinese Embassy, the restaurant will specialize in Yemeni and Lebanese cuisine.
"We will have four types of rice prepared in a unique and authentic Arabic way. We have four rice specialties to be with chicken, mutton or fish," says Rogers Sigei, Head of Service at the restaurant. He also noted that they have unique authentic Arabic starters and deserts, as well as yogurt for the patrons. For lovers of fries as their starch accompaniment, never mind, that too will be served.
"This is supposed to be an experience of the unique Arabic dining culture, authentic and everyone should come as there is nothing like it in Nairobi," said Sigei.
Indeed, this writer sampled their rice, and mutton and can attest that it is premium rice at its best. It tastes quite different.
The set up of the restaurant is uniquely Arabic, the hope being to give you a total Arabic culinary experience. There are private rooms for groups who want privacy and to have intimate conversations; these groups can be male, female, or mixed. There is an area reserved for the youth, a common dining area, and a place for children to play. Meaning you can have a cross-generational family outing, where parents and grandparents can sit together to dine, younger people congregate in their rooms and kids have a place to play.
Rarely do restaurants afford their patrons such a luxury. Often restaurants only cater to the needs of a specific generation. Most do not have the luxury to cater for the individual needs of each generation or groups of people.
Nairobi has become a truly bustling international city going by the number of foreign cuisines now available: Brazilian, Italian, Somali (too many of them, and not exactly foreign), Ugandan, Mediterranean, Thai, Chinese, Indian, you name it.
Food used to be central to many African cultures before modernity got the worse of us. We used to eat from the same tray, have decent and long conversations over a meal, connect, rejoice and all. But in the modern rush, we mostly go for bad, convenient food, often junk, and hardly have time to connect and enjoy.
But restaurants such as Habesha, the newly opened Royal House, that create the homely aura, and offer a wider variety of foods, deserts can help us rediscover the lost art of good conversations and enjoying the food.
Next time you are free, or with your buddies have some catching up to do, book a private room, order their rice, I will advise mutton, and see the afternoon vanish, as long as you don't end up dosing, because, the portions are too extravagant.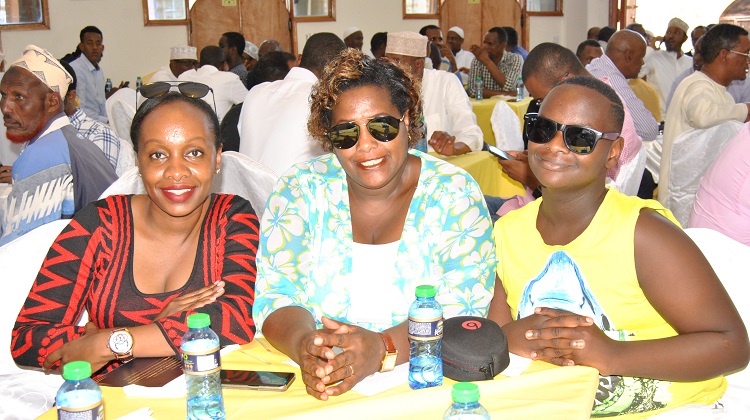 They too wanted a piece of the Arabic cuisine, because variety is the spice of life.