Reading Time:
4
minutes
Forget about that question. Nairobi is already a living being, perhaps a 21-year-old lady who has done two or three mistakes, and one, – hang on for a second – and one who is on the verge of making a bad decision for life.
I am wrong. Nairobi is not even a lady, not a campus child. She is a bad dude – not bad in the murderer sense of the word, but a playboy who believes that he deserves attention from all 54 girls in the club, because, y'know, he has the money and some dimples.
I am wrong, again.
Views Coffee House works hard at offering a bird's eye view of the Nairobi Central Business District. Views Coffee House sits on the top floor (14th floor) of Bihi Towers on Moi Avenue, just a kissing distance from Nation Center, a palm away from Jamia Mosque and a walking distance from Kenya National Archives, the place where Nairobi pumps blood from, Views Coffee House offers one a chance to soul-search and awe at the progress that Nairobi has made.
From the far-right side of the Café, you will see government money, stolen money, drug money and brow-money. While it is hard to imagine that there are some people who make money and build towering buildings from clean profits, especially today in the era of the likes of Kaburu and Waiguru, you can't debate with the fact that some of the tallest buildings in Nairobi were built by classical capitalists who believed in waking up at 3:30 a.m. and going to bed after 11.00 p.m.
Views Coffee House could pass for the only place that is accessible to the common Nairobian that allows one to patronize the city, look at it the way one looks at the child trying to tell a story to fleece a white tourist in a busy street (because it's a child, you say yes to everything, and pray that you haven't said yes to buying the a tractor). You will notice, from here, that the clouds that hang above the Industrial Area are thicker and darker, an indication how badly polluted Nairobi is.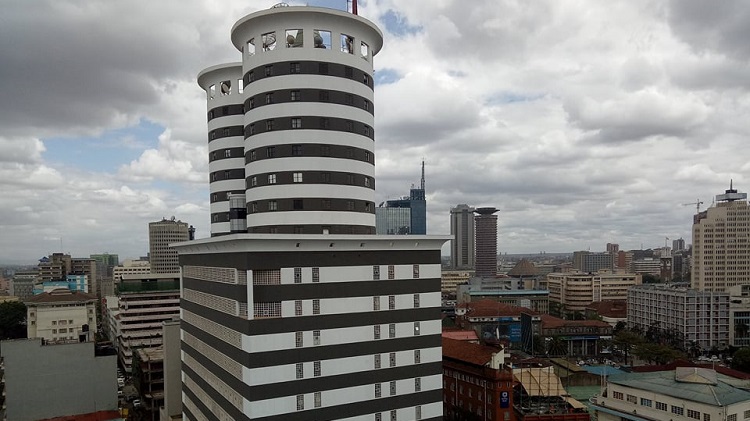 From Views Coffee House, Afya Center is a Kamba girl, especially one that has seen the city fewer times than once; one who buys clothes using inspiration from stories told by her grandmother about long long long long time ago when Kamba land was vegetated, green to a fault; where cows dripped milk from their titties every evening after eating fleshy grass, and where children used to thatch traps for lizards. There was so much grass yaani.
Now, from the Views Coffee Place, Afya Center looks small, a little bit beaten and somewhat tired. You know on the verandah of Afya Centre is a girl waiting for a blind date. The man she is waiting for probably can't afford a cup of coffee or tea at downtown restaurant. Or she is the girl from the countryside who just got off a Transline Bus carrying a cockerel waiting for the rain to stop beating.  You study the Nairobian skyline, and you know somewhere is a hopeful girl, innocent as they come who is being held back in office by the boss with nefarious intentions. And then there are those office messengers and low cadre government workers who can't put up a square – neither, round – plates on the table. 
You look back at Afya Centre and imagine  secrets of tears its verandah holds; of girls who see their dreams blown off by thick smoke from the despicable and unroadworthy Makadaka bound Matatus, as they see the blind-date-boy they have been waiting for, for two hours, dart past them like Sodium – nah – Potassium dropped in water, because they just found out that the girls don't look the part, – and this is very categorical – the part.
Girls are super-intelligent, and they always know when "it's not them", so stop this stupidity, young men".
(For the sake of Mary, the Mother of Jesus, this column advises men to grow up. Blind dates may not be what you expect, but try and speak to her, buy her tea and Samosa, or anything depending on your economic status and see them to the bus stop. Ask her if she gets home safe. Girls are super-intelligent, and they always know when "it's not them", so stop this stupidity, young men".
Views Coffee Place is good, the furniture comfy, if cushy. But is not a colourful. It is spacey and airy. It is one of the few places that have reliable wi-fi. So, if you are freelancer, looking for a place to hammer a project, write or edit, you can walk there, it was designed for that. If you can get a seat by the wall, you will get a socket and wi-fi. But don't be those soda or tea drinking folks who sit the whole day. Kindly eat or drink something to justify the use of space and their fast and reliable wi-fi
On most afternoons after Wednesday, it teems with many young women, definitely in some chama or the other, who meet to catch up. You may find your your dream date is there.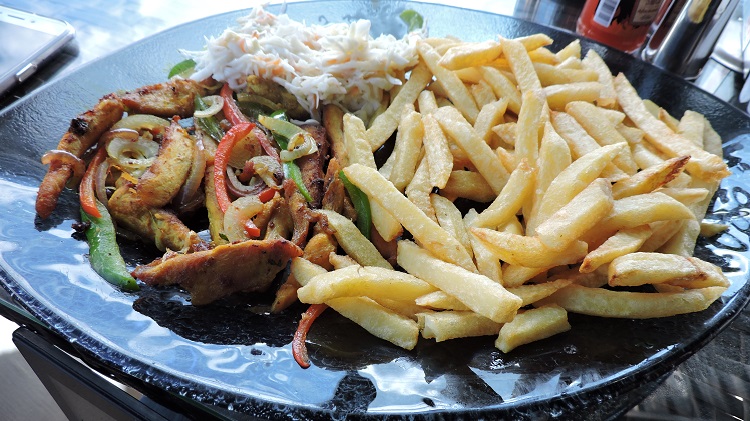 They offer little in specialty dishes. But their portions are good. Their breakfast is full of proteins, it can keep you going a whole day and will cost you about Sh 330. For lunch, they offer the standard Nairobi fare, of fish, chicken or beef, for anything from Sh 400 to 700.
If you are young, and trying to impress a young date, if she will not like the food, the ambience will always do the work for you.
So, go to Bihi Towers, take the lift to 13th floor, and take the stairs to 14th floor. Enjoy the view, and breathe some good air, while at it.
Nairobi needs more rooftop restaurants.