Reading Time:
4
minutes
There are two types of people; those who want to fit in and those who want to stand out. Speaking of standing out, everyone has that friend who wears white panties or a man who wears blouses to look stylish or different.
An attempt to linger in the minds of girls long after the church service, the Ruracio function or the round-table birthday party is done. You will note that this guy tries to hide his anxiety, and you can guess without much effort whatever is going through their head, and, mostly, it is something to do with the hottest girl in the group. These Trump-ish characters want approval, and they want it badly such that they would fault girls for not throwing them glances.
Hot Dishes is not that guy…
It fits in. It blends with crowds of Nairobi City, from county askaris fresh from fleecing motorists who forget to pay parking fees as they rush to an important meeting, to boring secretaries who are tired of running out of cash on the third day of the month. Hot Dishes fits in like the university student walking her girl to a chicken and fries' joints, ordering a quarter kuku and chips, before proceeding to share it with the girl. So painful.
Have you ever wondered about the people who attend Jubilee rallies, I mean, the ones paid to travel around the country in red attires to fill stadiums, or the people who went to Kasarani to watch World Under 18 Championships? It is that kind of blending I am talking about when I say that Hot Dishes fits.
It does not stand out, not in the common way.
Hot Dishes eating point sits at the center of Nairobi, along Kimathi Street on the ground floor of Old Mutual House. There used to be an overpriced restaurant that gave way to Hot Dishes that was a bit upmarket and on the junk side of food. It happily closed. Hot Dishes is humble, a little bit shy and somewhat obtrusive.
It is a very good place, though…
In a time when the CBD is filled with regular restaurants serving regular food that tells you that the chef did not give it a single thought, Hot Dishes comes in as a timely rescuer for the Nairobi eating culture. It has the standard reddish color from the outside (maybe because it is the standard signage for a hotels and any eating point in Nairobi), but the inside is completely peaceful, donned with calm colors that transport you from the bustles of Nairobi.
According to science, (oh, I'm kidding), breakfast and lunch dates leave better marks than evenings of stupor and running around town burning savings.
My grandma would always insist that the quality of a cook is rated with the way he fries the onions, and that is the different touch that Hot Dishes introduces in all its commonness. Taste their liver, and it is tasty. They have a fine beef, worth your money, and a soup bowl that gets you convinced that it is not made from wheat flour, as it is the case with many restaurants in Nairobi.
There full tilapia, prepared in coconut sauce and vegetable salad is the most awesome thing you can have in Nairobi. You get a full fish, for nearly half the price that Kosewe serves, and just as good.
And they know how to cook chapatti, with enough respect for the male community to know that the standard serving is two chapatis. I am not trying to say that they have better chapatis than T-Tot, the grand grandpa hotel in Machakos (for those who know), but they try, even though they live on the opposite side of the size.
Say you are newly employed in 'those jobs in tao' that pay somewhere between 15K to 35K, and budgets are so tight that you cannot afford to eat in the CBD. Let's also say that you have this long-lost friend…a girl, who was four classes behind you in primary school, she was beautiful, but she was a child. During that time when you were busy trying to complete your studies in some college or university in Nairobi, you forgot about her, and forgot that she kept on growing.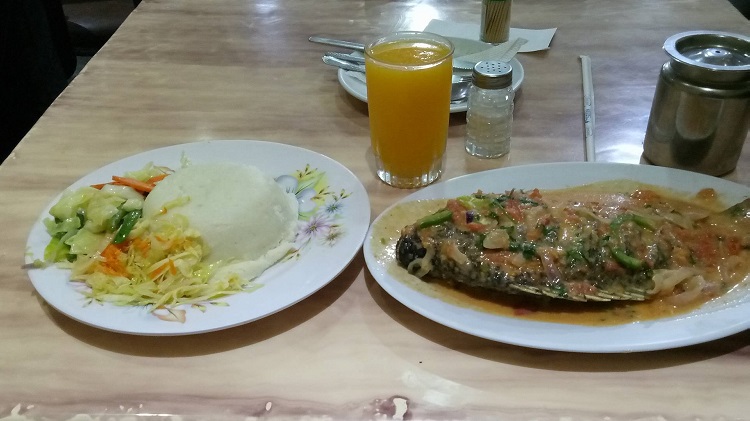 Now she is on Facebook, and she is 21 years, full of womanness and ladylike, unlike back in the day when she was a kid. You are a good man – you go to church and say your prayers before you sleep – and you are not a wannabe – the kind of people (and they are so many) who fake their reality, presenting a picture of affluence and 'loadedness' by taking loans and losing friends in the process. Let's just say, you are a classic man, a fitter, rather than, a stander-out.
Hot Dishes is an ideal place to meet that girl, for lunch. Always look after your pockets, and remember that, and this is according to science, (oh, I'm kidding), breakfast and lunch dates leave better marks than evenings of stupor and running around town burning savings. Everything will be alright, young man, and one day you will afford the Serena's and Stanley's of this Nairobi, but for starters, take that damn girl to Hot Dishes. A thousand shillings will be more than you need, and she will go back home to tell people how kind you are, and how you took her out for lunch in such a good place.
The food will be good, better than her expectations, maybe, and the waitresses and waiters are good (they will arrive at your table within 30 seconds after you take your seats). I wouldn't say they are perky, or even ebullient, but they are lively and professional. And that is the whole point.
There is a downside
Hot Dishes is quite some plain name, uncreative and funny, maybe mundane. It makes me think that the owner was in the committee for naming the SGR and Kenyatta University's Post-Modern Library. I mean, there are people who sit for long, with buffet and bottled water, in Kenya, in attempts to find names for places, and they come up with – and this is after long push and pull, even pushovers – with such plan names like Hot Dishes, SGR and Post-Modern Library. But then, that's all the negative there is, for Hot Dishes, for now.
Could we celebrate chefs who try? Yes?