Reading Time:
4
minutes
I could count the number of times I've had a burger in one hand.
I didn't go to those schools where kids who carried sausage or a sandwich were worshipped or seen to be rich. So, even as an adult, I have steered away from burgers. They have always struck me as a rich kid's snack.
But I never pass on a chance to indulge. The better if it is an invite to Urban Eatery. Never too late to be the 'rich kid' in class.
I have heard of Urban Eatery before. The name has a chic and uptown ring to it. Especially, if you frequent those "chipo-something" or "chicken something".
***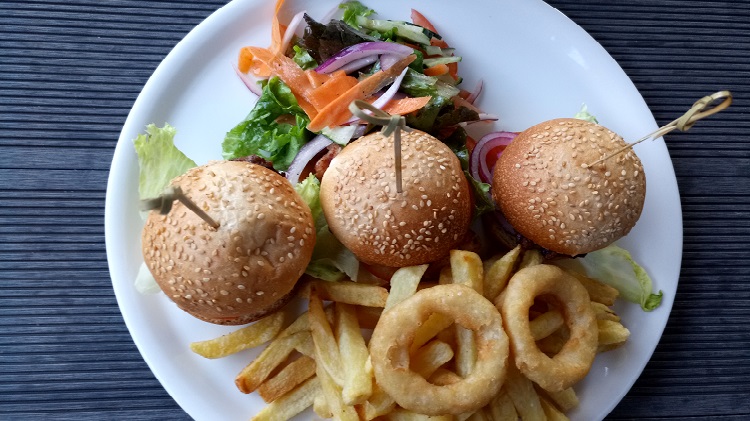 Good things come in threes
It is a bright February Friday. I'm with my best friend, dressed in Friday best, when we step into Delta Towers, Westlands, about to flood Instagram with Selfies.
Urban Eatery is the first thing you run into when in Delta Towers. The furthest seat is literally five steps away from the entrance, you can eat and pretend to be picking a call outside and vanish into thin air.
There is a neat corridor as you enter, lined with nice seats, that gives you a proper view of the building and through glass-wall, you can see your boss coming back from lunch if you work within the building.
A first-time visitor will be torn between seeing the rest of the place or just sitting in the corridor. But the ever-alert staff will know from the body language and will pick you up fast.
At one end, you have a nice coffee area, the middle area is a bar with a different set of furniture and the other end you have a semi-open kitchen with more seats followed by a balcony are you wouldn't know existed unless you are curious.
But you will know their menu exists. It is so big if books were its size, some of us would have given up on school. It is encyclopaedic. Funny enough, you will not find the word 'soda' in the menu.
"Sorry, it is not listed, but you can order, I will bring," a waiter tells me.
If you live on the cheap side that reads menu right to left, Urban Eatery will frustrate you. That is how we ended up ordering an 'urban-triple' burger that goes for Sh 1,250. We expected one burger since it is a combination of beef, lamb, and chicken. 23 minutes later, a surprise awaited us.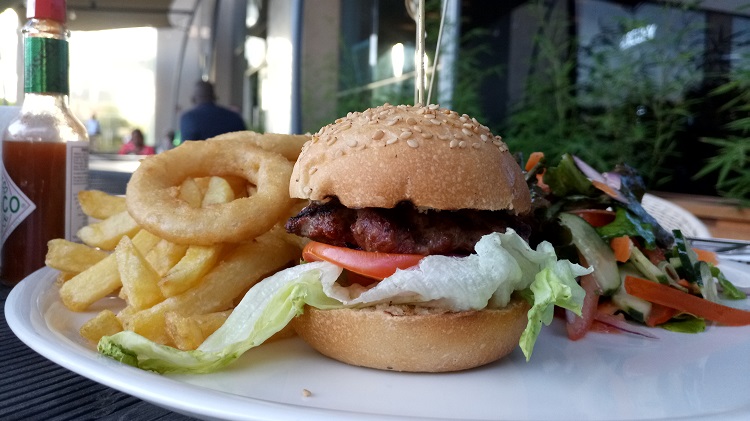 Their signages don't lie like those of most eateries in Downtown Nairobi
You forget everything. Not even the pain of walking a mile to where there is a sink to wash your hands, because, no hot hand towels.
Before we could sink our teeth into the monster burger, we took a good look at what we were working with.
The burger defies the rule, where what is on the signage and billboard is usually indirectly proportional and ugly than what you get served. It is what is on the signage. It is the size of two tennis balls pressed together. The size of the patties was standard, really soft as well. The lettuce and the onion were fresh.
There was little cheese, if nothing at all, however. You could only use ketchup or chili sauce on the table.
For the beef burger, the bun was soft and the size twice that of the tennis ball. To spice up the taste, I added some ketchup and took a bite of the salad.
For someone who loves their veggies fresh and well-seasoned, you will fall in love with their salad of cucumber, tomatoes, onions, and carrots to the point of ordering a second one.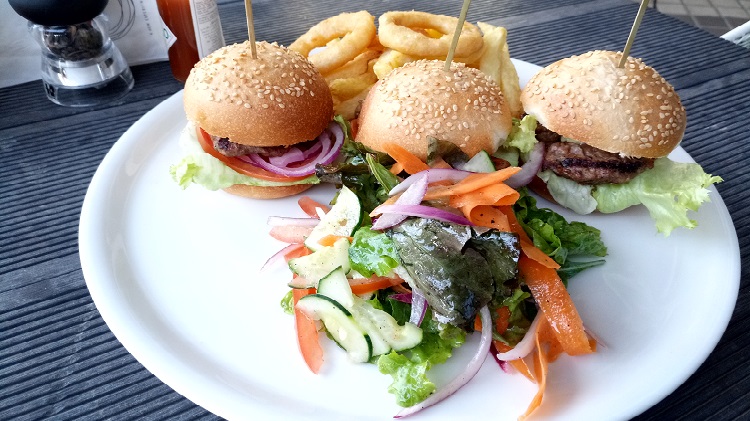 Their salad is on point. You may have to order a second one
With three types of meat to savour and devour, you will notice how soft all of them are. They could use some spicing up, but regardless, they are fresh and have a distinct taste. But it would be more helpful if there was more cheese.
The fries they serve as a side, are on point, healthy, but not as crispy as you would expect of a joint of their stature, but you will like the options. Unless you are a glutton, you will not finish everything, and you may be forced to carry some home.
But really, the burger did not have the wow effect I expected when I first stepped in. But the add-ons did help, and with more additions can improve the burger.
Would I go back?
Me: Yes, but for a different meal. And maybe the ambiance.
I asked a lady who identify herself as Lucky about her take and she said, "The burgers are just OK, but nothing memorable about them."
Rating: 5/10.