Reading Time:
4
minutes
 There is a point in a woman's life, usually at the age of 27, when she transitions from a girl, to a full-grown woman. If already holding some good job, earning the right perks to guarantee her the poise that comes with money and the confidence that comes with banishing the youthful insecurities of her early 20s.
She will dress better, don a better hairstyle; made in one of Nairobi's swankier salons that offer royal treatment to their clients, pedicures, manicures, while inside the gigantic blow dryer and reading the Cosmopolitan.  Her face will be so smooth, flawless, oozing so much radiance, she will look the hottest in years after the panicky period of 24-27. I ever saw a girl at this stage of her life and I have never forgotten how she made me feel so miserable. It was April5, 2012. It was a hot Thursday afternoon.
I was a hopelessly broke young man; five months had gone since I had graduated from campus. On the fateful day, my South Sudanese buddy I had schooled with had called me to the CBD, and I left my Umoja apartment and arrived in town hoping: a) that it doesn't rain b) someone doesn't steal my phone c) I don't step on some hawker's merchandize.
After surviving the unseasonably hot mid-morning traffic along Jogoo Road, I arrived in the CBD, dusty, crestfallen, tired and super hungry. Duot, my friend, wanted us to have lunch and I involuntarily elected Greenview Restaurant, on Tubman Road, opposite the expansive Jamia Mall (midway through).
She had one of those asses you can mindlessly follow from Muthurwa to Integrity Centre, before realizing you were supposed to drop your CV in Westlands.  

 
I chose Greenview because of its centrality, and because they never disappoint with their portions. The place was wildly popular among the dating lads and lasses back in college and many boys did get laid after a date there, but that is a story for another day.
I met Duot at Nation Centre, and we walked up as he briefed me on why he had called the meeting. He needed my advice on some business ventures he wanted to try in his country that had gained Independence then and at the time basking in the optimistic sun that each country normally has when it is starting on a clean slate, before jerky politicians take over and plunge the country into darkness.
But my mind was on that lunch. We arrived at the restaurant around half past noon. As we sat, my eyes were attracted to a dark woman, in a yellow sweater and dark pants seated by herself on the corner. She was so flawlessly beautiful, so well kept, so confident playing with her phone. Duot looked at her, and we nodded in agreement that she was she was one of the most beautiful women in Nairobi.  
We made our orders. Her order arrived in the meantime. It was fries and with bread- crumbed chicken. It looked picture-perfect as it would look in a banner or some advertising signage. You know there is always a discrepancy about how a food looks on the restaurant's billboard and the miserable thing they serve you in the same restaurant.
I was so drawn to the girl that I didn't even notice our food arrive. I had ordered a similar meal. When it arrived, I did a quick mental survey and confirmed my best fears, it was enough to fill my gigantic tummy. My girl only nibbled at the food once or twice, hardly touched the chicken, before rising and leaving walking confidently, and man, she had one of those asses you can mindlessly follow from Muthurwa to Integrity Centre, before realizing you were supposed to drop your CV in Westlands.  
I was so offended by her carelessness or was it callousness. I had literally slept hungry the previous day. And here was a girl without a care in the world buying food and leaving it there almost untouched. I was furious. I asked Duot if he minded asking the waitress wrapping the food so that I could take it home. He declined. And instead offered to buy my supper and I had to arrest my anger towards her. I did meet her several days later in the streets, now dressed in a greyish floral dress, in the company of 30-something man who could have been anything from boyfriend, fiancé, friend-zoned chap, or some colleague.
Anyway, I attacked the fries with a vengeance never meted on any food since man discovered fire and salt. But later I learnt that I had committed the worst mistake of my life. I should have ordered for fish fingers because that is Greenville's specialty.
When it comes to fish fingers, no one serves them better—quantity and quality. There is a reason, the place has been full since its inception. And they have maintained the price of Sh 300 for a meal of fries and fish fingers (enough actually for two people) and some salad and dressing. Add a drink, soda or juice and with Sh 500, you can have a lunch treat such as no one can offer in Nairobi.
I have tried fish fingers in the hotels within the same class of restaurants and they are always overpriced for one, at the very least Sh 450, but on average Sh 600 onwards. Also, they count some tiny fingers, like five of them and a bowl of dressing and overcharge you out of existence.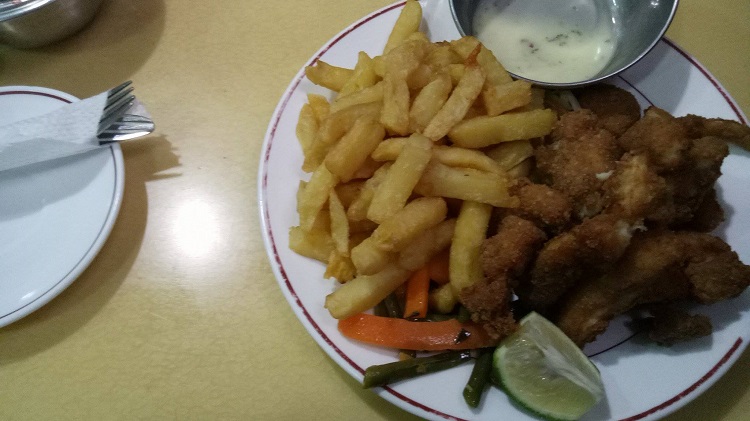 If you don't mind the crowd and you want some treat, arrive early, before 1 p.m. or after 2.30 p.m. and honour thyself with some fish fingers.
I have since gone back, more than 10 times and I have scarcely been disappointed save for the day when a bone from the finger nearly chocked me. I used to think that fish fingers are boneless, but I learnt the hard way, always chew well and be cautious, for that surprise.
I was there a week ago, with my boy B.K. He is not a fan of junk, but he did appreciate the quantity. Also, we saw women, who are never in short supply eating the fries and the fingers, to the point of licking the plates. B.K asked me,
"How did women develop such a huge appetite for food, like that one just drowned all that food and is now drinking tea…" I had no answer but the insatiable appetite for food from women scares me too.
My wife loves the place and when she was pregnant we would pass by and grab some. I have treated different women at Greenville and nobody has been disappointed.
As one hotelier recently told me, the true test of a restaurant is consistency.
Greenville gets an A for consistency.