Reading Time:
4
minutes
"After Work" hook-ups are a Nairobi culture and I know friends who have a meeting every day. Some days peeps want to stay the whole evening while others you just want to catch up with an old friend on your way home. Other times, you want to meet a business interest in a place that is not so official, maybe, just to hear them out. Most of the times, though, you just want a drink.
Enter Rue 104 Lounge & Restaurant, Utalii House, immediately you take the turn from Uhuru Highway and a few steps from Mwenda's. It is one of those joints that is tucked away at the edge of the city like a well-kept secret. I like such places.
Ambience: Good for conversation
I went over to Rue 104 early Monday evening because there is no better day to sample a cocktail than on a Monday.
When it comes to interiors, I am a sucker for simplicity. Rue 104 serves it in extra helpings. It is rectangular-shaped, quite a roomy, airy hall, running against Uhuru Highway and the burr from cars buzzing by adds city spark to the place. The tables are arranged in three rows from the entrance. Though at first, I did not understand why only a section of the place was carpeted while the rest remained bare. Might be a design flaw or maybe it was intentional.
I walk into good music. Suitably loud, for one to let you enjoy a conversation and nod your head to the beat. Plus, they were playing hip-hop. The new kind, that, after a long day, marries well with my soul.
At some point, the DJ shifted to Madilu, then Fally Ipupa and while buds for Rumba haven't exploded yet, my friends went on a long conversation-analysis of the talent of Ipupa, sounded like something.
The WiFi hotspot is strong and you can catch up with friends on TL, if you are alone or if you are a freelancer, you can bang a gig comfortably.
In a city that loves chaos, hoots from mats, loudspeakers and village market bustle, she's blessed if she doesn't shout into your ears.
Pricing
I have this weird habit where when I get a menu I jump to the bottle service section. I always want to know how marked up the drinks are, scoff and then move over to the cocktail section. At Rue, prices reflect normal uptown clubs. We have accepted that it is okay to pay Sh 250 ($2.5) for a beer, and, so be it.
But when you get to the cocktails it is a different story. All their listings go for Sh 600 ($6). I wished they'd have a wider variety though. Just the usual names, no Old fashions (sadly). But they do have a unique one – Kenyan Hangout. Which I tried.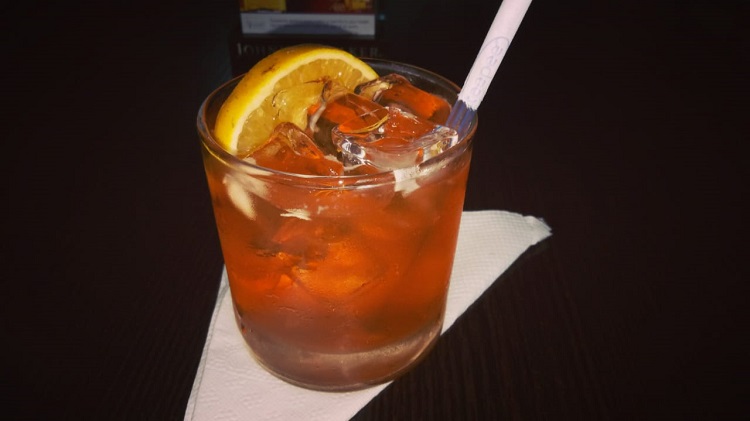 The Rue 104 Kenyan Hangout: A unique Rue 104 cocktail
The Kenyan Hangout is the first drink I've seen trying to be local. Just like the name suggests it comes polite. Vodka. Bitters. Triple sec. The three ingredients that make it. It does not assault the tongue and the tastes are well balanced. You can feel the vodka from a far distance. The bitters complement it well. Also, the mixologist is generous with the ice which looks like an attempt at watering it down but it doesn't. Topped off with lots of ice and garnished with a slice of lemon.
Now, this is definitely a Monday drink. It is polite. If you are the kind of guy, like myself who wants a kick out of a cocktail then long islands should be your thing. But if you just want to relax, enjoy the music and sip the traffic away a Kenyan hangout is perfect.
Food: Go Ethiopian, We recommend their Shekla
But if Ethiopian food does not strike your fancy, there are other equally decadent African continentals.
I picked Shekla on the menu and prayed that the rule that a good picture of food does not translate to yummy won't hold. My prayers were answered. The plate comes with a perfect setting, with four rolls of injera surrounding a generous bowl with beef, cooked to finesse. The pepper pods are hidden inside there and rue your greed if you bite one into tears.
Ethiopian food is a thing in Nairobi and different wannabe restaurants try to strike a good one, to miserable failure. The reason could be that most restaurants in the CBD put Somali and Swahili foods as the main anchor dishes, leaving little time for creativity when it comes to our Ethiopian beauties.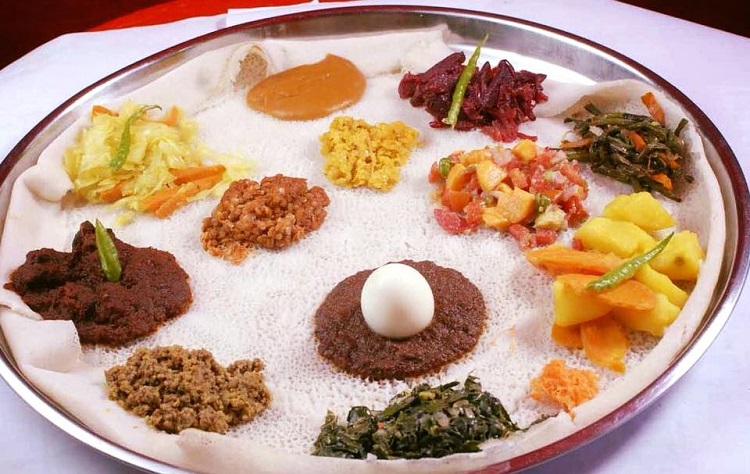 Their Ethiopian option can serve up to four people.
If you want to treat someone to an Ethiopian special, like the finger-licking-good Shekla, and you would like to save up the energy of going up to Hurlingham, 104 is your perfect place. And it if it is a Thursday, you will wash down your week with Rumba music from the International Rumba Band. Word is they are fire, but, go check for yourself.