Reading Time:
7
minutes
When I was 13, a girl across the ridge developed this explosive, adolescent crush on me that was toxic.
She was a beautiful, light-skin, short girl with a body that was exploding with erotic possibilities. She had this unusual greenish-grey eyes that used to drive me nuts. She came from one of those families where all the four girls are beautiful, and cause for so much traffic of young men to their village.
I was an inordinately, if incurably, shy boy. When boys my age were sharper and efficient like Cristiano Ronaldo taking a penalty, I was as blunt, not-so-charming, and girls used to scare me so much. I had other weaknesses too.
But in this case, it was the girl who had this heady crush on me, and one of my more 'woke' female cousins was my go-between. The shamba boy was eyeing the cousin, and the cousin thought that it would be a good idea if she brought the girl along. Standing next to the girl in the spring where we used to fetch water, used to make me stutter, and my teeth would chatter, it is like you woke up in Limuru without a Winter jacket.
Damn. She was so fine, I could hardly believe that she would want me. Her breasts were just sprouting, her body taking a very sexy figure that would guarantee a constant supply of suitors in the future. On my part, I was fat, chubby, and my upper front teeth, stuck out and I had what you can call the warthog appeal. There were other terrible things about me. But a girl had this mad crush on me, and that is what mattered the most.
So, one day, the cousin arranged to bring her home. We had to pick a day when no parent was around. And a Sunday evening was the best bet. It is quiet, and parents would be somewhere in the market. I remember, it was a beautiful, sunny evening, one of those evenings in the village that make everything just too beautiful.
For them the girl to get home, she had to use the longest route, that involved waltzing through a maize plantation, crawling under a mushy tea plantation, and then squeezing herself through a hole we made in the fence. Then she would land in the boys' compound known as the saiga. The things people do to get laid. SMH.
Thirteen is a good age, to test the equipment as Oyunga Pala once said in a classic piece he wrote in The Nation in the aughts. He said, when you are a teenager, you have to test the equipment with one stern admonition; for boys, "don't get caught" and for girls, "don't get pregnant".
And so, it came to pass, that on a Sunday evening, for the very first time in my life, I was going to play host to the hottest girl in the village. I was shy, nervous and nothing much happened, if you really want to know the truth.
And by some fluke, we were caught, and that was going to be the biggest trial, bigger than the OJ Simpson trial in 1995. The old man, a strict Adventist would not tolerate such kind of behaviour in his household. I knew I was going to be caned, whipped and punished for my sins.
It was mid-November, and I knew the punishment was going to be instant. But the old man was not in a rush, and for two weeks, he never asked anything. We knew it was a trap. Every day, before supper, we would meet outside the house with the shamba boy, rehearse our explanation on our misdemeanor. Like Adam, we wanted to blame the girls, blame Satan, blame anything but ourselves. Boy, we used to rehearse like crazy.
Uncle Fred Obachi Machoka himself, usually shows up, and walks around saying hi to everyone, and trust me, the legend is a great person. And being his place, some nice-Rumba, sanctioned by the legend himself, will be piping in a nice, unobtrusive way.
Then, one Saturday evening after Sabbath, the old man was about to leave the village to come to the city to mark the national examination. And as usual, he had to summon us, give instructions on how to live for the two or three weeks he was going to be away. It was usually a lecture, followed by reading a scripture, prayer and for two weeks, he will be out of home and guys will be having fun. But that night, we knew for sure, that our trial would begin.
After two weeks of psychological torture, only comparable to Nyayo House torture chambers, we knew, this was the D-Day. The old man started his long, winding speech. Touching on the state of the coffee (to be uprooted), the bi-weekly tea-picking (he was not going to hire anyone, now that we were on holiday), the state of the pyrethrum (were the only pyrethrum farmers in the entire District) and the usual warnings not to roast all the maize from the farm. Next he ordered how the cows' diet should be augmented with other feeds to supplement the nappier grass et cetera, et cetera.
He sipped his uji. And then sat relaxed there like nothing was going on, just playing his Adam's apple, up and down, as we waited the next set of instructions. Patriarchy is a dangerous thing. Next it was about how we had performed in the end of the year examinations. On that, I had performed well, I was the number one in my class. That one was the least of my worries, but the only concern for other family members. Then he turned towards me:
"Gisiora, how are you?" The greeting was sarcastic. I was shaking like a monster.
"I'm fine." I barely whispered back.
"I gather you want to marry, and you have already identified a wife, it is just us to pay for the dowry and…"
I objected. "Nooooo. I don't want to marry. It was Rebecca. It was Rebecca who brought her here, we didn't do anything." I was shouting like a deranged man. Fully mental. Rebecca was my woke cousin who had brought the girl home. Boy, I had panicked, my mind was in a frenzy.
"No problem. But you know, you are the only son, so it is not a bad idea to start a family, is it? You know, the cows that you take care of here can be the dowry, and we already have a house, she can come over, stay here and you can continue with school," the sarcasm in his voice, the derision in his eyes made me sick.
"Nooooo. I don't want. I want to go on with my school, pass my exams, go to high school, pass, go to university…" I was hysterical.
My brothers and sisters in the house and other relations were holding back their laughter, but this would become part of the family lore, that every time we meet, someone has to bring it up.
I was reminded of this incident recently while visiting a sick cousin at the Nairobi Hospital. It happened that very evening was the day everyone shows up and by some happy coincidence it is a mini-family reunion.
As usual, there are accusations and counter accusations of "we hata simu hupigi", "tutembeleane", blab la bla.
We have become so busy, that the only time we meet is during funerals, fundraisers, weddings, and if nobody dies or becomes sick in the family, chances are that a year might fly by without seeing your loved ones. In the hospital I even run into cousins I last saw in May 1994.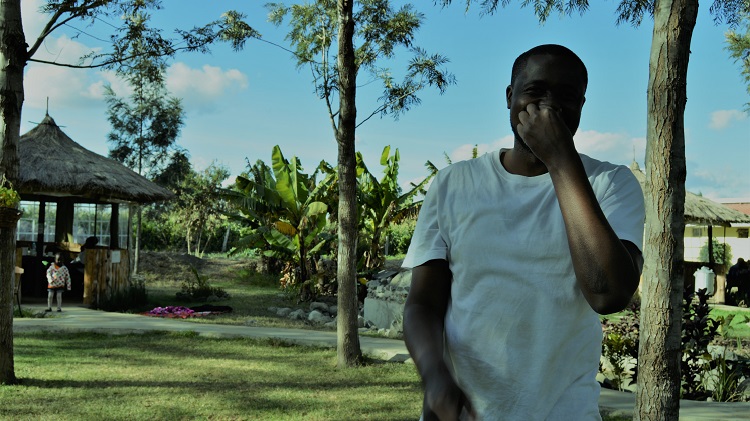 But it should never be like this. Monthly, it is perfectly OK, to arrange a Nyama Choma expedition with folks. This month can be for maternal cousins, the next for paternal cousins and bring friends along.
Nowadays, there are so many alfresco experience around Nairobi, that can be convenient for everyone. If most of you live in the Eastlands, Harry's Tavern is an OK place. There is Jiweke Tavern along Ngong Road, equally good, the environment friendly, even though they are yet to perfect their barbeque. The used to be Ole Polos, not even sure if it exists anymore, if you come from the Ngong Area. Along Mombasa Road, the City Cabanas has reopened, and their barbeque may be a bit on the dryer side, but it is a good place.
But the king of all outdoor experiences is the Fred's Ranch, in Isinya. If you drive, it pays to pick a Saturday afternoon, or Sunday whole day and just drive away from the humdrum and the pollution in Nairobi. The Nairobi-Namanga Highway is a good road if you are a petrohead. Just pick five of your friends, and drive there. Eat nuts, or the sugar cane sold on roads and play some Bongo while on your way. Or reggae.
The ranch is a good idea, given that the vegetables you will be eating there are garden fresh, and their barbeque is as good as it gets. Here are a few guarantees: taking your shoes or open shoes off to step on the grass will be a good feeling, since in our concrete jungles grass is a rare phenomenon. The gazebos provide you with the privacy you need, unlike in restaurants where everyone jostles for place. If you are into football, you can steal minutes to watch in the bar. If you have young children, there is a place where with Sh 100, they can play all day (still the cheapest place). There are horses to ride, and you can take a walk around the farm. It is actually relaxing, and I'm not saying this as a middle-class fad. If you crew tires you, you can walk around, smoke if you want, or just chill. And lastly, Uncle Fred Obachi Machoka himself, usually shows up, and walks around saying hi to everyone, and trust me, the legend is a great person. And being his place, some nice-Rumba, sanctioned by the legend himself, will be piping in a nice, unobtrusive way.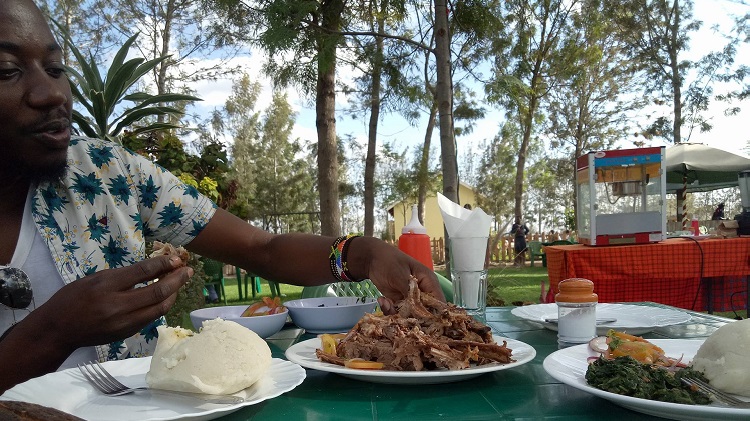 But for me, the really good thing about the ranch is the open space. The clean air. The relaxed atmosphere. There can't be a perfect environment for a routine reunion and catching up.
Guys, life is too short, the better to milk each experience that life throws at us. And sometimes create the experiences. Go there, catch up, cut a business deal, relax. Chill.
One last thing, you just need, Sh 1,000 for each of you, and you are guaranteed some good barbeque, some nice kuku kienyeji and drinks to your fill.
While there, recollect the good childhood, or college memories. Thank me later.
8/10