Reading Time:
4
minutes
Women exaggerate their love for food, and their fashion taste, the same way men exaggerate their wealth and their uhm……..performance. However, that doesn't hold true for Chef Josephine Omondi who is the deft hands behind the breakfast experience at Gold Black Café.
Tucked on the southwest wing of the ground floor in Panari Hotel on Mombasa road, the Café by all accounts should be playing second fiddle to its older sister restaurant, just four floors up, but it isn't. Gold Black Cafe was established in 2013 ostensibly to cater to the then demand for eateries along Mombasa road especially after the upgrading of the road and the airport facilities.
Over the years the clientele of this street Cafe has morphed and diversified from the initial hobnobbing businessmen and international travelers to include families and leisurely couples. The man seated behind me is cutting a political deal with a familiar name in the political scene, while the couple seated in front of me have paperwork sprawled on their table, and laptops powered on with blinking lights on the edges. It's easy to tell-both by their mien and the professional looks of the general clientele-that this hotel is by no means an attraction for the well-to-do. The front end faces the parking lot through ceiling-to-floor glass panes covered halfway up with grills. Each table has a single stock of cut flower stuffed into a miniature vase; all white and ceramic.
It has an artsy, minimalist, and no frill ambience as well as a polished look that is as spacey as it is inviting. Established four years ago, the Gold Black Café was supposed to complement its older sister, which in many ways still reflects the rustic charm and a versatility borne of age and experience. Four years in business, it's ambiance wreaks of a newness as though it were established no more than three weeks ago. The only downside is that as you walk in you'll simply be met by a rarely manned chocolate-colored wooden deck reception that resembles more of a pulpit than a reception desk.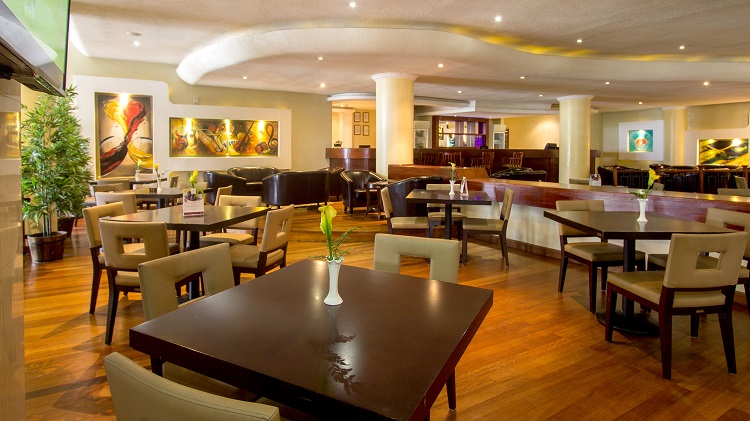 Maybe I should start from the top. I ended up at Gold Black Café at 15 min past eleven on a Wednesday morning having tried to secure late breakfast for a friend who'd just flown in from Doha earlier in the month. Needless to say, all the other major eateries and hotels along Mombasa Road had shut down in that brief 11-12pm interlude so that in their own words, 'they can prepare to serve lunch'  Honestly, the last place I would have visited was Panari. It's still not lost to me how four years ago during a company dinner, the older Panari served me bland pumpkin soup without any sweetener.
Easily one of the finest restaurant on Mombasa road and arguably the most efficient closer to the airport, Gold Black Café is distinctly Kenya in its efficiency and yet clearly 'Unkenyan' in its capacity to offer a dining experience that is vividly imaginative yet indescribably creative. Although the café lies on both sides of the main building isle, it's built in such a way as to blur the seemingly obvious demarcation. It's large yet small, simple yet sophisticated, homely yet subtly officious, sprawling yet personable and intimate. Hotelier, Mumbi, who has worked at the cafe since its inception is often all too eager to attend to clients with a constant presence that would have been suffocating were it not for her disarming smile and bright-eyed curiosity.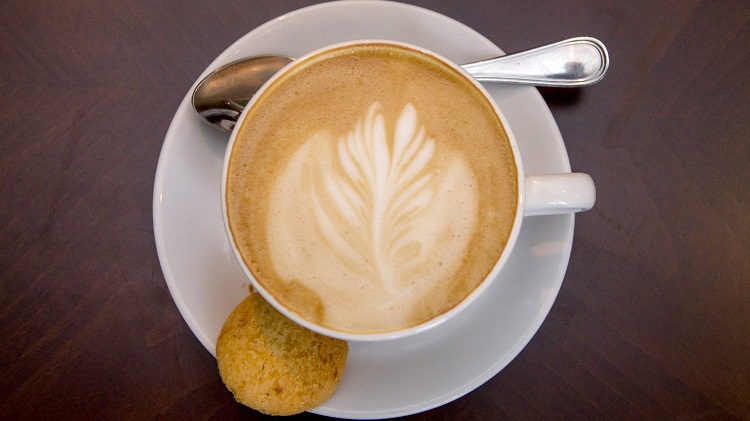 Their breakfast comes in four packages with the gold breakfast topping the list. It's a simple meal of crispy bacon, sausages, hash brown, grilled tomato, eggs toast and baked beans. The wellness breakfast package is far much more vegetarian consisting of muesli, fresh juice, yoghurt, fruit platter, and brown toast. The yoghurt can be exchanged for fresh milk.
The other two breakfast package includes the complete breakfast package which is the most stuffed. It's an omelet with a choice of filling tomato, chili, ham, mushroom, onion and pepper served with grilled tomato. The last breakfast package is the hearty sausage with a choice of pork, chicken, or beef. It is served with side salad and herb mayo. Each of these packages is served with either of the six different varieties of tea or house coffee.
By all means this is the one place you want to find yourself in if you've just landed at the airport in the breezy, Nairobi mid-morning or late in the afternoon and you need to have an energy boost before heading into the hectic Central Business District with its unnerving traffic snarl ups. Their prices are a little on the higher end, especially if you have a group breakfast.
One of the downsides of the restaurants is that some of the servings in the breakfast package have to be prepared on order which might delay your breakfast. Their creative solution is that they serve you what is ready on the package and progress the servings as though it were an elaborately thought through gourmet. It isn't. If you do go over for breakfast, you might want to ask Mumbi, who manages the front of the restaurant, to have Chef Josephine over to let you know what breakfast dishes they recommend for you.