Reading Time:
5
minutes
Are you aged 18-30?
Are you aged 18-30?
Are you looking for a job? Or are you between jobs and would like to transition to a better job?
Are you running a small business? Or do you have a business idea that you think is brilliant, but you are not sure where to start?
Do you own a laptop and have access to internet?
If the answer to the above questions, or most of them is YES, then, you may want to enroll for Yusudi's Jijali Program.
Jijali Program, now, in its third year is a blended learning program that provides practical skills to the youth. It involves virtual learning, practical tasks, and mentorship to provide an engaging curriculum for youth in preparation for gainful employment or pursuing entrepreneurship. It is a fully-funded program; all you have to do is enroll.
Over 400 trainees have gone through the program, that is now in its second year. About 83 % of the trainees experienced career growth, and 73 % of those who attended attribute their career or business growth to the program.
"The program was enlightening and impactful. I have been able to apply the concepts and ideas I learned, and they have born fruits. I got two jobs offer and I am left with the decision concerning where I would want to be," said Doris Nashipae who attended the 2018 Jijali Program.
For Lekakeny Karoi, the program has been handy in starting his business. He joined the program to get the necessary skills, having attended other similar programs in the city.
"I chose Jijali because of the entrepreneurial aspect. I have been able to get more customers for my business and I have gone to business full-time," says Karoi, whose favourite part of the training was learning the Human-Centred Design, "I have now changed how I run my business, if you have a business idea and don't know where to start, you should join Jijali."
Philemon Ndereba earned an internship when he applied the skills he learned in the program.
"I also improved my communication skills; I can now comfortably address a public gathering. I also do better during interviews," says Ndereba.
He advises those who qualify to take the program and go in with an open mind to learn, "Put in the time and effort and it will pay off. Whether you choose the entrepreneurship or career start program."
Thirty Engineer Mbuthia who was a mentor in the Jijali 1.0 program says it was an honour to listen to young people about their personal stories, their successes, their challenges, and their deepest fears.
"Each of us needs that one person to encourage us, to hold our hands and believe in us without judgment," says Mbuthia, adding, "Mentoring and coaching are powerful interventions and the Jijali program has given participants an opportunity to experience both.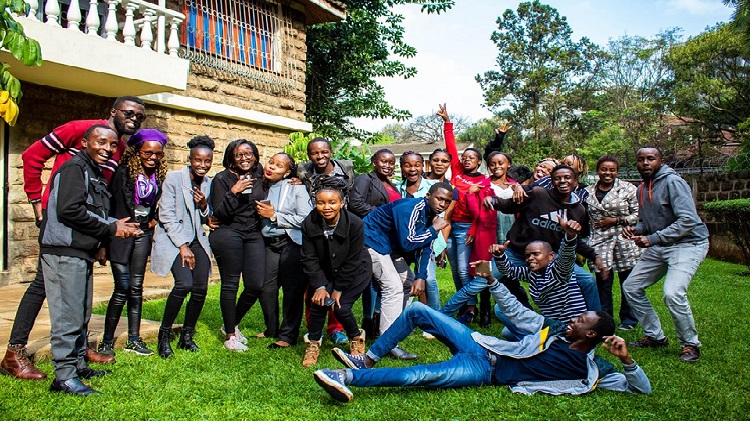 The "Skills to Grow" cohort, one of the programs offered by Yusudi
The program entails three aspects of training: Online content, Practical skills, and bi-weekly virtual mentorship to support growth.
The online content is relevant and easy to understand: Short videos that introduce the key points of the topic, followed by comprehensive reading materials with additional external resources.
For practical skills, the program provides practical and relevant tasks to enable trainees to apply what they have learned in real-life situations. The practical tasks challenge you, the learner, to get out of your comfort zone and build new skills.
The bi-weekly virtual mentorship involves a mentor allocated to you that will help you grow and work on any areas that are important to you. The mentors will provide feedback on submitted practical tasks, challenge you to think bigger and will be a source of advice, motivation, and inspiration.
"My favourite part was learning Human-Centred Design. have now changed how I run my business, if you have a business idea and don't know where to start, you should join Jijali."

-Lekakeny Karoi
The entrepreneurship module is targeted towards the youth who have a business idea and want to know how to get started or to youth who already have a business and want to know how to get started or to youth who already have a business but have challenges with managing the business.
The entrepreneurship training module will equip you with the tools and knowledge to take your idea and make it a real business. You will learn to ensure it is a product or service that people want, how to make it sustainable and build steps to start creating it.
If you already have a business, you will learn how to solve problems within your business, how to manage different aspects such as sales and finances and how to plan the future.
The Module focusses on three things: the first month, the trainees learn how to test their business ideas and collect feedback from their existing/ potential customers to ensure their business idea is viable. The second month, they learn how to build their business by learning how to set up basic structures and processes to keep their business running sustainably. And the third month, they learn how to grow the business by creating a long-term vision for their business and plan the future.
The career module targets young people aged 18-25 years-old who are just beginning their career journey or looking to make a career switch.
In the Career Start training module will train you on how to grow competitive skill sets that employers are looking for that will make you stand out. You will learn more about the skills that you need for your career and how to build them; how to make yourself stand out to employers through interview and CV writing skills; how to search for jobs and how to start your career on the right track.
It focusses on three areas:
First, the trainees pick a career focus relevant to the current job market and start growing necessary skills for that area through self-learning.
Secondly, trainees learn how to be successful in the job search process. And thirdly, the trainees learn how to be successful in their first job roles and to continuously grow in their careers.
Grace Mugambi, a mentor with the Jijali program says she has seen self-motivated individuals, who take on challenges and grow beyond her expectations.
"By assessing their needs, I was able to customize individual tasks for them to do and review the outputs," she says, adding, "The program has been a positive impact on my mentees, some got internships, while others improved in areas like CV writing, communication, and how to sell themselves."
Grace notes that it is not easy to find mentors who are always there to encourage one and push them out of their comfort zones and push them beyond their expectations.
"How often do we do tasks that reflect on our professional lives? Jijali has been the 'it' for me as a mentor," she says.
Yusudi was founded by Charlotte De Ridder and Nastia Gustol in 2016. It is a social enterprise that trains, mentors and prepares the youth to get into gainful employment or to start a business.
Over 2,000 young men and women have gone through the training and 87 % have been able to get a job, internship or learn a skill that impacted their career or business positively.
The Hurlingham based training centre offers free holistic learning experience that aims at achieving behavioral change. They partner with Safaricom's Blaze, Andela, UN-Habitat and Red Cross, who have tapped into their customized experiential approach.
To apply, log onto:
Call: 0781591942
Or Email:
jijali@yusudi.co
Or walk into their offices at:
Argwings Kodhek Groove, House B
Opposite Boa Base School
Hurlingham
Nairobi
Testimonials.